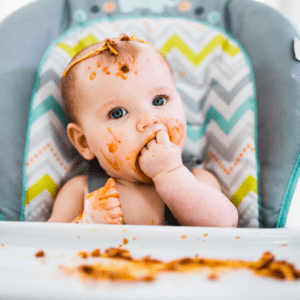 Podcast: Play in new window | Download (Duration: 16:11 — 15.0MB)
Subscribe: RSS
In this episode, I am addressing one of the most common questions that I get asked: "How much is my baby supposed to be eating?" If you have ever wondered to yourself whether your baby is eating too much or too little, this episode is written for you! I explain what "normal eating" is for babies, tell you the truth about industry standards for portion sizes, and highlight how to know when your baby needs extra support with their feeding habits. 
If you still find yourself concerned with your baby's intake after listening to this episode, the Baby Led Feeding course is your next step. 
If you enjoyed this episode, got value from it, and would like to hear more – be sure to subscribe! I'd also love for you to leave a rating and review at Apple Podcasts! 
Additional Resources:
BABY LED FEEDING COURSE: https://mylittleeater.com/baby-led-feeding/
FEEDING TODDLERS COURSE: https://mylittleeater.com/feeding-toddlers/
Skip to…
Hey friends! (0:47)
What is "normal eating" for babies? (4:25)
The truth about industry portion sizes (9:14)
Does your baby need more support in feeding? (12:45)
Milk intake (14:58)