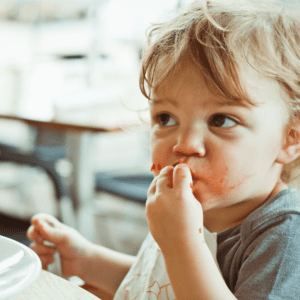 Podcast: Play in new window | Download (Duration: 30:55 — 29.8MB)
Subscribe: RSS
In this episode, I'm going to be giving you a complete breakdown of my top tips for creating a mealtime schedule for your toddler – that will actually work! If you are the parent of a toddler, chances are you have heard them ask for a snack a time or two. Or….let's face it… 5, or (what feels like) 1000 times! Snacks are coveted to toddlers, it's like their favourite time of day – it must be if they want it so often, am I right?!
If they love the food you serve so much, that they ask for it constantly, why then when they sit down for a meal is it a complete battle and they end up leaving without eating so much as a crumb?? I'm hoping you see the connection. In reality, the number one reason that kids choose not to eat at mealtimes is because they are just not hungry! And who would be after having snack after snack all day? 
No worries, I'm here to help today with all of my tips on creating, and maintaining, a consistent mealtime AND snack-time routine for your toddler. I've got your back with 4 easy steps to set this up and make it last! No more fetching 20 snacks a day for you!
As always, if you get value from this episode, please subscribe (so you don't miss out!), and rate and review it on Apple Podcasts (so others don't miss it either!). Share this with a fellow Mama that could use a break from endless snacks too – just think of all that free time that will open up if you aren't constantly making snacks all day! Enough time to listen to another episode I'm sure 😉
Additional Resources:
If you LOVE this concept and the easy step-by-step guide I provide to put it in place, you are going to be OBSESSED with my Feeding Toddlers course! It is exactly that – a step-by-step guide – but for everything toddler nutrition related. I walk you through all of my strategies that help form a foundation for adventurous and healthy eating that will stick with your toddler through childhood and into adulthood as well! Don't wait until the signs of picky eating emerge, give yourself a head start. Enroll now!  (https://mylittleeater.com/feeding-toddlers/)
Download your copy of my toddler clock here. Set yourself, and your toddler, up for success when you implement this new schedule. Toddler's understand concepts visually much better than having it explained over and over. It will make this transition easier for both of you! (http://my-little-eater.ck.page/routineclock)
And, download your copy of the "kitchen is closed" sign here. This will be a huge life-saver when your toddler asks for a snack outside of their newly scheduled times. It can visually remind them that they aren't able to get something right now, while you remind them that another snack or meal is coming up soon. Remember, a little hunger is a good thing! (https://my-little-eater.ck.page/kitchenisclosed)
Skip To…
Hello! (0:47)
When to implement a schedule (2:39)
The #1 reason kids don't eat (4:44)
What can parents do? (9:14)
So, what does the schedule look like? (13:01)
And, how do I implement it? (17:26)