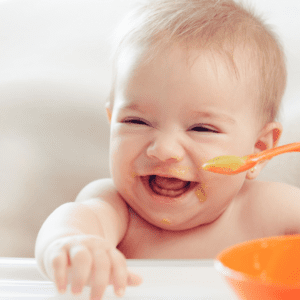 Podcast: Play in new window | Download (Duration: 17:59 — 15.5MB)
Subscribe: RSS
In this episode, I'm breaking down the difference between Baby Led Weaning and Baby Led Feeding. Didn't know there was a difference? Exactly my point! These terms, and so many others, are used so interchangeably that most people don't even realize that they describe different methods for introducing solid foods to an infant. 
Now, I am not getting into the pros and cons of all methods, but I will be sharing why I teach Baby Led Feeding, as opposed to a strict Baby Led Weaning approach. Hopefully, you'll come away with an understanding of why I advocate for this method. And, realize that it actually allows you to custom make a feeding approach that you are comfortable with, but that also follows your baby's cues and acknowledges their skill levels. Above all else, you need to choose a method that fits your family, which Baby Led Feeding allows. Feeding is not a one size fits all scenario – what is with parenting anyways? 
As always, if you get value from this episode please subscribe, rate, and review it at Apple Podcasts. Feel free to tag me on Instagram in videos of your baby eating the baby led way – I love to see Baby Led Feeding in action! Find me there @mylittleeater!
Additional Resources:
If you find that the idea of Baby Led Feeding resonates with you, my infant course is custom made just for you! Grab my Baby Led Feeding course and get ready to feel completely confident moving into this next phase of your parenting journey. Between the videos, downloadable resources, bonus content, and ongoing support from yours truly, there isn't a bump in the road that you won't be prepared to handle. (https://mylittleeater.com/baby-led-feeding/)
Skip To…
Hey there! (0:47)
So many terms! (1:30)
What is Baby Led Feeding? (4:17)
Recognizing baby's cues and skill level (9:12)
The texture timeline (12:44)