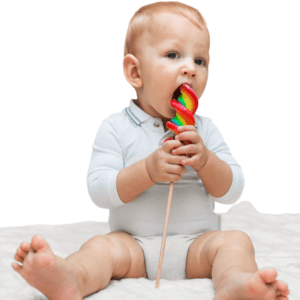 Podcast: Play in new window | Download (Duration: 18:56 — 16.6MB)
Subscribe: RSS
In this episode, I'm doing something I don't normally do – telling you what NOT to do! I'm usually talking all about the wonderful things you CAN serve your baby. So today I decided to switch it up, because I often hear… "Surely babies can't eat everything, right Edwena?" So, I'm sharing my list of foods that you should avoid serving your baby under 12 months old. I go over what they are, and why to avoid them.
Now, whenever I tackle topics like this, I feel the need to add a disclaimer. So here it is… no Mom guilt allowed! I'll say it over and over until we all start to hear it! When you know better, you do better. So if this topic is completely new to you, well, now you know. You can't do what you don't know – so no guilt, okay?
If you get value from this episode, please remember to subscribe, rate, and review it at Apple Podcasts so more parents can find these tips too! And, share this episode with a fellow Mama – just make sure you pass along the disclaimer too! 
Additional Resources:
If this episode was eye-opening for you, and you want to make sure you have all you need to know moving forward – enroll in my Baby Led Feeding online course now! When you don't know what you don't know, it's hard to make important decisions… like what to feed your baby. Let me guide you on this journey so you can sit back, relax, and enjoy watching your little one grow. (https://mylittleeater.com/baby-led-feeding/)
Feeling a bit unsure about how to decrease your baby's salt intake? Take a look at my blog post on this topic to see my guidelines on salt, and my tips on areas where you may be able to decrease your baby's consumption of it. (https://mylittleeater.com/salt-for-babies-how-much-is-too-much/)
Skip To…
Welcome back! (0:47)
Food Category #1 (1:41)
Food Category #2 (3:53)
Food Category #3 (9:17)
Food Category #4 (14:00)
Food Category #5 (15:50)