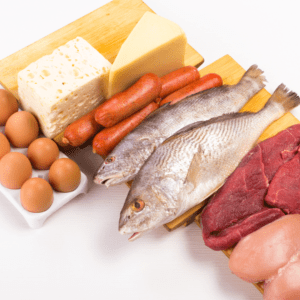 Podcast: Play in new window | Download (Duration: 15:58 — 13.9MB)
Subscribe: RSS
In this episode, I'm talking all about protein! Chicken, beef, fish, plant-based – whichever is your preference, I'm breaking down exactly how much of it your toddler needs. Truth: we often overestimate this amount – for having so much energy, they actually need a lot less protein than you may be picturing. And since toddlers often refuse meat, unless it's in nugget form, this can be very reassuring! 
Before resorting to those protein drinks for kids, sit back, relax, and really take this in. Trust me, you'll feel so much better the next time your toddler refuses the ground beef on their taco, and opts instead for a plain ol' tortilla – with nothing on it. Plenty of other opportunities to reach their protein needs throughout the day, and I'll chat about just how to do it.
If you find value in this episode, please subscribe, rate, and review it at Apple Podcasts. Don't forget to tag @mylittleeater on Instagram while you're listening, and I'll share it to my stories – I love to see which episode you're on!
Additional Resources:
For a complete breakdown of all of your toddler's nutritional needs, enroll in my Feeding Toddlers online course! I go over everything your toddler requires, including how many servings and how big a serving size actually is. Then, I'll show you my top tricks for setting up an environment where your toddler will actually begin to eat these nutrients! Don't wait until the picky eating begins, get started now and be prepared for any changes your toddler throws at you. (https://mylittleeater.com/feeding-toddlers/)
If you're still concerned about protein, and want to know about protein powder for toddlers – is it safe, how much can they have, which protein powders are best – check out my protein powder blog (with a freebie containing my favourite brands for toddlers!). (https://mylittleeater.com/protein-powder-for-toddlers/)
Skip To…
Hey there! (0:47)
Protein sources (2:06)
Protein requirements (4:07)
Benefits and the FFP rule (8:02)
Supplements (9:10)