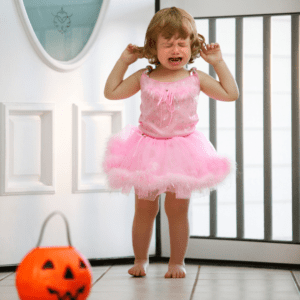 Podcast: Play in new window | Download (Duration: 15:45 — 11.6MB)
Subscribe: RSS
In this episode, I'm discussing my views on Halloween – specifically regarding Halloween candy consumption. I'm going to be sharing with you my 5 steps that us parents can use to manage our children's candy intake around Halloween. You may be surprised by what I recommend!
You see, I know the fear and anxiety of having all that candy around in the house is scary. I know that every parent cringes at the thought of their little one eating more candy on one night than we probably do all year. But, here's what I want you to remember – Halloween only happens once a year! And, in this episode, I'm going to show you how to enjoy Halloween with your kiddos, manage the overload without being a "meany", and teach them some great healthy eating habits along the way.
As always, make sure to subscribe to the podcast, rate and review it at Apple Podcasts, and share it with your friends! I'd also LOVE to see your babies and toddlers all dressed up for Halloween – so be sure to snap a picture of them in their costume and tag me, @mylittleeater, so I can share the cuteness! Happy Halloween!
Additional Resources:
If you'd like to get full access to my philosophy regarding sweets and desserts, and my guidance in choosing a strategy that works best for you and your family, enroll in my Feeding Toddlers online course, now! I go over every detail of my philosophy there, so you can easily decide how to implement it with your toddler. Having this foundation from the beginning will help limit the possibility of an obsession around these foods developing, and if you feel that that has already happened, it's okay, it helps address that too! Start today! (https://mylittleeater.com/feeding-toddlers/)
If you're looking to read over the posts I mention in this episode, I've linked them here for you >> "How to Raise a Toddler to Have a Healthy Relationship with Sugar" and "How to Teach Mindful Eating to Your Toddler". I'm also linking my podcast episode from Season 1 on the Division of Responsibility, because it really is the foundation for all of these approaches!
Healthy Relationship with Sugar Blog: (https://mylittleeater.com/healthyrelationshipwithsugar/)
Teaching Mindful Eating Blog: (https://mylittleeater.com/how-to-teach-mindful-eating-to-your-toddler/)
Division of Responsibility Podcast: (https://mylittleeater.com/9-the-one-feeding-strategy-that-will-change-mealtimes-forever/)
Skip To…
Don't fear Halloween Candy! (1:01)
Step 1 (3:02)
Step 2 (3:53)
Step 3 (4:28)
Step 4 (7:33)
Step 5 (11:17)