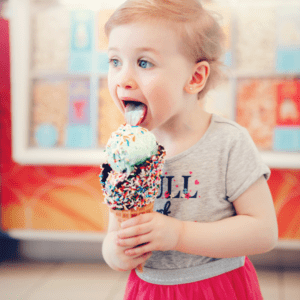 Podcast: Play in new window | Download (Duration: 27:16 — 26.0MB)
Subscribe: RSS
In today's episode, I'm going to be smashing every belief you've ever had about desserts! That's right – we're talking about sweets – including: if to serve them, when to offer them, and how frequently they should be in your meal plans. You just might be shocked with what I have to say…. hint: I'm pro-desserts! I'm even a firm believer in increasing how often you offer them if you notice your toddler just can't get enough of those scrumptious treats. 
Disclaimer: I know this may cause fear and panic in you – as parents, we want only the best for our kids, and we were always taught desserts are not that! So, why am I flipping the script now? Because we want a future generation that has a positive relationship with all  foods – we don't want them to feel instant guilt every time they have a slice of cake. Today, I'm teaching you how you can accomplish this with a few simple steps.
As always, if you get value from today's episode, please subscribe, rate, and review it on Apple Podcasts! Tag me on Instagram while you're listening… better yet? Tag a friend too!
I'd also love to hear your thoughts on this episode – how were desserts treated when you were growing up? Are you ready to try changing it up for your own kids? Let's see your kiddos (and you!) enjoying those delectable treats – tag me in your photos on Instagram, @mylittleeater, and I'll share them to my stories. 
Additional Resources:
For more tips on how to handle sweet treats with your toddlers – check out my blog on this topic here >> https://mylittleeater.com/top-3-strategies-for-serving-dessert-to-kids/
If you're loving this concept, and are on-board with creating a positive relationship with all foods for your toddler, but are not quite sure of your next steps, my Feeding Toddlers online course teaches you how to accomplish this! Feel confident that you're creating a positive balance in your child's diet, and let's work together to help your toddler become a happy and adventurous eater! (https://mylittleeater.com/feeding-toddlers/)
Finally, I go over a few different concepts in this podcast. From ensuring you aren't discussing food the whole time you're at the dinner table, to being confident in the Division of Responsibility for my tips to truly be effective. Check out the relevant blog posts, and podcast episode, here:
>> https://mylittleeater.com/mealtime-conversations-part-1/
>> https://mylittleeater.com/mealtime-conversations-part-two/
>> https://mylittleeater.com/9-the-one-feeding-strategy-that-will-change-mealtimes-forever/
Skip To…
Hi! (0:47)
Understanding your fear of sugar and sweets (2:16)
The #1 thing I want to tell you (4:43)
Treat desserts like any other food (8:38)
Offer desserts more (9:33)
Offer desserts to everyone (17:28)
Serve desserts WITH your main meal (20:03)