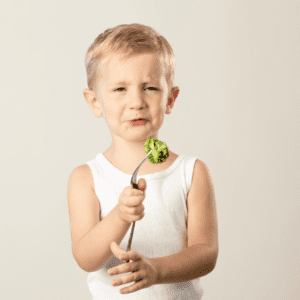 Podcast: Play in new window | Download (Duration: 21:53 — 17.9MB)
Subscribe: RSS
In this episode, I'm smashing a couple of very common picky eating myths! Ever heard someone say that picky eating is genetic? Or that every child goes through a picky phase, and there's nothing you can do about it? While I admit those first two points are mostly true, that last one about there being nothing you can do about it, couldn't be further from the truth!
Picky eating can, in fact, be prevented. AND, I also advocate for early intervention because, while it's normal and expected for your toddler to begin to show some picky eating tendencies as they gain more independence, taking action during this phase will shorten how long you'll be dealing with this behaviour. Waiting for it to end on its own isn't always going to work.
But, why are kids picky eaters anyway? While genetics does play a factor in picky eating, there are numerous other factors that have arguably larger impacts on the prevalence of picky eating. I chat about each of these, and about how we can make adjustments to eliminate, or significantly reduce, some of these factors. This inevitably aids in both preventing and reversing picky eating.
If you're a parent, regardless of the age of your child, this is a must listen episode. I'm revealing the 8 step process that I use in my Feeding Toddlers online course to both prevent and reverse picky eating. Even if you're out of the toddler stage, these steps can be applied to older children as well, and it's never too late to start! Right now (until Jan.17th, 2021) you can get 20% off your purchase of the toddlers course using code TODDLER at checkout.
As always, if you get value from this episode, please leave a 5 star rating and review at Apple Podcasts. This helps get my voice out to more parents who could benefit from the tips and tricks I'm teaching here.
Additional Resources:
FEEDING TODDLERS COURSE: https://mylittleeater.com/feeding-toddlers/
DISCOUNT CODE (valid until Jan. 17th, 2021): TODDLER
THE IMPORTANCE OF TIMING FOR PREVENTING/REVERSING PICKY EATING: www.mylittleeater.com/pickyeatingtiming
Skip To…
Preventing picky eating (1:45)
Why I don't recommend waiting to respond to picky eating (7:13)
Reversing picky eating (9:06)
The steps to prevent or reverse picky eating (11:26)