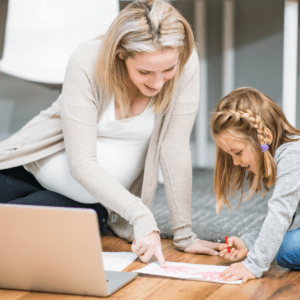 Podcast: Play in new window | Download (Duration: 20:14 — 16.7MB)
Subscribe: RSS
In today's episode, I'm talking about the many different roles of a mom. She's a full time cook and cleaner, she's a teacher and a tutor, she's a psychologist, she's a nutritionist, she's an office manager, a coach, a shuttle driver, a daycare teacher – and that's not even putting a dent in the longgg list. And, even though she isn't doing all these things at the same time, she has to have the ability to switch between all these roles, or jobs, faster than a toddler can scream "MOMMYYYY!"
Now, we all know that being a mom is the most rewarding job – but it's damn exhausting! And your value as a mom, and your time itself, is worth SO much. Let's not forget about the time spent stressing about things going wrong, or staying up all night worrying about everything, making sure everything is perfect all the time. Just to ensure that our children are getting the help that they need. It can be overwhelming to say the least!
On top of all of that, the truth is, that is all time you can't get back. That's time spent not doing things that bring you joy, or spending quality, stress-free time with your kids. Now, if you read this and thought, "whoa, that's me!", then today's episode is for you! I'm giving you my perspective on realizing the true value of your time, and sharing how I learned the importance of delegating things that weren't honouring my time well. Because, at the end of the day, spending time with your child, forming memories with them and bonding with them – that's where your value lies. That's where you can't even put a price on the value of your time. And, if it just so happens that reading is something you love spending your valuable time on, head over to the blog to read my thoughts there too! (www.mylittleeater.com/valueoftime)
It means the world to me to be able to reach parents like you, and give them the support they need through these podcast episodes. So, if you get value from this episode, please subscribe, rate and review it at Apple Podcasts, because that's how other parents can find me too!
Additional resources:
Think about how much time you spend googling "what foods do I offer my baby first?", or "how do I get my baby to eat xyz", or "how to serve xyz to my baby". This is all valuable time lost. But you can get it back! By purchasing my Baby Led Feeding course, you'll learn every single thing you need to know about feeding your baby from 6 to 12 months of age, and get lifetime access to myself by being included in a supportive group of other moms just like you. You'll get the help you need for a full 6 months (and beyond!), without having to spend hours every WEEK trying to figure everything out yourself! (https://mylittleeater.com/baby-led-feeding/)
But, what about after 12 months? Got you covered there too! My Feeding Toddlers Course covers from the time your child turns 1 year old, all the way up to 8 years old! Everything you need is included, and you end up saving yourself literally HUNDREDS of hours of searching, asking, researching, questioning, and stressing. (https://mylittleeater.com/feeding-toddlers/)
Skip to…
Welcome back! (0:51)
The many roles of a mom (2:25)
Understanding your value as a mom and the value of your time (7:30)
Figuring out what's worth your time and what's wasting it (9:26)
Learning when to delegate things that aren't worth your time (12:10)
Remembering how priceless your time is with your children (18:05)