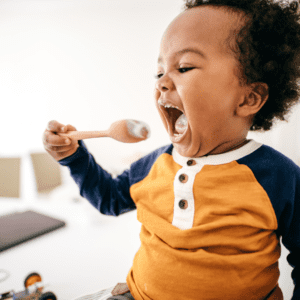 Podcast: Play in new window | Download (Duration: 11:10 — 9.0MB)
Subscribe: RSS
In this episode, I'm introducing you to my new signature concept – Toddler Led Feeding! By now, I hope you've heard of Baby Led Feeding, which is my specialized approach to introducing solids, whether purees or whole foods, in a responsive way that takes into account your baby's skill and comfort level, while gently nudging them along a texture timeline of my own design. So, if you've done this approach, it's time to move up to the toddler stage, and if you're new to these ideas, it's never too late to start!
Why do I find it necessary for all toddlers to eat as part of a relationship that utilizes this approach? Because, Toddler Led Feeding is all about, you guessed it, following your toddler's lead! And, if you do this, you will be using the principles of the Division of Responsibility, and I base everything in my practice off of having this as the main foundation to a successful feeding relationship. If you're doing Toddler Led Feeding, it's almost impossible to not be following the Division of Responsibility – you can't have one without the other!
Listen in to hear me explain this approach, why I recommend it, and what the benefits are – hint-hint decreased likelihood of developing picky eating habits is one of them!
As always, if you get value from this episode, please leave a 5 star rating and review at Apple Podcasts. And let me know….are you going to give Toddler Led Feeding a try?
Additional Resources:
If you answered "Yes!" to my question above and are ready to give Toddler Led Feeding a try, or even if you know you want to but aren't quite ready to start, now is the time to buy my Feeding Toddlers online course! I teach this approach, step-by-step, in this course, and you have access for life. So, buy now and begin at your own pace. Plus, it's on sale this week, until midnight on January 17th, 2021, which means it really is the perfect time to enroll and save on this essential feeding education. 
FEEDING TODDLERS COURSE: https://mylittleeater.com/feeding-toddlers/
DISCOUNT CODE FOR 20% OFF (valid until Jan. 17th/ 2021): TODDLER
TRUSTING YOUR TODDLER TO LEAD THEIR OWN FEEDING JOURNEY: https://mylittleeater.com/what-is-toddler-led-feeding/urney
Skip to…
Baby Led Feeding (1:45)
Toddler Led Feeding (3:56)