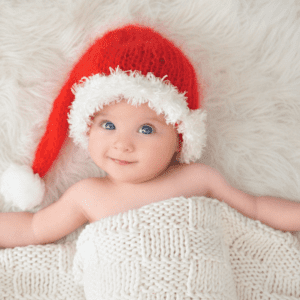 The holiday season is upon us, and either you're just beginning your shopping, are done your shopping, or maybe you're the "wait until Christmas Eve to start" kinda person – but one thing's for sure – deciding what to buy for your kids, especially before they're able to tell you what they want, is not always easy. There are so many options out there and you don't want to be wasteful! So, I thought I'd do a round-up of some of my favourite books, toys, clothes, and you bet I'm going to cover some feeding-related gifts too.
Now, I also want to take a moment to say that, I love giving the gift of experiences! Coupon books of their favourite activities they can cash in anytime, a season pass to the zoo, dance lessons, etc. These aren't gifts that will take up a lot of space under the tree, or add to the never ending toy pile, but they're just as special and can lead to year-long enjoyment! So think about those types of gifts as well. But also, remember that this year was hard. COVID impacted so very, very many families, and maybe your Christmas budget isn't what it normally would be. That's okay! I truly believe that our kids appreciate Christmas for the magic and joy of the season. And if you need a tip for staying within a budget this year, try the "want/wear/need/read" idea. I'm not sure exactly where it started, but this is the jist….
Get them something they… want
Something to… wear
Something they… need
And something to… read
That's it! Easy as pie! Four gifts, something to check off every category, and call it a day. 
Honestly, kids (particularly babies and young toddlers) can become easily overwhelmed by a huge stack of presents on Christmas. It's a lot for them to take in. The noises from excitement and unwrapping, the visual stimulation of looking at all of those gifts with bows and shiny paper… it's A LOT! And babies and toddlers can become easily exhausted by it all, PLUS – usually the wrapping paper and boxes are what steal the show anyway :P. So, what I'm saying is that if you can only afford to get your baby or toddler a couple of presents this year, don't stress, don't feel guilt – that's just enough for them!
That said, let's jump right into my top choices for gifts this holiday season (and you know I've gotta start with what I know best)…
FEEDING ACCESSORIES
It may seem a little odd to buy your baby a cup or bib as a gift, but this falls into the category of something they need. Plus, the reality is that your baby or toddler won't mind because they don't know any different! If they want to play with the cup, or whatever you choose, that's actually a bonus! Babies/toddlers learn through play. This could actually help them to become comfortable with the cup/bib/plate so that when you start using them for meals, they recognize them and are okay with them being there. Sounds silly, but I've definitely seen a toddler or two throw a plate away because it was not the correct one – so if they like it, and it was a special gift to them, that may be less likely!
Feeding set from ezpz
Bibado bib
Babies are messy!! There's no way around it – it's going to happen. Might as well manage it with a full coverage bib like this one! They recently updated their sizing, so their newer ones should fit up to 3 years old, perfect for toddlers too, and doubles up as an art smock for any crafty projects you might get into over the Holidays!
Find it on amazon.ca or amazon.com – but I don't think these are the new ones with updated sizing, those can be found on the Bibado website, which does ship internationally. If you buy from their site, you can use code MYLITTLEEATER at checkout for 10% off, or code MLEBOGO for 50% off one of two items purchased!
Construction or dinosaur themed plate set
These are such cool feeding sets, they're almost toys! They're a great way to get your toddler excited and looking forward to mealtimes. And, if your toddler is a bit on the pickier side, they're perfect for encouraging them to try new foods. 
Melissa and Doug food sets
They have quite a few options available, but anything food related is a great way to get your baby or toddler exposed to new foods, without it feeling like there's any pressure to actually eat them! Playing with foods, pretending to cook, talking about foods and their texture or colour, all of these things are great ways to increase your toddler's tolerance of new foods. This, in turn, may lead to wanting to help in the kitchen, touching and exploring new foods at meals, and eventually eating them too. Great for picky eaters!
All 3 sets seen above can be found in the gift guide section of my Amazon shops: CA/US
Play kitchen
This doesn't need to be fancy, or super expensive. My project director chose to get her girls this for Christmas, and she was able to find a nice, simple one at IKEA, and it doesn't take up too much space either! Just something that they can pretend to cook on, mix up some ingredients at, and even serve you some of their specialties from!
Fun cups with their favourite character!
Honestly, thank goodness Paw Patrol and Frozen cups exist, because I'm not sure many toddlers would be drinking their water without them! JK. But seriously, these cups, whether straw cup or open cup, make a perfect gift for them, especially if you can find one with their favourite character on them. I'm linking the Thermos Funtainers because they have both Frozen and Paw Patrol options, which let's be honest, is all I hear about from toddlers these days!
Find them on amazon.ca and amazon.com.
BOOKS
So I want to start this by saying that I am by no means an expert in what books will help with development, or what themes to look for in kids' books. These are just some of the books that the parents at My Little Eater enjoy, and said are very popular with their littles. For expert tips on books for various ages, and for recommendations that will diversify your bookshelf, I recommend any of these accounts on Instagram because they're always putting together wonderful curated lists! For example, I know @diversereads has a curated list of over 500 titles you can purchase from her, and edit as you go, so you can see what you've read, and what's left to look at. A great idea to have to help you choose titles for more holidays and birthdays to come!
Row, Row, Row Your Boat by Jane Cabrera
Such a sweet extension to the classic song, and beautiful, colourful images.
Find it at amazon.ca and amazon.com OR support a local bookstore this Holiday season!
The Indestructibles collection – "Baby Faces: A Book of Happy, Silly, Funny Faces" by Kate Merritt
This is a really great one because babies love to look at other babies! But, any in this collection are great because they're chew proof, rip proof, non-toxic, and washable. Seriously, such a good option for babies that put everything in their mouth, AKA all babies!
The "That's not my…" series from Usborne Books
These are a huge hit with most babies and toddlers because they include in them different textures for your child to feel as they read. A great way to stimulate their senses, even with newborns and young infants, if you read to them, you can move their hands over the different textures so they can feel what soft/fuzzy/hairy/rough/etc. feels like. 
Tails by Matthew Van Fleet
Another great book for sensory input, and also fine motor development. This is filled with different textures, lift the flaps, pull outs, and even a scratch and sniff!
I Like Myself by Karen Beaumont
I LOVE this book for all kids! Such an incredibly important message, with fun and creative images. It's available in a board book or a picture book, so you can purchase whichever format is best depending on the age of your toddler. But it's a great one to read to your baby too – never too early to teach them this message!
Dear Girl, by Amy Krouse Rosenthal & Paris Rosenthal Dear Boy, by Paris Rosenthal & Jason Rosenthal
Another favourite! These books have some really incredible messages to help instill independence and confidence in your children. 
Dear Girl,: Amazon.ca/Amazon.com
Dear Boy,: Amazon.ca/Amazon.com
I Am Enough by Grace Byers
Yet another book with a beautiful message for all kids, particularly for any young girls in your life. 
You Matter by Christian Robinson
My last recommendation with a beautiful message and incredible images to go with it!
The Forest Feast for Kids by Erin Gleeson
Now, truth be told I just found this book, so I don't personally have it, however the reviews are good, the images look beautiful, and anything that gets your kiddos helping in the kitchen is a win! This would be for any older kids in your life, but I'm sure with some safety modifications, you could find something for your toddler to help with. Plus, these recipes are all vegetarian, so if you don't typically cook vegetarian meals, it's an easy way to add some into your rotation for some variety!
You are Not an Otter by Melanie Potock
This book is a great way to help your kids see how other animals eat, while teaching them about becoming an adventurous eater themselves, and important lessons on table manners too.
Let's Go to the Potty! A Potty Training Book for Toddlers by Allison Jandu
Children can learn a lot through books, and books can really help them get used to change, which is not usually welcomed by toddlers! So, a book that helps introduce the idea of potty training to your toddler could be the perfect gift if you're thinking about starting that journey soon.
TOYS
I'm going to start with some of the basics, these can be great for babies or toddlers, depending on what stage they're at in their development. You can't go wrong with any of these classic options!
Teddy bear
Haven't met a baby or toddler yet that doesn't like cuddling a stuffed animal. These Jellycat ones are super soft and snuggly!
Colouring books, stickers, and crayons
Choosing colouring books and stickers with their favourite characters on them will be a guaranteed hit. Crayons also come in such a variety now, you can get something for everyone:
Stage 1 Crayola (12months+) – Amazon.ca/Amazon.com 
Stage 2 Crayola (24months+) – Amazon.ca/Amazon.com 
Stackable crayons – Amazon.ca/Amazon.com 
Sustainable beeswax crayons (pictured above) – Amazon.ca/Amazon.com 
Building blocks or tiles
You also can't go wrong with anything that's used for building, being creative, and using their imagination. Building blocks and tiles are perfect for this and also help with developing fine and gross motor skills. Picasso tiles and Magna-Tiles are essentially the same product, just different companies, but their price tags are different, and so it really depends on your budget. According to Google, Magna-Tiles are more durable, but that comes with a higher price point. Grimm's rainbow toys are also on the more expensive side, but because they're made of wood, they're incredibly durable, and offer a lot of ways for your child's imagination to run wild!
Mega Bloks – Amazon.ca/Amazon.com
Magna-Tiles (pictured above) – Amazon.ca/Amazon.com
Picasso Tiles – Amazon.ca/Amazon.com
Grimm's Rainbow – Amazon.ca/Amazon.com
Busy board
Another great idea for developing fine and gross motor skills is a busy board! I've seen a lot of people make these themselves with different things from the hardware store, think various types of locks, doorknobs, etc. However, if that's not your idea of a fun time – this one is really cool too! It can be folded up to travel, great idea once we can do that again (#covidlife), and perfect for your toddler to help teach them new skills like tying their shoes or zipping up coats.
Outdoor toys
If your living room is starting to overflow with all the toys your children have already, maybe try moving some of the fun outside! Bikes and toboggans are great gifts for babies and toddlers. The more time spent outside, means more energy burned, which means (hopefully) better sleep – that's a win-win!
Bike (pictured above) – Amazon.ca/Amazon.com
Toboggan (baby/toddler) – Amazon.com
Toboggan (baby/toddler – push or pull) – Amazon.com
Toboggan (toddler – pictured above) – Amazon.ca/Amazon.com
Lovevery
These are really wonderful subscription play kits. They're delivered every 2-3 months, and are tailored to your baby or toddler based on their age. They also have some wonderful toys available on their site too! 
I wanted to provide you with an example of all the things they add to these boxes (it's a lot!), so I looked at "The Companion Play Kit" for ages 22-24 months, which includes things like: a 3D peg puzzle, an animal match game, a jigsaw puzzle, and more! They also include a play guide for that age range.
CLOTHES
I know clothes don't seem like a very exciting Christmas gift (unless it's Frozen themed of course…), but again, if we're following want/wear/need/read – we've gotta have clothes! Winter gear is particularly timely to gift (if you're in a northern climate, or Canadian like me!). Snowsuits, boots, hats, mittens…all terrific gifts for Christmas. Here are some of my favourite items to buy as gifts, and where I like to find them.
Kyte Baby
These clothes are amazingly soft, and excellent quality. Perfect to gift to your baby; think sleepers and sleep sacks!
Little and Lively
Super adorable, Canadian made, kids clothing! From basics to beautiful prints and graphics, they have something that will be a great gift for your little 🙂
Gap
This is my go-to store for grabbing pajamas, slippers, and robes for my boys. This is a Holiday tradition for us, my boys love getting these every year, and kind of expect them at this point! My project director also uses pajamas in her Christmas Eve box for her girls. They get to open this one present on Christmas Eve and always get a pair of Christmas pajamas, a snack, and a Christmas themed story to read before bed – so cute!
Little Sleepies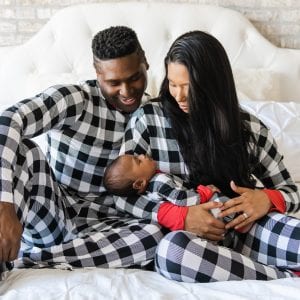 Little Sleepies has matching pajamas for the whole family! Babies, toddlers, older kids, and parents – you can all match and get that beautiful Holiday photo, perfect for including in holiday cards to friends and family. Or, a great gift to give out on Christmas Eve for everyone to wear, which makes for super cute photos on Christmas morning!
STOCKING STUFFERS
Now that you're covered with lots of ideas on what to buy your little one for the Holidays, what do you put in their stocking?? This is a fun place to toss in some small, exciting toys or trinkets they might like, but also to fill them up with more things they need! Here's my list with some go-to items that cover their wants and needs (I've even added some to my CA and US Amazon shops in the holiday guide):
Socks and underwear
Toothbrush and toothpaste
Small notepad and 8 pack of crayons
Stickers
Chocolates
Puffies or yogurt bites for babies
So those are kind of the basics, but I have some ideas for more unique gifts to include too!
Teethers
The one pictured above is a recent find for me, Baby Teething Tubes. These are so cool, the perfect shape and length to help desensitize your baby's gag reflex (great for beginning solids), and they seem to be really enjoyed by lots of babies! I've also got a whole list of other options available in my Amazon shop, so check those out too.
Utensils
Back with some more feeding gear for your baby or toddler! Utensils are the perfect size to toss into a stocking, and are definitely something they could use. I really like the ezpz mini set for babies and toddlers.
Food picks
Again, a really great option that's small enough to fit in a stocking, but also really fun for toddlers. These are safe to use for young toddlers, and can help bring some novelty to mealtimes, which is really helpful for picky toddlers.
GIFTS FOR NEW PARENTS
I have some more recommendations for things that I think would make great gift options for anyone in your life who's a new parent, a parent to a baby about to begin solids, or parent to a toddler. These are less traditional options, but definitely things they could use!
My Little Eater courses

Okay, so like I said, not really a good gift for a baby or toddler – since it's really a gift to YOU as the parent! But, I definitely suggest this as a gift to new parents. Maybe your sister, cousin, or best friend recently had a baby and you want to get them something they can use that they don't already have (or have to return because the baby outgrew it already!). You can purchase either of my online courses (or both 😉 ) as gifts for someone else, here.
Ready, Set, Food! subscription
If you haven't heard of this company, I mention them in my posts on introducing highly allergenic foods, and on introducing tree nuts and peanuts. This product is a really easy way to introduce your baby to 3 of the top allergens (egg, milk, and peanuts) in a safe, controlled manner. Again, this may seem like an odd gift, but introducing allergens is something that causes a lot of stress and anxiety for parents, and if you can help decrease that stress by giving them an easy, safe way to do that, what better gift is there?
Little Z's Sleep course
Why not treat a parent in your life to the gift of sleep? Seriously, Becca from Little Z's Sleep is so amazing, and if you know someone struggling with this, she's wonderful to work with! I would suggest making sure they're the sleep training type before gifting one of her courses, but you know your friends and family best 🙂
Hello Fresh subscription
Another non-traditional idea, but parents love anything that makes their hectic day-to-day schedule a whole lot easier! If you can gift them a food delivery option for a week or two, so that ready-to-prepare recipes just show up at their door, you'll be taking a huge load off their shoulders. And this is especially true for any parents on your shopping list with a newborn – these types of products are a blessing! 
That's all! Truly an ultimate guide for Holiday shopping for your baby, toddler, and any new parents in your life. Hope you find something for everyone on your list – Happy Holidays!!
*Please note that I do receive a small commission from any products purchased from the links in this blog post. But, this comes at no additional cost to you, and I will only ever link items that I FULLY support and stand behind! These small commissions help me keep my website alive and kicking so I can continue to provide you with valuable feeding info.