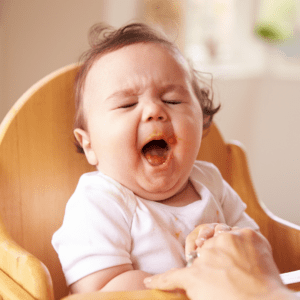 Podcast: Play in new window | Download (Duration: 19:53 — 17.8MB)
Subscribe: RSS
In this episode of "The My Little Eater Podcast", I cover an incredibly popular topic regarding the concept of baby led weaning – gagging versus choking! I teach you what the difference is, why gagging is actually a positive thing (that's right, it is!), and how to move past your fears regarding this topic in order to confidently feed your baby. 
If you are still feeling completely terrified of gagging, don't know how to start feeding solids, or just want all of the info to be prepared, enroll in my Baby Led Feeding course now and start feeding solids with complete confidence! (https://mylittleeater.com/baby-led-feeding/)
If you learned something from this podcast, feel more confident when you're feeding your baby because of it, or simply enjoyed the content – please rate and review it on Apple Podcasts! 
Additional Resources:
Are you starting solids, but worried your baby may not be ready? Grab my free readiness guide for starting solids today! (https://mylittleeater.com/lead-page/)
Already started solids but still feeling worried about gagging? Check out my free guide "4 Steps to Overcoming Your Fear of Gagging in Baby Led Weaning" to help you overcome those fears and enjoy mealtimes with your baby! (https://mylittleeater.com/lead-page-2/)
Want to know where to find one of those teethers I mentioned? Grab the "Comotomo Silicone Teether", the "Zoli Bunny Dual Nub Teether", and the Zoli Chubby Gummy Teether" in my Amazon shop! (https://www.amazon.com/shop/mylittleeater)
Are you still worried about your baby choking but don't know where to find an infant CPR course? One of my favourite, and one of the most comprehensive, online courses for child/infant CPR is by Safe Beginnings. They are truly amazing, very thorough, with video, and everything online – you'll be prepared for if the worst happens, which is something truly worth investing in. Enroll in their course today, and use code MYLITTLEEATER for 20% off your course purchase. 
*Please note that the above resources contain affiliate links.
Skip To…
Introduction (0:47)
Tip #1: Know the Difference Between Gagging and Choking (2:42)
Tip #2: Watch Videos (10:20)
Tip #3: Desensitize the Gag Reflex (13:13)
Tip #4: Take Infant CPR (16:22)