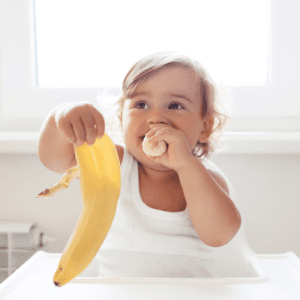 Podcast: Play in new window | Download (Duration: 23:06 — 20.4MB)
Subscribe: RSS
In this episode, I'm tackling one of the biggest pet peeves of moms everywhere, and a typical toddler mealtime behaviour – food throwing. I don't know what could be more frustrating than cooking a nice meal just to have your baby or toddler toss their entire serving on the floor. The family dog might love it ( I'll come back to them later), but I sure don't!
Don't worry, I'm here with ALL of the tips. I'm talking NINE tips to help solve this particular mealtime struggle that I know a lot of you face. So, sweep up the mess they left from the last meal you served, get cozy, and listen in! You can start implementing my tips at the next meal, and with consistency, this problem is usually solved much faster than you may think.
Don't forget to subscribe, rate, and review my podcast at Apple Podcasts! If you are loving it, chances are your friends will too! So please, please share it with them – let's help more parents together! 
Additional Resources:
If you loved this content, and are excited to learn more about what to do for other typical mealtime behaviours, enroll in my Feeding Toddlers course today! I go over all of the normal struggles associated with toddlerhood (when it comes to food anyways), provide you with a step-by-step guide on what to do, and also pack the course full of bonus content so you can take charge of mealtimes and feel confident moving forward. (https://mylittleeater.com/feeding-toddlers/)
Thinking of adopting the "no thank you bowl" tip? Check out my Amazon shop for ideas on bowls with suction to help prevent your little eater from just tossing that too! The Munchkin bowls I mentioned are perfect for this, find them here! (https://www.amazon.com/dp/B015YY9JGM/?ref=exp_mylittleeater_dp_vv_d)
I also spoke about how baby sign language could help to ease some frustrations and provide clarity when communicating with your baby, or toddler who may not have many words yet. If you would like to learn more about this, head back to Episode #8 for some great tips from my guest, Pediatric Speech-Language Pathologist, Carly Tulloch of Wee Talkers! (https://mylittleeater.com/8-baby-sign-language/)
Finally, my tips from today can also be found in a previous blog post. Check those out here if you prefer to have a visual copy on hand. (https://mylittleeater.com/foodthrowing/)
Skip To…
Hey there! (0:46)
Why do babies/toddlers throw food? (3:12)
Tip #1 (5:58)
Tip #2 (6:53)
Tip #3 (7:50)
Tip #4 (8:47)
Tip #5 (10:00)
Tip #6 (12:04)
Tip #7 (13:55)
Tip #8 (15:30)
Tip #9 (18:57)
---
Some of the links on this page are affiliate links. That means, I get a small commission if you purchase through this link. However, I make it a point to only share tools and resources I truly love and use.