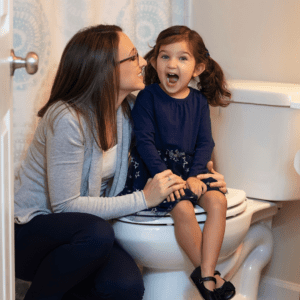 Podcast: Play in new window | Download (Duration: 25:17 — 22.6MB)
Subscribe: RSS
In this episode, I'm speaking with The Potty Training Consultant, Allison Jandu, to bring you some top tips on potty training. From the basics, like when to begin potty training and how long it takes to potty train a toddler, to specifics, like what to do when your toddler asks to use the potty 15 times in one meal, we chat about it all! We even touch on reward charts, with both of us sharing our thoughts on food based rewards. 
Here's the thing, I've been asked by numerous parents about how to handle it when their toddler requests to go to the bathroom 5 seconds after sitting down to eat. Do they really have to go? Do they just want an excuse to leave the table? How many times do you let them get down? Since I'm not an expert, honestly I completely guessed my way through potty training my boys (oops!), I brought on an expert to give us all some insight. If you have a baby or toddler, this is a can't miss episode!
And in other news… this is also the season finale! I've had a fantastic first season with you all, and can't wait to be back for Season 2 very soon! It's going to be amazing! Be sure to subscribe so that you're notified when Season 2 begins, and I'd also love it if you gave me a rating and review for Season 1 on Apple Podcasts. 
Share this with a friend so they can binge-listen to Season 1 and be ready when the new episodes come out! And if you'd like to provide any feedback on the podcast, I'd love to hear from you, send me your thoughts to [email protected].
Additional Resources:
Thinking of jumping into potty training your toddler soon? Want to be prepared? Check out Allison's resources on her site – she has a very helpful blog, and you can contact her directly, there. She's also on Instagram, @pottytrainingsconsultant, and has recently launched a 10 day potty training challenge! 
Finally, if you're dealing with other mealtime battles, like having your toddler stay at the table in general, or even come to the table for that matter, check out my Feeding Toddlers online course. I go over how to set up the perfect, positive, mealtime environment so that your toddler will actually be excited to come to the table! Sound impossible? It's not! Enroll now to find out how you can set this up, remove the pressure and stress around mealtimes, and enjoy that time with your family. (https://mylittleeater.com/feeding-toddlers/) 
Allison's Bio: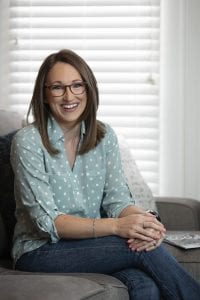 Allison Jandu is a professional consultant who assists families with one of childhood's most important, yet daunting, milestones – potty training.
Allison has helped countless children of all ages. Her custom potty training plans are based on building independence and empowerment and she thrives on seeing children succeed. She has made it her personal mission to revolutionize the way we think about potty training as a society.
Allison is also a mother herself, and holds a Bachelor of Science degree from the University of Baltimore. She has written internationally accredited continued education training for childcare professionals and three highly-praised potty training guides: The Poop Puzzle, The Wee Hours, and Potty Training for Busy Parents.
Skip To…
Welcome Allison! (0:47)
Potty training basics (5:04)
Reward systems (12:44)
Potty breaks during meals (16:14)
Podcast announcement (24:02)