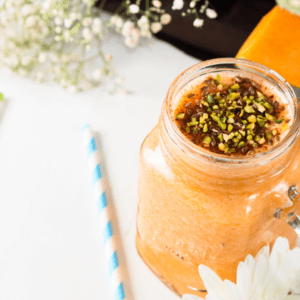 It's Fall y'all!! My favourite time of year – the leaves are changing colour, apple and pumpkin picking are in full swing, and it's sweater weather! Part of the reason I love this time of year so much are the fall flavours – apple cinnamon, pumpkin spice, Thanksgiving dinners – these are all some of my favourite things. I also love the family activities that come with this season. Whether it's time outside picking apples, or selecting that perfect pumpkin for your Halloween jack o'lantern. Or time inside doing Thanksgiving crafts or spending time together in the kitchen whipping up some yummy treats… it's all the best!
When you have toddlers, some of these activities may seem daunting – it's a lot of work bringing your kiddos along to the pumpkin patch, or having them sit long enough to finish that handprint turkey craft you found on Pinterest. But – I've got a couple of simple recipes that they just might find interesting enough to help out with in the kitchen – the perfect indoor activity! Especially for picky eaters, this kind of positive exposure to food, through food exploration, is essential. 
At the risk of being one of those blogs that makes you scroll all the way through to find the recipe, I'll put the recipe first, and then, let's chat about ways that your toddler can help you make them! These are super easy fall smoothie recipes – the perfect snack to whip up after a busy morning of playing in the leaves, or whatever other fall adventure you can get yourself into.
Please note: these are perfectly acceptable to serve to your baby as a food as well – like a smoothie bowl they can scoop up themselves with a Num Num GOOtsensil (I'd just add a bit more yogurt and a bit less milk for this). But, be sure you've already ruled out dairy and almonds (or at least one of them) for possible allergies before combining them in one exposure, as is done in these two smoothies.
Apple Pie Smoothie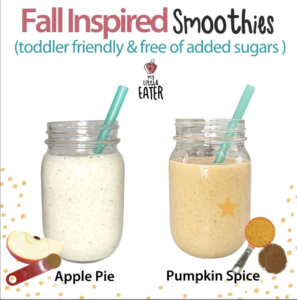 1 Medium Apple (peeled and diced)
1 Banana (use frozen or fresh)
1/4 Cup of Rolled Oats
1/4 Cup of Plain Greek Yogurt
1 Tsp. Hemp Hearts
1/2 Tsp. Cinnamon
1/4 Tsp. Cloves 
1/4 Tsp. Nutmeg
1/2 Cup Unsweetened Vanilla Almond Milk
1/2 Cup Ice
Pumpkin Spice Smoothie
1/3 Cup Pumpkin Puree (not pumpkin pie filling)a
1/2 Banana (use frozen or fresh)
1/4 Cup of Rolled Oats
1/4 Cup of Plain Greek Yogurt
1 Tsp. Hemp Hearts
1/2 Tsp. Cinnamon
1/4 Tsp. Cloves 
1/4 Tsp. Nutmeg
1/2 Tsp. Vanilla Extract
1/2 Cup Unsweetened Vanilla Almond Milk
1/2 Cup Ice
For both, add everything to your blender and blend until smooth!
If you find that the oatmeal is not blending smoothly, you can try soaking it in some water, or cooking it, first. This just makes it softer and easier to blend.
What can your toddler help with?
Does your toddler like to scoop things like my boys did? Get them some measuring cups/spoons that are easy for them to use – like these that are non-breakable, and fun, bright colours – and let them scoop out the oats, yogurt, ice, and spices! This may be messy… but, honestly, that's half the fun! If you prefer less mess, which is totally understandable, you can measure and then hand over the spoon for your toddler to dump it into the blender. Having a toddler tower can really help for these activities so they can safely stand at the counter with you, and reach the top of the blender. 
Now, I also like to let toddlers measure the milk. Yes, the first few times definitely result in a huge mess, but your toddler will catch up much faster than you may think, and it really helps to build their independence and develop confidence in the kitchen. I suggest giving your toddler the measuring cup, have them hold it over the blender, and you pour the milk into it. This way, if they move, just a bit of extra milk ends up in the smoothie – no big deal, counteract it with an extra scoop of yogurt if you find it too runny.
For the pumpkin spice recipe, your toddler will love dumping the can of pumpkin puree into the blender! You can open it up with the can opener, then give it to your toddler – I would speak with them about the possible sharp edges at the top, or if they're a younger toddler, hold your hands over top of theirs, to be sure they don't move them and drop the can, or accidentally cut themselves. Watch as they smile, and maybe giggle with delight, when the puree makes that slurpppp sound as it falls from the can!
Finally, for both recipes, I suggest using a fresh banana whenever possible, so that your toddler can chop it up! While you prepare the apple, or open up the pumpkin puree, provide your toddler with a child safe knife, like these, and have them slice up the banana to add to the smoothie. They can do this – and they will LOVE having such an important responsibility!
Oh – and have them press the buttons on the blender – this is always a favourite!
That's it, a nice, simple way to get your toddler in the kitchen this fall, provide them with a chance to explore a variety of foods and spices, and enjoy some quality time together!
If you're looking for some more ways to get your toddler exploring foods to prevent or manage picky eating, grab my Feeding Toddlers online course! I give you lots of ideas in there for food exploration and food play, that are not only fun, but actually beneficial for expanding your toddler's palate! Enroll today and put some fun back into your mealtimes!
**Please note that I do receive a small commission from any products purchased from the links in this blog post. But, this comes at no additional cost to you, and I will only ever link items that I fully support and stand behind! These small commissions help me keep my website alive and kicking so I can continue to provide you with valuable feeding info.