This post contains various forms of marketing, including affiliate marketing and paid advertisements. Please view our disclosure policy for more details.
Let's talk smoothies! They're quick, easy to make, totally customizable, and the best part is… kids LOVE smoothies!
Not only are smoothies an amazing way to get your little one to try new fruits and veggies, but they're a great way to boost hydration too! Smoothies are also easy to consume, and easy to pack full of protein, fat, and fiber, making them a great option if you're looking to add an extra boost of nutrients and calories into your little one's diet.
Okay… So you're sold on the idea of smoothies, but don't know where to start? Don't sweat it mama, we've got you covered. In this blog, we're going to go over the ins and outs of serving smoothies and talk about everything from when to serve them, how often to serve them, what should be included in your kid's smoothies, and we'll share our favorite straw cups to use for your little one (from Elk and Friends and noüka). 
We've even got some smoothie recipes to share with you at the end to help get you started. So, let's get into it!
When can babies have smoothies?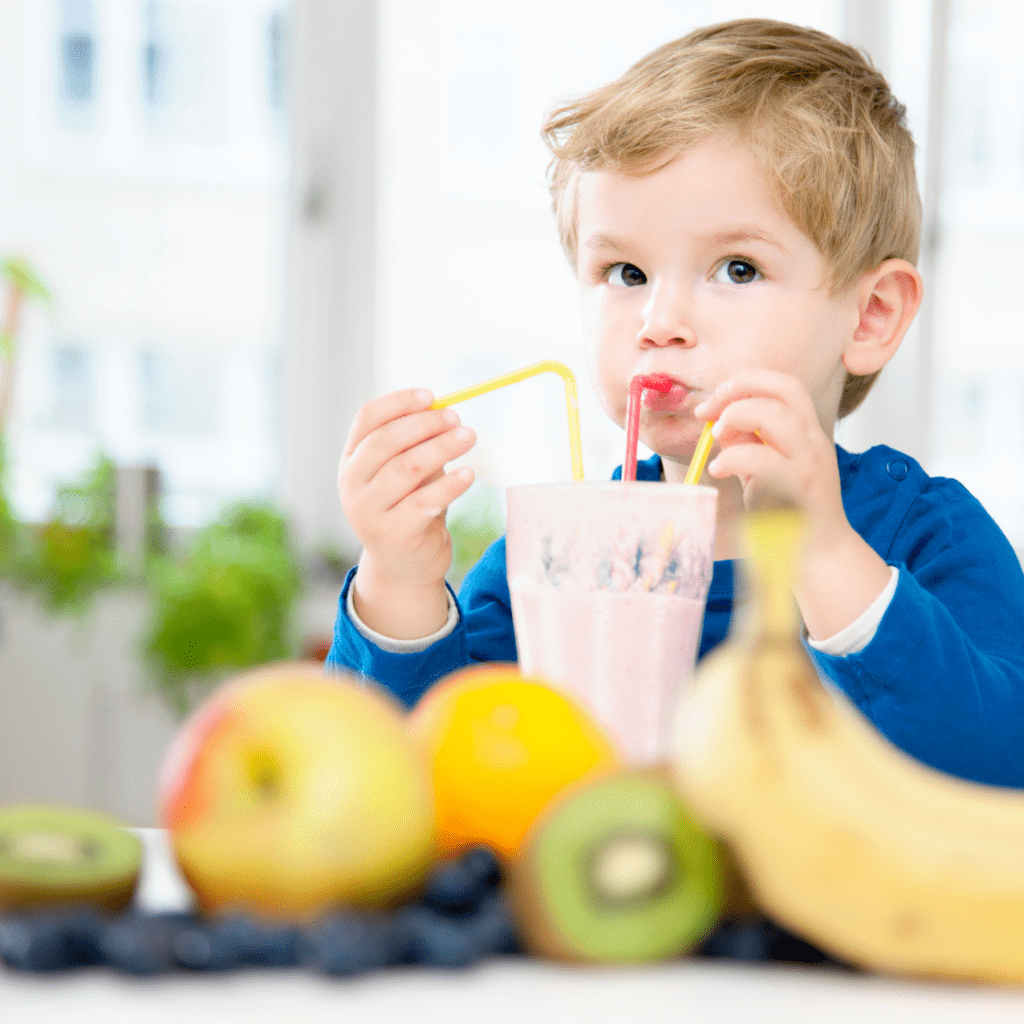 While it's ok for babies aged 6 months to 1 year of age to have sips of your smoothie from time to time, we recommend avoiding serving smoothies as a beverage until after your baby has turned one year old. This is because smoothies are really easy to fill up on, and since babies have such little tummies, smoothies can displace the amount of breastmilk or formula they're able to take in. No matter how nutritious you make a smoothie, it won't be able to replace the nutritional value of breastmilk or formula adequately. Babies require very specific nutrients which is why we want solids to be in addition to milk intake, whereas smoothies risk being instead of milk intake.
That being said, babies can occasionally consume smoothies in the form of "smoothie bowls" – which they can eat like any other puree – with a spoon or by getting messy with their hands! We recommend serving this with other textured finger foods, so they don't become reliant on pureed versions of foods (like smoothies) and maintain lots of oral-motor practice chewing whole food forms.
How often can babies & toddlers have smoothies?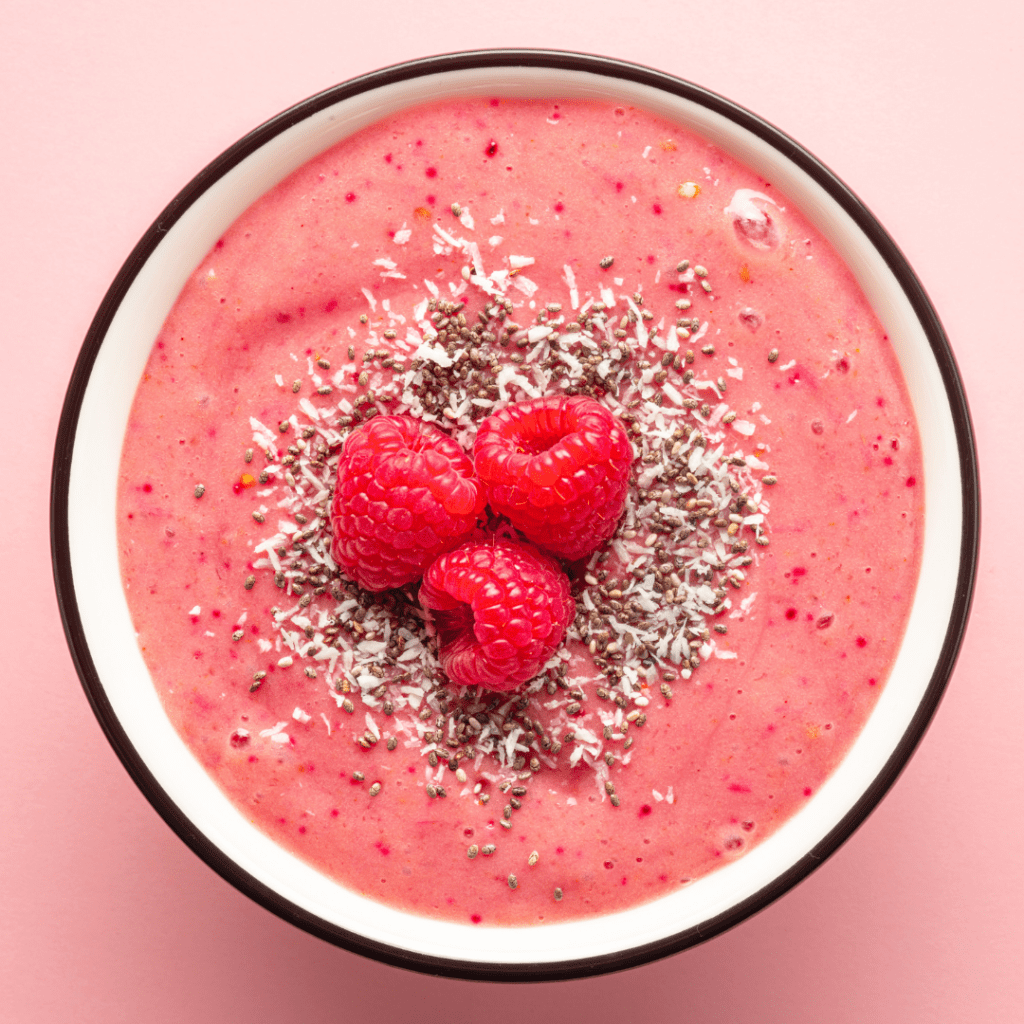 Although smoothies are great, we don't recommend becoming overly reliant on them, as even toddlers can fill up on smoothies easily. Not only will your little one reduce the amount of solid food that they're willing to eat later on in the day after filling up on smoothies, but they also aren't getting exposed to much texture while drinking a smoothie. It's very easy for babies and toddlers to become reliant on easy, pureed or overly soft textures if they have the option to consume them, and this can make them picky towards other more-textured food over time.
Smoothie bowls are a better way to offer smoothies, as you can add a variety of textures on top like fresh fruit, hemp seeds, and finely ground nuts. You can even get your little one involved in making "smoothie art" and encourage them to get creative with the way that they arrange their toppings! Smoothie bowls also provide a great opportunity for your baby or toddler to practice using utensils!
In short, there is no hard and fast rule for the amount of smoothies that your baby or toddler can have in a week. BUT, our recommendation is no more than 1-2x/week. Variety is key to having a balanced diet and raising a confident eater. So as long as you're offering smoothies along with a variety of other foods, and aren't getting stuck on serving the same foods over and over again, then you're doing just fine!
What to avoid in smoothies for babies & toddlers
Honey is something we recommend totally avoiding until after age 1. The reason is that it can contain spores called Clostridium Botulinum, which, if the spores grow and multiply inside your baby's intestines, causes infant botulism. After age 1, the digestive system becomes more mature and can move the toxin through the body, which is why it's safe to include in the diet at that point.
Fruit-only (or fruit "mainly") smoothies
The problem with most smoothies bought in stores (or found online), is that they're composed of lots of fruit (and even fruit juice too), with little in the way of protein or fiber found. How many smoothie recipes start with 1 cup of fruit + 1 banana + a liquid like juice or water? The amount of sugar (yes – even natural sugar) is very high with little protein or fat to balance it out. Even with the fiber that's bound in the fruit, this isn't enough to prevent blood sugars from spiking. It's a lot of fruit that gets concentrated and consumed in a much faster fashion than if you were offering your baby or toddler whole fruit. That's why the American Academy of Pediatrics recommends no fruit juice under age 1, and at most, 4 oz of fruit juice for kids ages 1-3 (1).
This all being said, when you have a properly balanced smoothie, it no longer falls under this fruit juice category (we're going to get to how to balance your smoothies in just a bit!).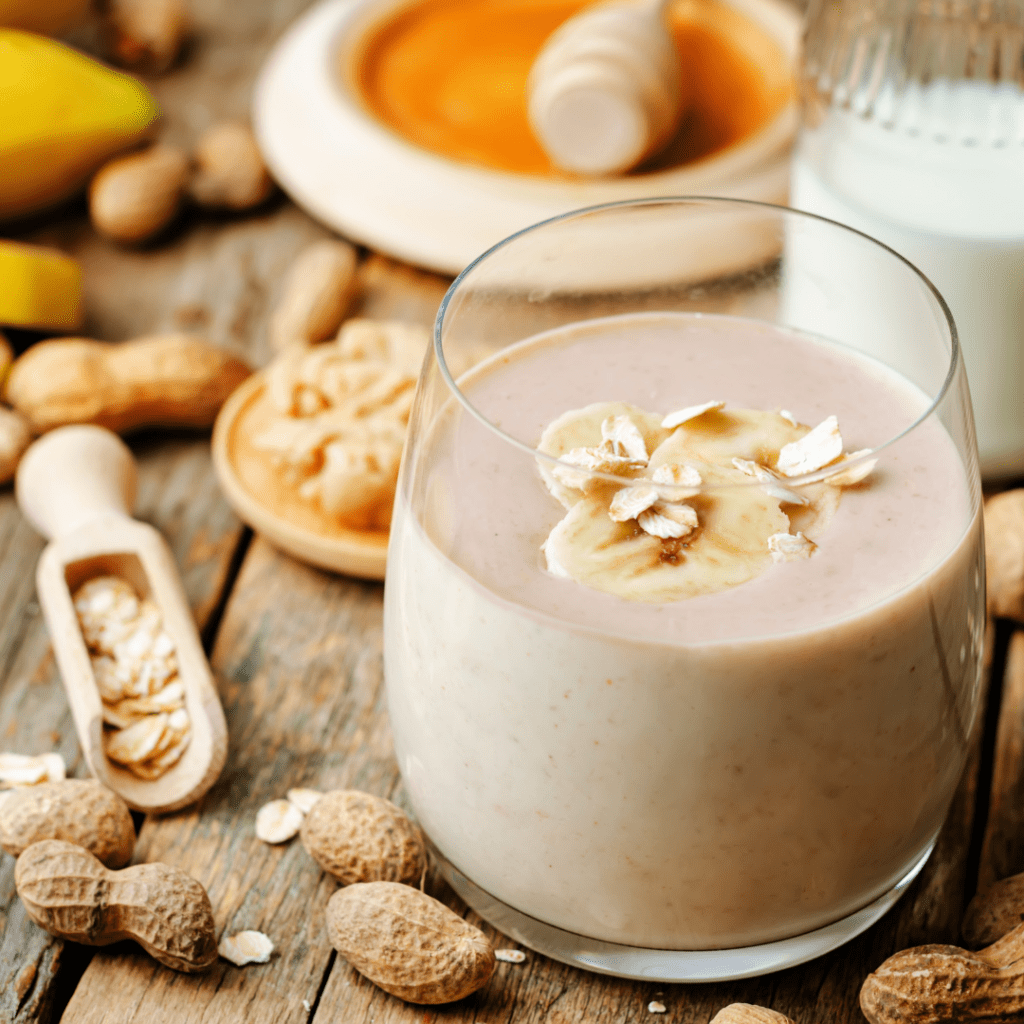 Added sweeteners are not needed in smoothies, especially if you're including fruit! Fruit will provide your toddler's smoothie with a yummy, naturally sweet flavor. If you are looking to add some extra sweetness though, it's always better to opt for whole food sources when possible – these will provide some extra sweetness along with vitamins, minerals, and fiber! Here are our favorite whole-food sweeteners you can add:
Banana

– A very ripe and brown banana is more sweet than a regular banana.

Dates

– Medjool dates are super soft and can be blended directly in a blender with any liquid first for 30 sec. before adding the remaining smoothie ingredients.

Honey

– ONLY after the age of 1!

Monk Fruit/Stevia

– These are naturally derived sweeteners that are generally accepted as safe, even with children. However, this is based on observation and not official research. Some people report digestive upset/gut issues when consuming different quantities of these sweeteners – so be aware of this and stop if you notice any symptoms.
What to include in your baby or toddler's smoothies
When it comes to building a smoothie that is satiating and full of nutrients, there are four components that we want to focus on – protein, fat, fiber, and fruit/greens. So, let's quickly talk about why each one is important.
Note: If serving smoothies as a snack instead of a meal, you can omit ONE of the major macronutrients (either protein, fat, or fiber).
Protein helps to build and maintain cells throughout the body, everywhere from muscle cells, to the cells in our immune system (2). Protein is an essential building block for not only muscles, but also bones, cartilage, skin, and blood (2). Protein also helps to keep us full, and keep our blood sugar balanced, which translates to keeping a toddler's mood and energy levels nice and steady (2)!
Fat is essential for keeping developing brains happy and healthy! It's also used as a building block for hormones and is needed for the absorption of certain vitamins (3). Just like protein, fat also helps to keep us full for longer and helps with blood sugar balance (3).
Fiber feeds the healthy bacteria in our gut, which keeps our digestive system working smoothly. Just like protein and fat, fiber also plays a big role in keeping us full and balancing our blood sugar (4). Having all three present in a smoothie is guaranteed to provide a satiating meal or snack that will keep your toddler full until the next meal or snack.
You can learn more about including Fat, Fiber, and Protein in every meal for your toddler, here.
Fruits and greens provide important vitamins, minerals, and antioxidants. While your little one won't be able to taste the greens, adding them to smoothies is a great "green exposure" to get them used to eating and liking the taste of green foods, which toddlers can sometimes be hesitant to try!
Which protein powder do you recommend for toddlers?
Protein powder is one of the ways that we can add protein to smoothies for toddlers (don't offer any protein powder to babies). But with SO many options to choose from, you may be asking yourself… "Which one is best?" ("HELP!" may have also come to mind). 
When it comes to protein powder for toddlers, we recommend finding one that has minimal ingredients and is either unsweetened or uses a natural sweetener like monk fruit.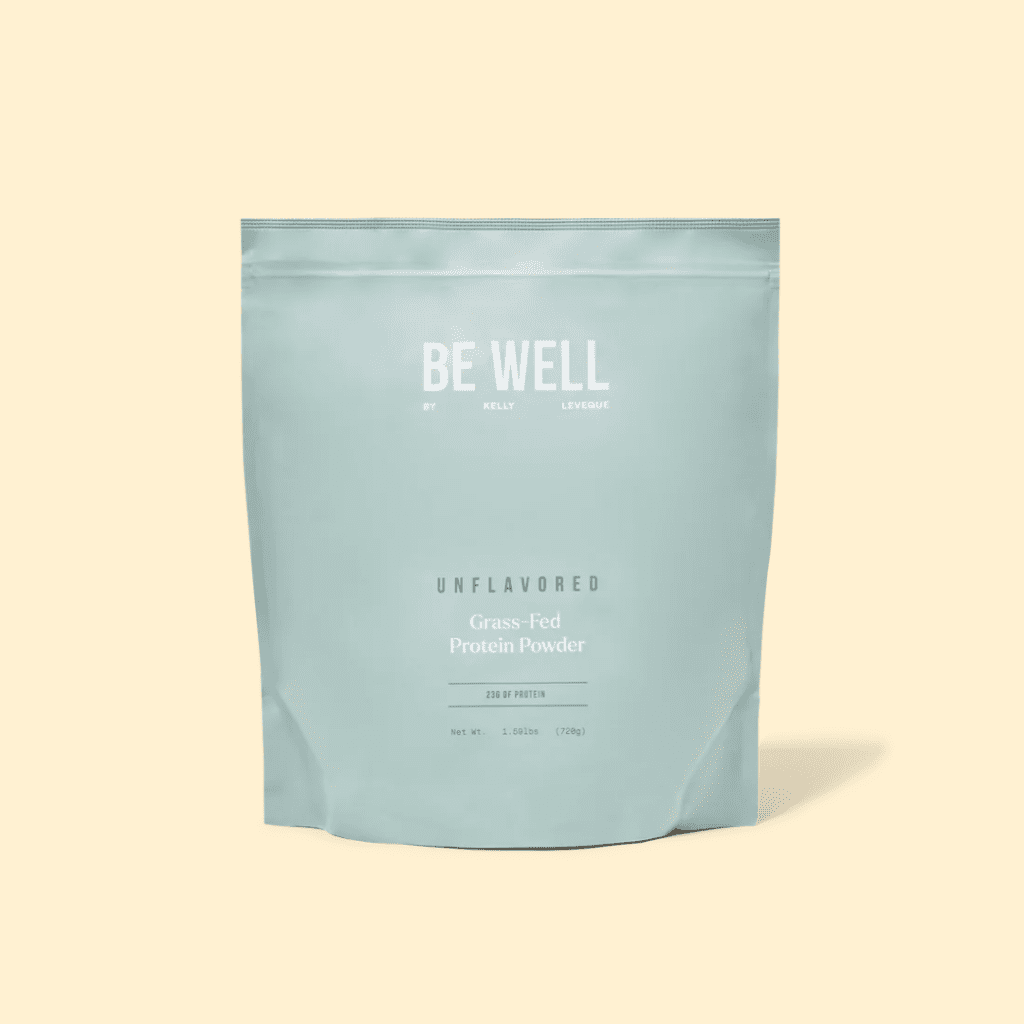 Our top protein powder recommendation is Be Well by Kelly Protein Powder which is made from beef protein isolate.
Beef protein isolate, as you may have already guessed, comes from beef! This means that it's a concentrated source of complete protein, and is a highly absorbable source of iron (a very important nutrient for toddlers and growth). BONUS – it's totally safe for those with dairy allergies since the protein is from beef concentrate and not from whey! Be Well by Kelly Protein Powder is also free of gluten, egg, soy, and nuts, making it a great option for toddlers who suffer from allergies. 
Get $5 off your Be Well by Kelly Protein Powder order using code: LITTLEEATER.
We've also got a whole guide on protein powders with what to look for and some of our runner-up options. Learn more about protein powders and access the free guide, here.
How to serve smoothies to babies & toddlers
Smoothies can be offered in any toddler-sized open cup, but you'll likely want to reserve this for when your toddler is seated at a table and can keep any spills contained. Straw cups are really the way to go with smoothies and, as we mentioned, we love serving smoothies as smoothie bowls to babies and toddlers too! Let's look at a round-up of our favorite smoothie cups and bowls!
Here are our favorite cup options for serving smoothies as a beverage. We've chosen these brands based on the material they're made from, the size of the cup, and additionally the size of the straw. A larger circumference for the straw means that it is much easier to clean, especially if you add any kind of seeds to your smoothies, those can often become stuck inside smaller straws (and make it more difficult to drink too!).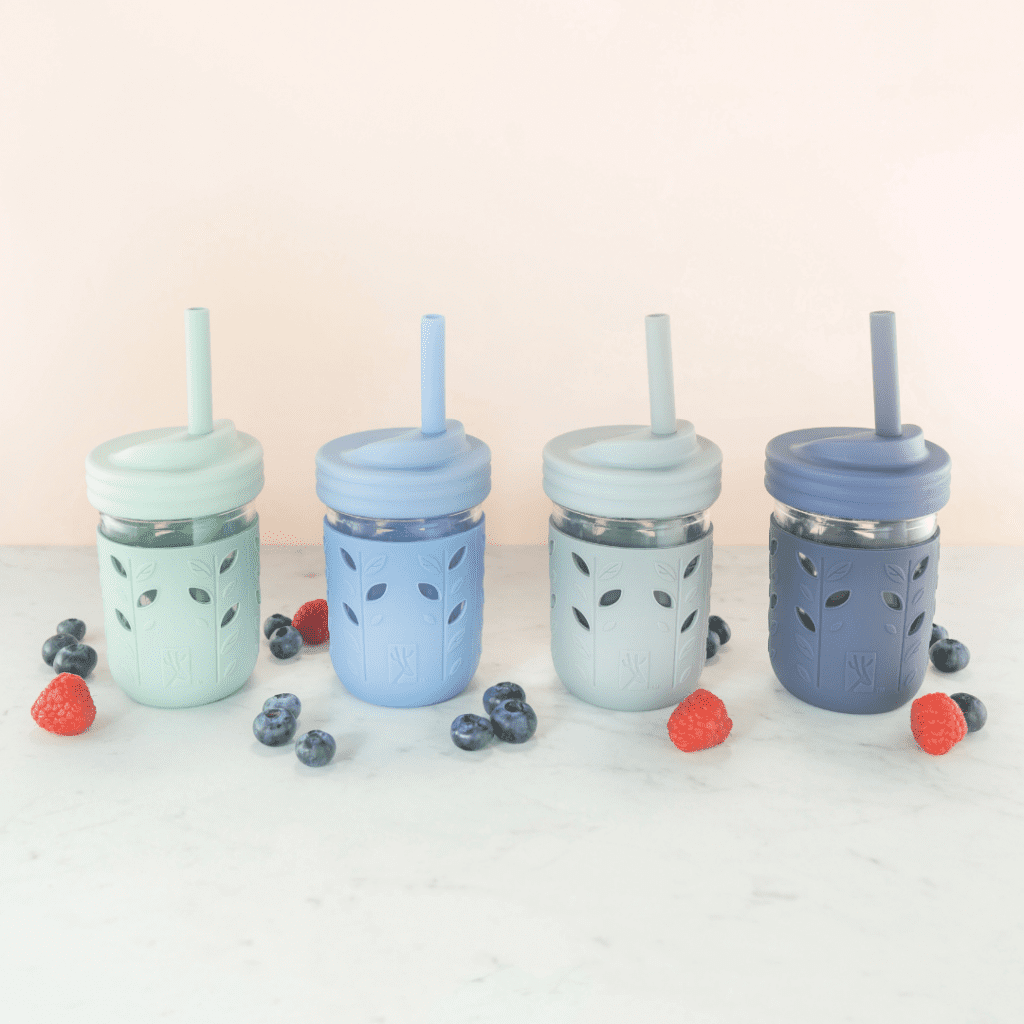 Versatile, fun, safe, and durable – Elk and Friends drinking tumblers are designed to minimize spills and messes, making them one of our top recommendations for smoothie cups for toddlers! Elk and Friends glass tumblers also double as food storage – just like a mason jar – pretty cool right? When using the food storage cover, the cups are completely leakproof, making them a great option if you want to pack a smoothie for later. More features we love about Elk and Friends cups include: 
Wider straws to allow for thicker drinks (smoothies) and no valves like other cups

Silicone straw with a stopper so straws can not be pulled out

Comes with storage lids to store food/drinks

Available in stainless steel or glass. Non-porous and do not hold smells or soaps, stain, etc.

Easy for small hands to hold with the silicone sleeve and size of the cup.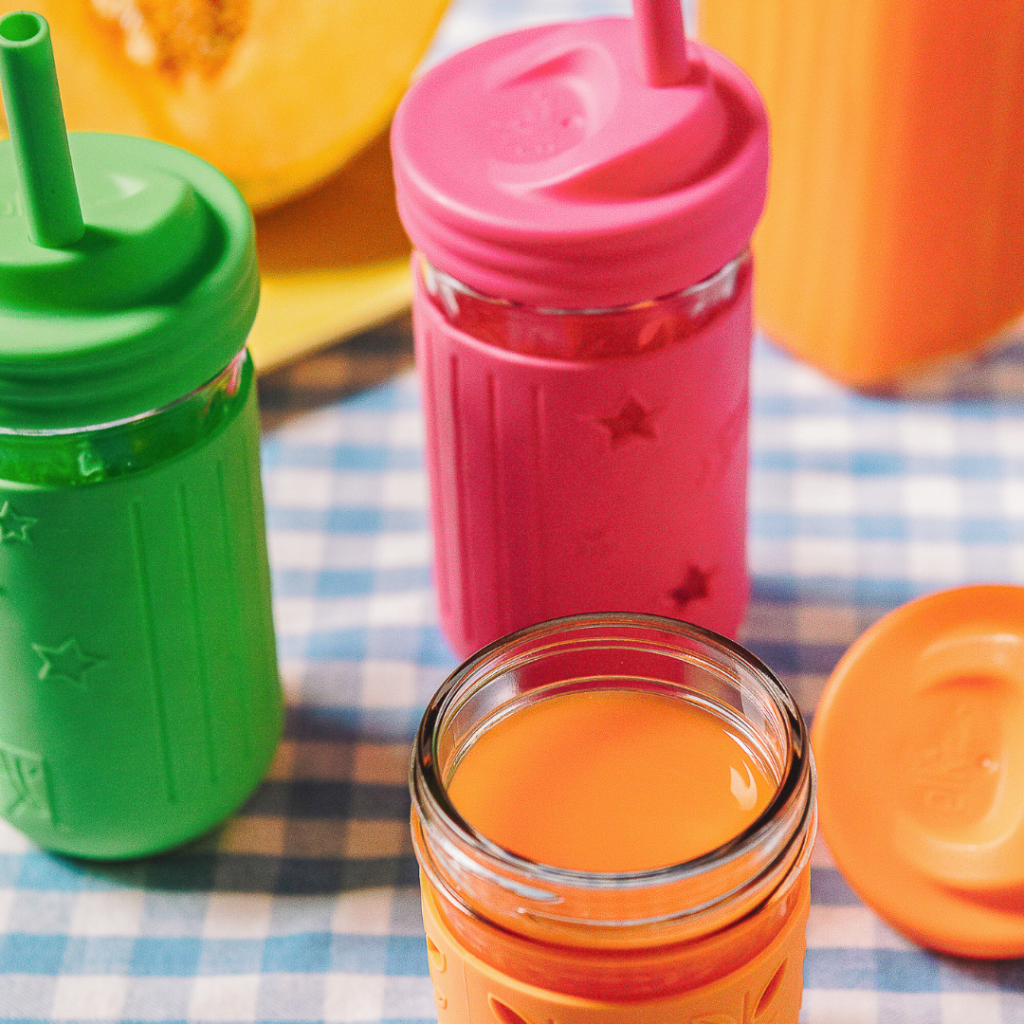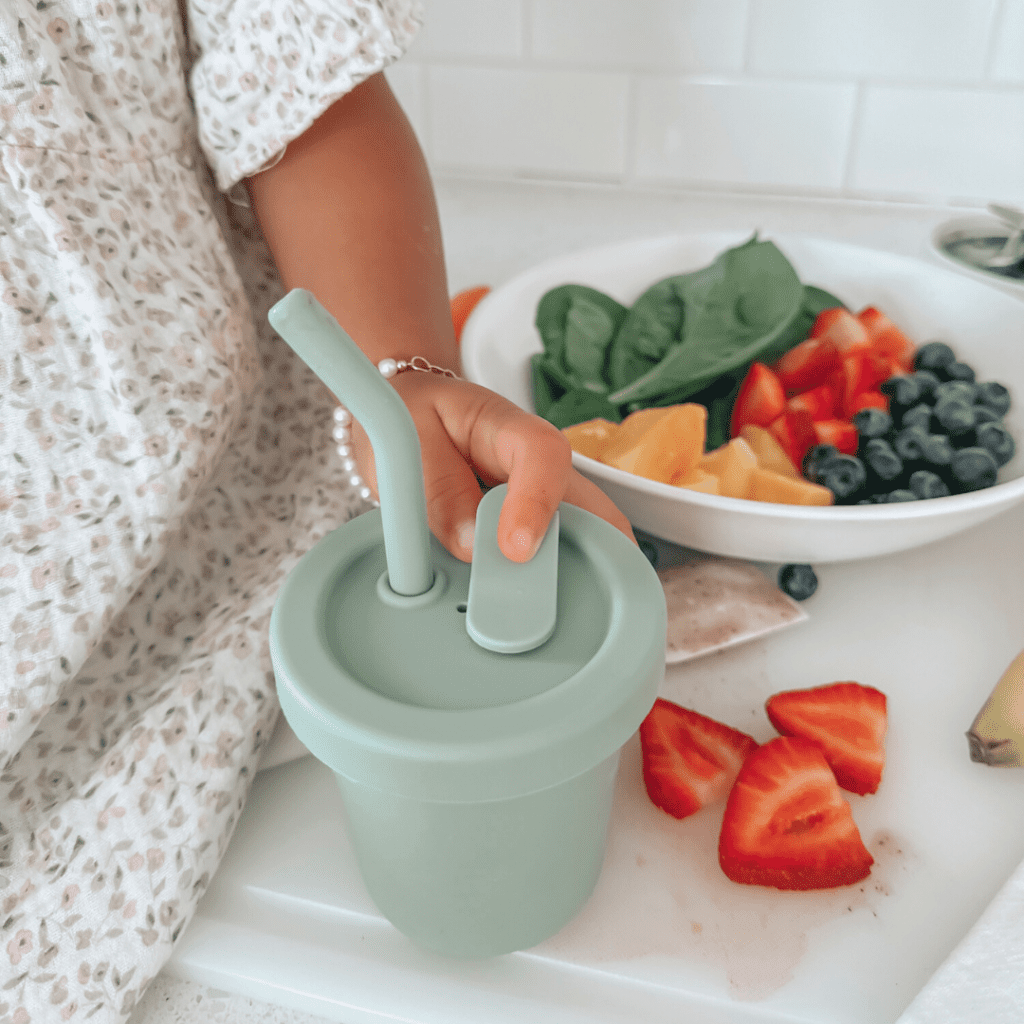 Perfect for babies who are still learning how to drink out of a straw, noüka straw cups are definitely one of our top favorites! We love that this smoothie cup has a lid to minimize the mess, plus the seal around the cup is air-tight, so no spilling if your little one accidentally tilts the cup to the side. More reasons why we love noüka straw cups include:
Spill-proof tab keeps beverages contained when not in use, perfect for taking it on-the-go and storing them in a lunch bag!

Soft, silicone straw is gentle on gums and teeth

Airtight lid minimizes accidental spills

Made from non-toxic, food-grade silicone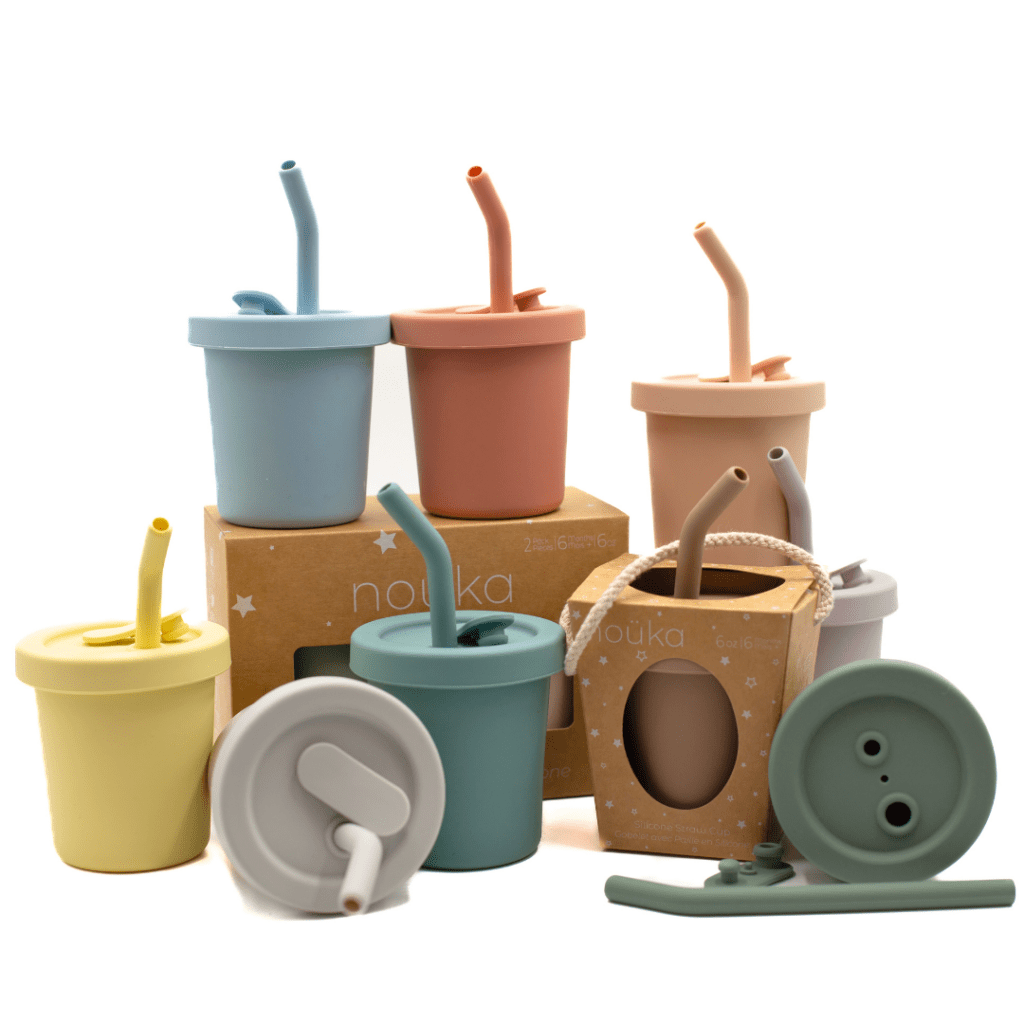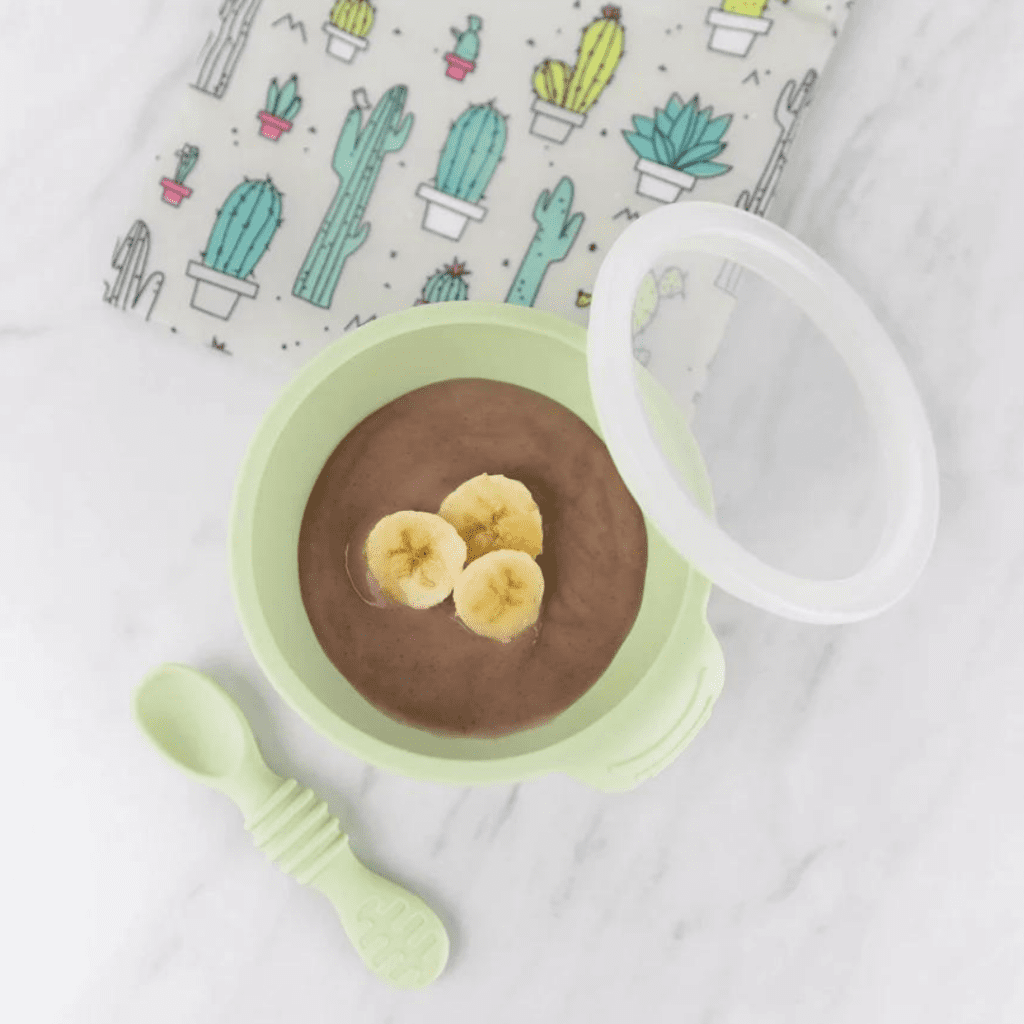 Bumkins first feeding set makes a perfect smoothie bowl for your little one! The lid is perfect for storing leftover smoothie bowls that you can offer again later. The bowl is deep, holding approximately 10 oz, comes with a double-ended spoon for dipping or scooping, and has a suction base to keep the bowl where it's supposed to be – on the highchair tray. More features we love about Bumkins first feeding set are: 
Microwaveable, freezer-safe, and dishwasher-safe (top rack)

Bowl only is oven safe, up to 400°F/204°C

Safety tested using certified 3rd party labs to comply with US Federal CPSC safety regulations for Lead, Phthalates, BPA, BPS, Cadmium
Both! Smoothies can be served as either a meal or a snack. However, we only recommend serving a smoothie as a full meal if you're adding in a solid portion of fat, fiber, AND protein to the smoothie.
Smoothies can be a great option for relieving constipation in toddlers! The sucralose found in fruit, especially those with "stones" in it like apple, apricot, date, fig, nectarine, peach, pear, plum, prune, and raisins – are great to include in smoothies if you're trying to get rid of constipation in your little one (5). Be careful – they can also work the opposite way and cause diarrhea if your child consumes too much! Start with 2-4 oz of smoothie containing these fruits and increase the amount of water your child consumes throughout the day until you see relief. Adding seeds high in soluble fiber like chia seeds is also a great option for constipation relief.
We like the way you think… and the answer is yes! Smoothies can be blended in advance and then refrigerated for up to 24 hours in a glass jar with an airtight lid. We also love freezing smoothies into cubes using an ice cube tray. The night before you want to have a smoothie ready, simply thaw some cubes in an airtight container in the fridge. Then shake it up in the morning and voila – a quick and easy meal or snack for your toddler on the go!
9 Nutritious Smoothies for Babies & Toddlers
Here are 9 My Little Eater-approved, balanced smoothie recipes for you and your toddler. Let us know which is your favorite in the comments below!
Happy smoothie drinking!
Note: For all of these smoothie recipes, you can substitute any dairy option for your favorite non-dairy alternative. If you need help choosing which milk alternative is best for your toddler, learn more about the options here.
If you're struggling with a picky toddler at home (or are looking to avoid that experience as much as possible!), then you'll need a well-rounded, holistic approach to managing/preventing picky eating. Our Feeding Toddlers course provides just that – it helps you set up a solid foundation for feeding and then gives you the best tips and strategies, taken right from our professional feeding therapy, to tackle picky eating (or stop it in its tracks!)
FOUND THIS HELPFUL? PIN IT TO SAVE FOR LATER!
Heyman, M. B., Abrams, S. A., Heitlinger, L. A., Cabana, M. D., Gilger, M. A., Gugig, R., … & Schwarzenberg, S. J. Fruit juice in infants, children, and adolescents: current recommendations. Pediatrics, 139(6), 2017.

Harvard School of Public Health. The Nutrition Source. Protein. Retrieved from

https://www.hsph.harvard.edu/nutritionsource/what-should-you-eat/protein/

Gómez-Pinilla F. Brain foods: the effects of nutrients on brain function. Nature reviews. Neuroscience, 9(7), 568–578, 2008. 

Slavin J. (2013). Fiber and prebiotics: mechanisms and health benefits.

Nutrients

,

5

(4), 1417–1435, 2013.

Food Intolerance Diagnostics. Sorbitol & polyols. Retrieved from

https://foodintolerances.org/en/food-dictionary/sorbitol-content-of-food