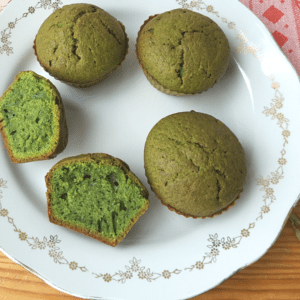 Now, here's a great little recipe that was first introduced to me by my sister-in-law, and am I ever grateful! They're so easy to make, healthy, and GREEN! I believe the original name to the recipe that she had found called them "Popeye Muffins" – however, our little ones would never understand that reference, so Shrek muffins they became.
While we were away on vacation at a cottage on Prince Edward Island, this was by far the favourite snack for the kids (and adults!) – All. Week. Long. It's perfect to serve with fruit and yogurt for breakfast, or with fresh raw veggies and a slice of cheese, at snack time. The best part? 6 cups of spinach goes into one batch! And they won't even know!
I'm not one to recommend hiding veggies in food for your toddler, I believe that it can lead to your toddler having a hard time trusting what you serve them – and with the division of responsibility – trust is everything! However, if they don't ask what kind of muffin it is, I don't really think of it as hiding. 
For example, when my oldest was 5 years old, he helped me make a batch at home. When he saw me pull the bag of spinach out of the fridge, he said "Wait – there's spinach in these?!". I couldn't help but laugh knowing that he was going through a phase where he scowled when he saw any type of green leafy vegetable on his plate. But, with these muffins, it's true… you really just can't taste the spinach! If he had asked me what was in them when I originally served them though, I would have told him that they were banana and spinach muffins. If I had lied and said they were just banana muffins, or that the green was magic, or whatever other explanation I had thought of on the spot to avoid telling him about the spinach – what would I have said when he offered to help make them? Avoid it and hope he'd forget? Tell him no and miss out on that quality time, and opportunity to get some food exploration in?
Sneak some veggies into things – smoothies, muffins, cake if you really want to – but always, always tell them about it (especially if they ask)! In order for them to uphold their part of the division of responsibility, they have to trust you, just like you have to trust them in order to effectively accomplish your role.
Okay, now onto the recipe!
Shrek Muffins
Makes 16 muffins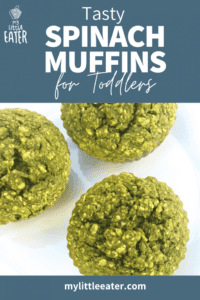 Ingredients:
2 cups whole-wheat flour
¾ cup sugar
2 tsp baking powder
½ tsp baking soda
1½ tsp ground cinnamon
½ tsp salt
¼ cup canola oil
¾ cup milk
6 cups fresh baby spinach
2 bananas
2 tsp pure vanilla extract
Directions:
Preheat the oven to 350°F and line two 12-cup muffin pans with silicone liners.
Whisk together dry ingredients in a large bowl: flour, sugar, baking powder, baking soda, cinnamon, and salt. Set aside.
In a blender, place the oil, milk, and spinach. Blend on high for about 30 seconds or until completely puréed. Add banana (one half at a time) and vanilla; blend on low just to mix.
Pour puréed mixture into dry mixture and fold together with a rubber spatula until completely combined.
Fill muffin cups about ⅔ full and bake for 18-20 minutes, or until a toothpick inserted into the center comes out clean.
How your toddler can help!
If your toddler loves to help in the kitchen, like my son offered to do with these muffins, there are plenty of ways to get your toddler involved! Have them measure out the dry ingredients and dump them into the bowl – if they love scooping, this will be a hit! I know it can be messy, so alternatively, you can help scoop and they can dump into the bowl. 
You can also let them measure out the spinach – much less messy – and place it into the blender, along with the banana. And, I'm willing to bet that they'll ask to push the button on the blender – super easy way to involve them in the kitchen!
All in all, embrace the mess – as much as you can – because this type of food exploration where they're touching a variety of foods, is excellent for expanding their palates. It also helps to increase their independence, and gives them a boost of confidence! If you want a complete list of all the tools I recommend for your toddler for assisting in the kitchen, grab my freebie on toddler kitchen utensils! I came up with this list in collaboration with a well-respected, local Montessori teacher. 
And, if you want more ideas on how to increase your toddler's food exploration and food play to help with picky eating, or to actually prevent it, grab my Feeding Toddlers course! I provide you with the foundation, a complete overview of the division of responsibility and how to set mealtimes up for success, along with many ideas for increasing the fun with food! Enroll now to get started!
Happy snacking!