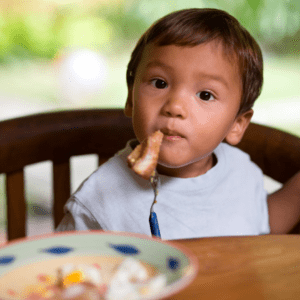 Podcast: Play in new window | Download (Duration: 34:31 — 29.4MB)
Subscribe: RSS
In this episode, I'm revealing the extensive research I've done on the topic of fish for babies. I include what I find out about which fish is the safest, which should be avoided completely, and how often certain fish can safely be served. Fish has many nutritional benefits, and it's a top allergen, so serving it beginning at 6 months of age is definitely the recommendation. But certain fish are better options than others, and trying to figure out which you can safely serve can be a bit overwhelming.
I've done all the research for you, examined a huge variety of fish, looked at mercury levels, and created a complete outline for which fish to serve most frequently, which to serve sometimes, and which to avoid altogether. You can find my complete cheat sheet for this listed below to download!
If you get value from this episode, please remember to subscribe, rate and review it at Apple Podcasts. And make sure you share this with your friends, there's a lot of misinformation floating around out there when it comes to fish for babies, so this research needs to be available to more parents!
Additional resources:
If you're looking for my top recommendations on nutrition for your baby, and on how to safely serve all types of foods – it's time to enroll in my Baby Led Feeding online course! My new revamped version recently released, and until March 31st you'll get access to a 30 day meal plan where I show you exactly what to serve your baby (with over 60 recipes). After that, the bonus will cost extra, so enroll now to save! (https://courses.mylittleeater.com/babyledfeeding)
FISH GUIDELINES FOR BABIES DOWNLOAD: https://courses.mylittleeater.com/fishguidelinesforbaby
THE ULTIMATE GUIDE TO THE SAFEST FISH FOR YOUR BABY: https://mylittleeater.com/bestfish/
DO YOU REALLY NEED TO WORRY ABOUT SALT FOR BABIES? https://mylittleeater.com/44-saltforbabies/
Skip to…
Benefits of fish (3:55)
Concerns around fish (8:14)
Wild vs. farmed (11:09)
Canned, fresh, or frozen (15:00)
Recommended guidelines (16:38)
My Little Eater's™ guidelines (22:24)
My Little Eater's™ fish picks (26:50)