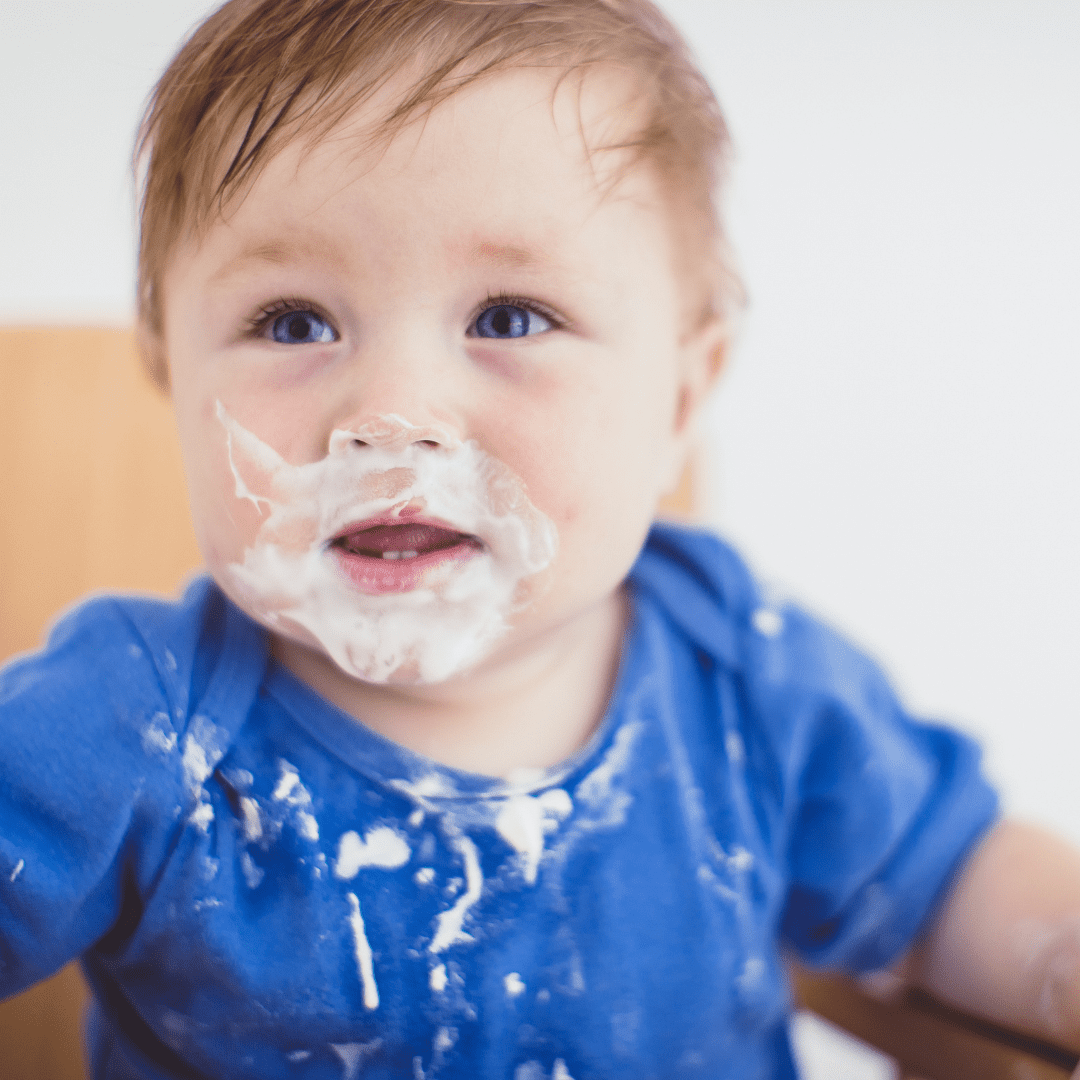 Podcast: Play in new window | Download (Duration: 22:03 — 17.6MB)
Subscribe: RSS
On this episode of the podcast, I'm calling it like it is and getting fired up about something I feel very strongly about…mixing purees and baby led weaning! But, more importantly, I'm here to tell you that spoon feeding is NOT wrong, or bad for your baby. Period. I listened to another podcast over the past weekend that sparked this episode of my own, and I'm not pointing any fingers, but I will explain why I wholeheartedly disagree with their stance on puree feeding and whether or not you can combine puree feeding and baby led weaning. 
I'll chat about the main controversy of purees vs. baby led weaning – does it really need to be one or the other? I'll go over how to do baby led weaning and purees, in fact, I'll share with you the benefits of doing so! And we'll cover some other important topics like why I feel strongly that you need to feed your baby in the way that feels right for your family, and how baby led weaning is not better than spoon feeding, despite what some experts would have you believe (pssstt…it's not a competition, there is no winner here).
So, if you're sick of hearing about the black and white of feeding, or parenting for that matter, and want to learn about how you can safely exist in that grey area in-between in a way that benefits both you and your baby – download and listen now! Let's collectively decide to throw out any narrative that suggests you have to do things one way to be a "good parent" and if you do it another way you're causing irreparable harm…nope. I don't agree with that, and I'm over reading about it online. You CAN find a happy medium in feeding (and in other things too), and I'm here to help you do just that. 
P.S. Don't forget to send this to another parent that could benefit from finding their happy medium by learning about how to do baby led weaning combined with purees.
Leave a review and win! 
Help The My Little Eater Podcast hit #1 on the charts and reach even more parents who may need some extra help when it comes to feeding their little ones!  All you need to do is head over to Apple Podcasts and leave me a quick review about what you loved about this episode, or a previous one. Thanks so much in advance for your continued support.
As a thank you, you'll be entered to win a 15 minute call with me where you can ask me anything about feeding. Just make sure to leave your Instagram handle so I can find you if you're the lucky winner!
---

♥ Listen on Apple Podcasts                 ♥ Listen on Spotify                 ♥ Listen on Google Podcasts
---
Additional Resources:
BABY LED FEEDING ONLINE COURSE: https://mylittleeater.com/baby-led-feeding/
Starting solids isn't meant to be just another thing you have to stress over as a parent – it's supposed to be fun! So, let me help you keep it that way and ensure you raise a baby who loves all food! My Baby Led Feeding Online Course will help you start solids with confidence, ensuring you have the knowledge to gently push your baby through textures to prevent picky eating and be healthy in all aspects!
EP. 76 – SPOON-FEEDING USING THE BABY LED WEANING METHOD:
https://mylittleeater.com/spoon-feeding-purees/
TEXTURE TIMELINE CHALLENGE: https://mylittleeater.com/texture-timeline-challenge-live
If you're ready to jump into starting solids with your little one, and want to learn more about how to do baby led weaning and purees, or maybe you want to learn about spoon-feeding your baby, self-feeding, and when to stop purees, enroll in my Texture Timeline™ Challenge! It kicks off February 23rd, 2022 and runs for 5 days with live support from me every single day!
If you're looking to start solids with your baby, then you need to get the gear! Head over to Bumkins to grab some of my favourite feeding supplies, like their long-sleeved bib, chewtensils, or one of their first feeding sets – perfect for starting solids with your little eater! And make sure you use my code at checkout for 15% off your purchase.
BUMKINS DISCOUNT CODE (15% OFF): MYLITTLEEATER15
Skip To…
My opinion on combining BLW and purees (2:09)
Important considerations if you're mixing both methods (5:37)
Why it's ok to switch or combine approaches (9:33)
Real-life examples of using purees and baby led weaning together (18:23)