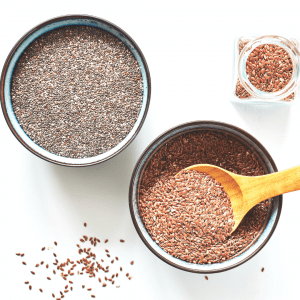 Podcast: Play in new window | Download (Duration: 26:19 — 17.9MB)
Subscribe: RSS
On this episode of the podcast I've got some special guests joining me to talk all about the benefits of flax seeds, chia seeds and hemp hearts – otherwise known as super seeds! Kim and Tina are the founders of Tiny Sprouts Foods, where they formulate seed mixes for babies and toddlers to help them meet their nutritional needs. And as a lover of the benefits of seeds, I'm always tossing them into dishes we make at home as an added nutrition booster because it's just so easy!
Kim and Tina explain many nutritional benefits of seeds – fiber, omega-3's and iron are among some of the nutrients they offer, plus so many more – and this episode digs deep into them all…plus how they can even help a picky eater! And if you have a toddler, you know the importance of preventing constipation and seeds are a great example of a high fiber food for constipation. Make sure to listen in to get more details and find out easy and safe ways to incorporate them into your baby or toddler's meals! Plus… if you're wondering how the heck you store them, you'll want to check this episode out too! Trust me when I say you'll be shocked (I know I was)!
Leave a review and win! 
Help The My Little Eater Podcast hit #1 on the charts and reach even more parents who may need some extra help when it comes to feeding their little ones!  All you need to do is head over to Apple Podcasts and leave me a quick review about what you loved about this episode, or a previous one. Thanks so much in advance for your continued support 🙂
As a thank you you'll be entered to win a 15 minute call with me where you can ask me anything about feeding. Just make sure to leave your Instagram handle so I can find you if you're the lucky winner!
---

♥ Listen on Apple Podcasts                 ♥ Listen on Spotify                 ♥ Listen on Google Podcasts
---
Additional Resources:
BABY LED FEEDING ONLINE COURSE: https://mylittleeater.com/baby-led-feeding/
Starting solids isn't meant to be just another thing you have to stress over as a parent – it's supposed to be fun! So, let me help you keep it that way and ensure you raise a baby who loves all food! My Baby Led Feeding Online Course will help you start solids with confidence, ensuring you have the knowledge to gently push your baby through textures to prevent picky eating and be healthy in all aspects!
FEEDING TODDLERS ONLINE COURSE: https://mylittleeater.com/feeding-toddlers/
If you have a toddler or child aged 1-8 years old and you want to prevent or manage picky eating and learn how to enjoy stress free, happy mealtimes as a family – enroll in my Feeding Toddlers Online Course now! Get started early on curbing unwanted mealtime behaviours before they start, overcome picky eating and set your toddler up to be an adventurous eater! 
TINY SPROUTS PRODUCTS: https://tinysproutsfoods.com/?ref=HMdDMKNbQV–I
If you want to try some of these amazing super seed blends mentioned in the episode, you can use the code MYLITTLEEATER and get 10% off your purchase! 
MORE INFO ON SEEDS FOR BABIES: https://mylittleeater.com/seeds-for-babies/
Tiny Sprouts Bio: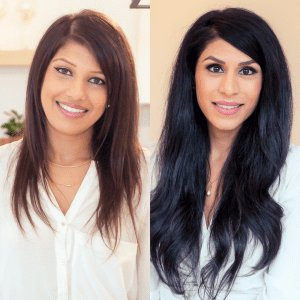 Tiny Sprouts Foods is a children's nutrition company that produces easy, convenient, nutrient-rich products that offer functional health benefits to the developing child. They are committed to making every bite count through their debut range of Organic Superseed BoostersTM, which can easily be added to any food to boost nutritional content and support a child's daily health needs. Leading with a transparent and simple approach, Tiny Sprouts Foods strives to reduce mealtime stress and help parents & caregivers navigate children's nutrition, enabling children to sprout, grow and thrive to their best potential.
You can find out more about their products on their website, with their Digestive Booster being their best selling product! Also head to their Instagram and find out more info about each super seed and some yummy recipes.
WEBSITE: https://tinysproutsfoods.com/?ref=HMdDMKNbQV–I
INSTAGRAM: https://www.instagram.com/tinysproutsfoods/
Skip To…
Tiny Sprouts story (2:25)
What are the "super seeds"? (3:55)
Mulled vs. whole: what's better? (11:19)
Storage (14:00)