This post was sponsored by Amara and contains affiliate links, please view our disclosure policy for more details.
Having store-bought baby food on hand can be one of the most convenient and sanity-saving things you can do as a parent who's just been thrown into the deep end of starting solids. After all, they couldn't be easier to grab in a jiffy, they have a longer shelf life than homemade baby food, and for the most part – they're all highly palatable for babies! 
That being said, the baby food aisle at the grocery store is huge and can be very overwhelming. Scanning the multitude of products and trying to figure out the labels, what's best for what age, and which is healthiest, is way too daunting to figure out on your own.
That's why we're clearing the air for you and making this process so much easier by answering the most frequently asked questions, walking you through ingredients to look for and avoid, giving you the best options to choose from, and more. 
Let's get started.
Dietitian tips for how to choose store-bought baby food
Limit rice based infant cereals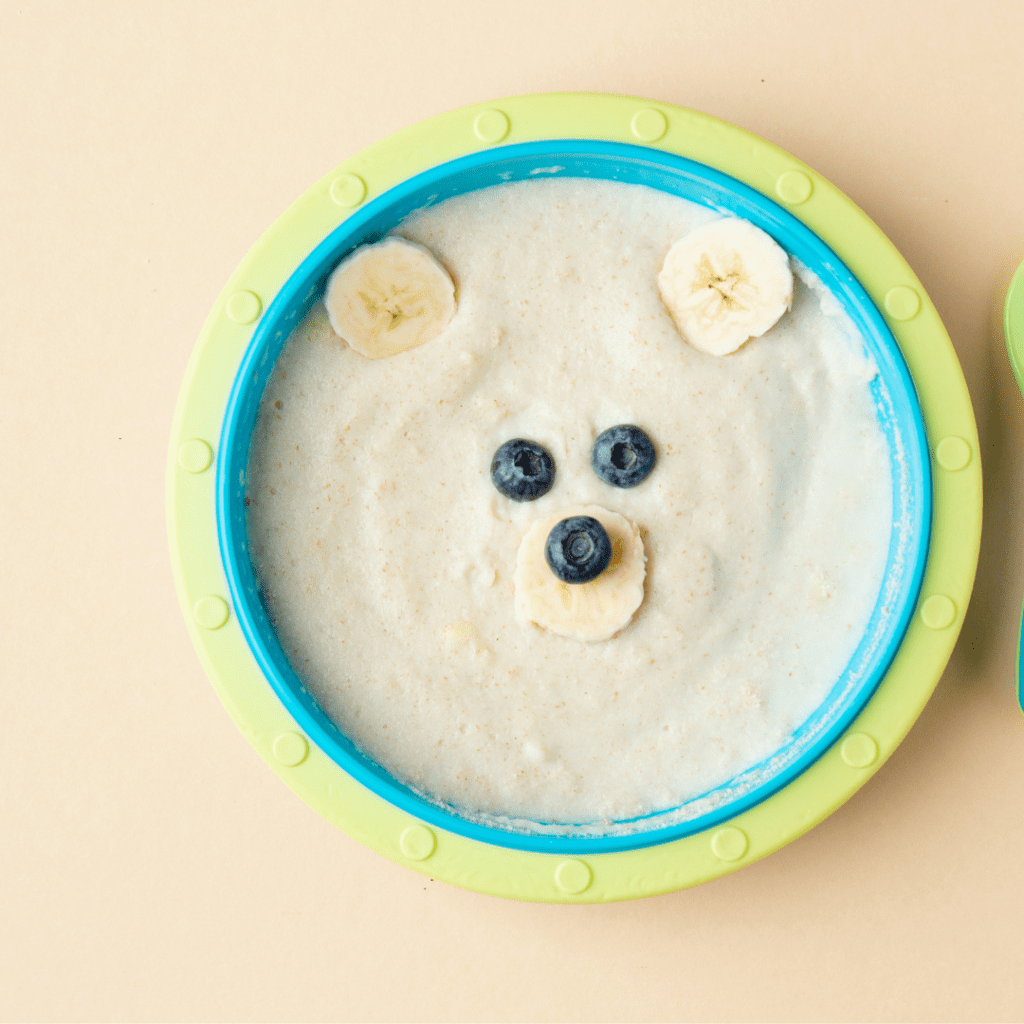 Infant cereal, and in particular, rice cereal, is often the very first food choice parents gravitate towards in the baby food aisle. It's often still recommended by pediatricians and is likely the first food your parents probably fed you as a baby! It's always been popular because it's non-allergenic and fortified with iron. 
But truth be told, infant cereal really doesn't have to be the first (and isn't necessarily the "best") choice for babies.
In fact, rice cereal in particular can be a high source of inorganic arsenic, a heavy metal that causes problems with learning, behavior, and attention (2). Because babies have such low body weight and may eat rice-based products like this more regularly, rice-based cereals and other rice-based baby food products are especially concerning because they can cause a build-up of arsenic in the body (1). 
Although there is a call for stricter limits of arsenic allowed to be found in baby food products, the best course of action is to make sure that rice cereal isn't offered daily. Our recommendation is to vary the types of infant cereal to include more variety in grains, such as barley, quinoa, or oats. These are all still iron-fortified and achieve the same feeding goals.
One of our favorite store-bought baby food brands, Amara Organic Foods, has tons of variety packs to help keep rotations of ingredients happening, which reduces the risk of arsenic build up from one specific food. Variety packs include Introduction to Vegetables, Breakfast Variety Pack, Introduction to Superfruits, Introduction to Solids, and a Veggie Sampler! You can get 15% off your order using code LITTLEEATER.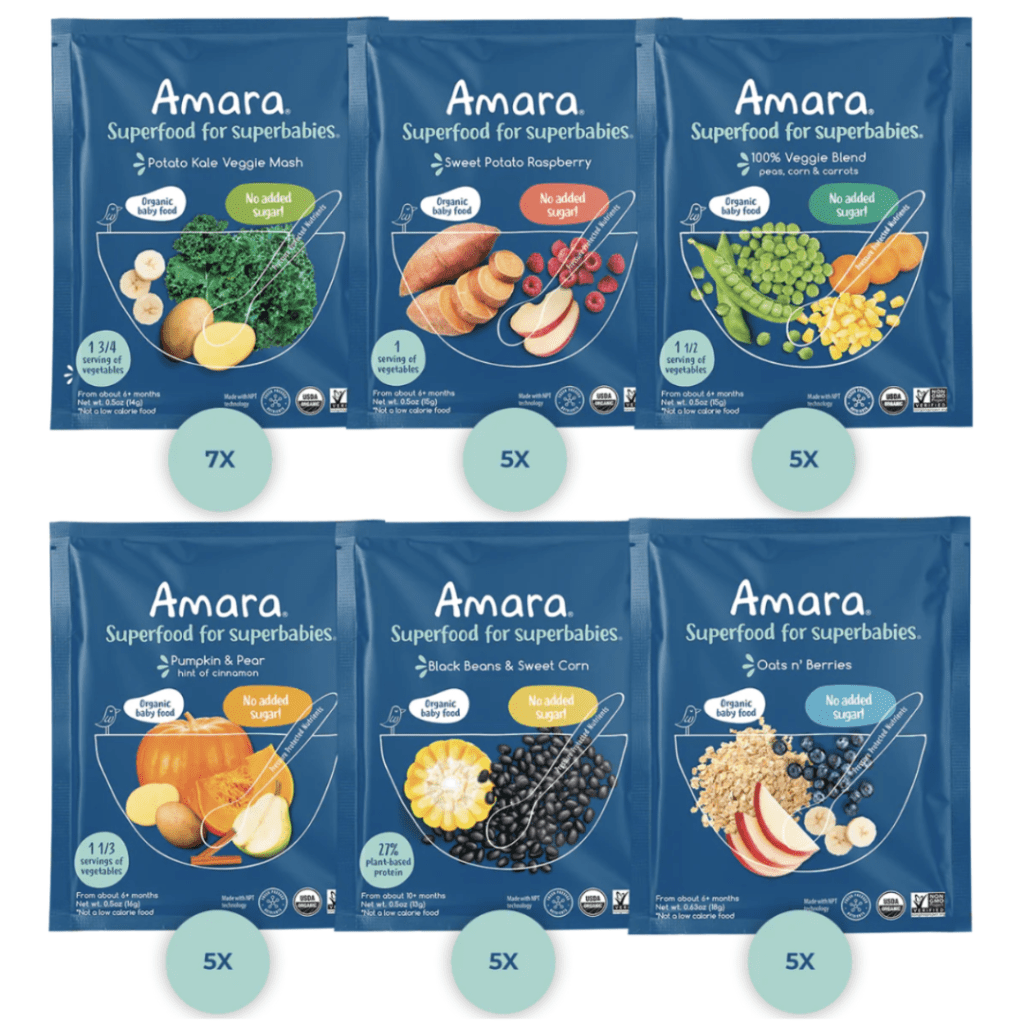 Pay attention to the order in which ingredients are listed
Anytime you look at a list of ingredients on a package, know that the ingredients are listed in order of their weight. So, the ingredients that matter most to you should be listed first, whereas the ingredients you want less of should be near the bottom of the list.
When you see store-bought baby food products that claim they have kale or broccoli or sweet potato – if those ingredients matter to you – check to see where it's listed on the ingredient list. Many store-bought baby food brands label veggies like this on the front of the label to grab a parent's attention, but actually have this ingredient present in only very small (sometimes negligible) amounts. 
Take this "Roasted Squash & Fruit" puree pouch for example. It lists the ingredients as follows: 
Organic apple, Organic pear, Organic butternut squash, Organic banana, Pure organic vanilla extract, Organic lemon juice concentrate, and Ascorbic acid.
While a parent may be buying this thinking they're giving their baby mostly roasted squash, what they're actually getting is a whole lot of apple and pear!
Thankfully, Amara Organic Foods is a veggie-forward company. If it markets it as a product with veggies – it will have veggies as the first ingredient!
Here are some examples of great veggie-loaded baby food products they carry: 
Peas, Corn, & Carrots: Organic peas, organic corn, organic potato, organic carrots
Kale Potato Veggie Mash: Organic potatoes, organic kale, organic bananas, organic onions
Sweet Potato Raspberry: Organic sweet potato, organic potato, organic apple, organic raspberry
Pumpkin & Pear: Organic pumpkin, organic potato, organic pear, hint of cinnamon
Avoid unnecessary fillers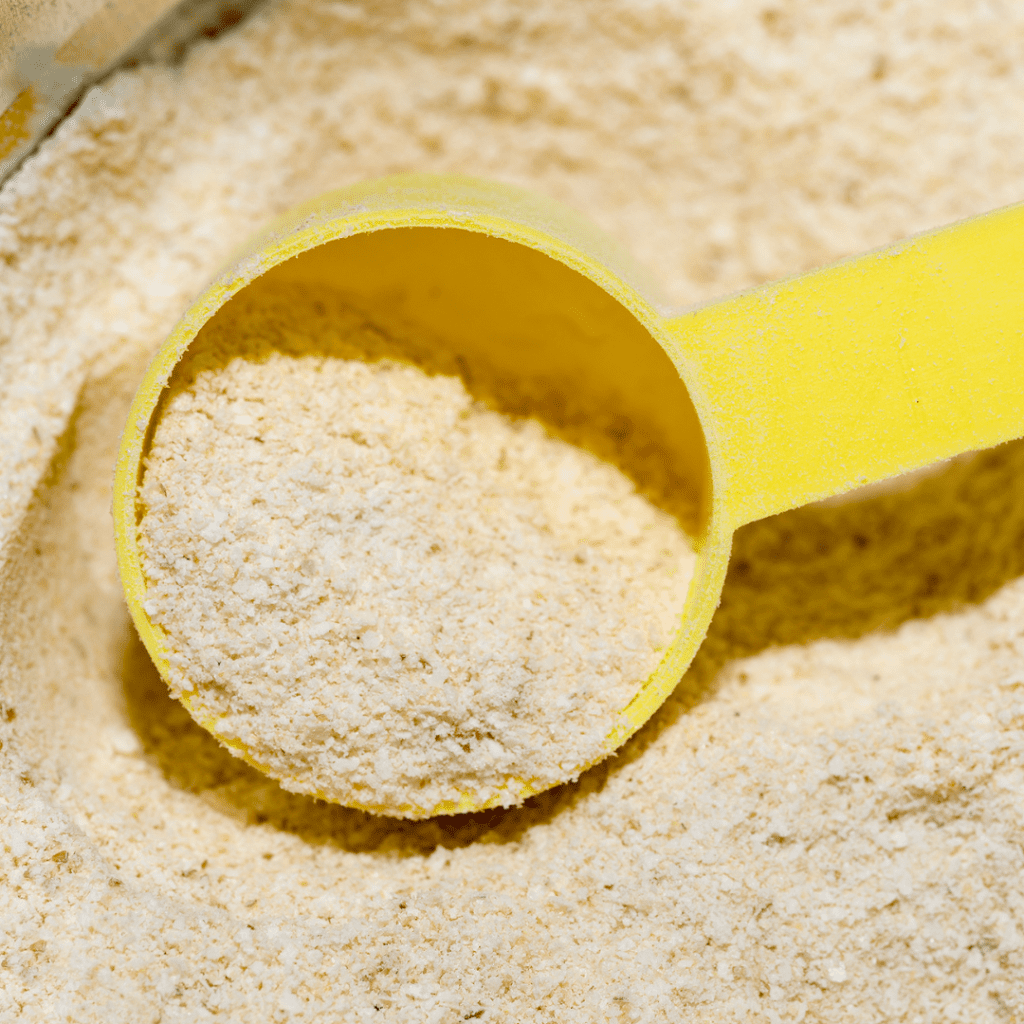 While we for sure want to see whole foods like meat, fruit, vegetables, grains, and even dairy as ingredients in baby food, we don't want or need to have filler ingredients that are unnecessary for your baby's nutrition. Examples of fillers include corn, rice or tapioca starch, or flours. These are included solely for the purpose of making the product less expensive and increasing product shelf life – however – they take up valuable nutrition for your baby that could otherwise be filled with real, whole foods.
This becomes even more common in Stage 2 and Stage 3 commercial baby foods, where they really want to keep the price comparable to stage 1 foods – but because the quantity is larger – they use fillers to make it less expensive. 
With Amara Organic Foods, I LOVE that they don't use additives or fillers or emulsifiers of any kind! They simply take the real food ingredients and remove the water, so it's super nutrient dense and as close to homemade food as possible!
The way they get shelf-stable products without the need for preservatives is their Nutrition Protection Technology (NPT), which preserves whole foods in their original structure. This means that they'll keep the same flavor, texture, color, and nutritional value as the whole food. And because this technology doesn't fundamentally change the structure of a food, it even contains ⅓ less natural sugar than competing brands!
Look for unsweetened versions of foods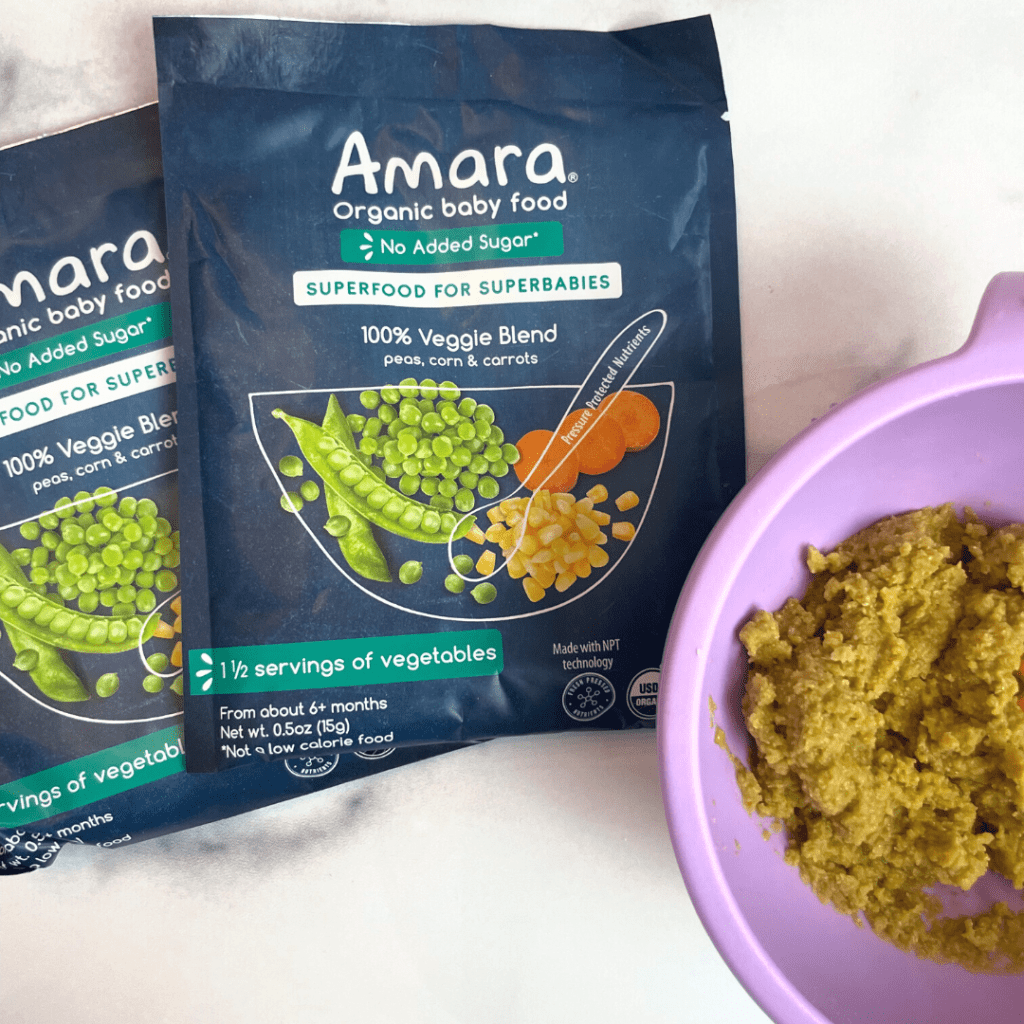 The problem with many store-bought baby foods is they're always made to taste sweet. Typically, meat or veggies are mixed with fruit or fruit juices to make them more palatable. However, if your goal is to introduce your baby to the taste of veggies or meat so they can learn to love them long-term – this defeats the purpose. 
You see, humans are born with an innate preference for sweetness. Of course, naturally sweet things like fruit can be eaten a couple of times a day without concern – but we don't want to go out of our way to sweeten other foods that wouldn't naturally be sweet on their own, as this only deepens the need or preference for more sweet flavors. Even if this means it's sweetened with something healthy like fruit! We want babies to experience the pure taste of meat and veggies multiple times a day to expand their palate to more mature flavors, ultimately reducing the chance of developing picky eating behaviors – especially in toddlerhood.
Choose nutrient-dense ingredients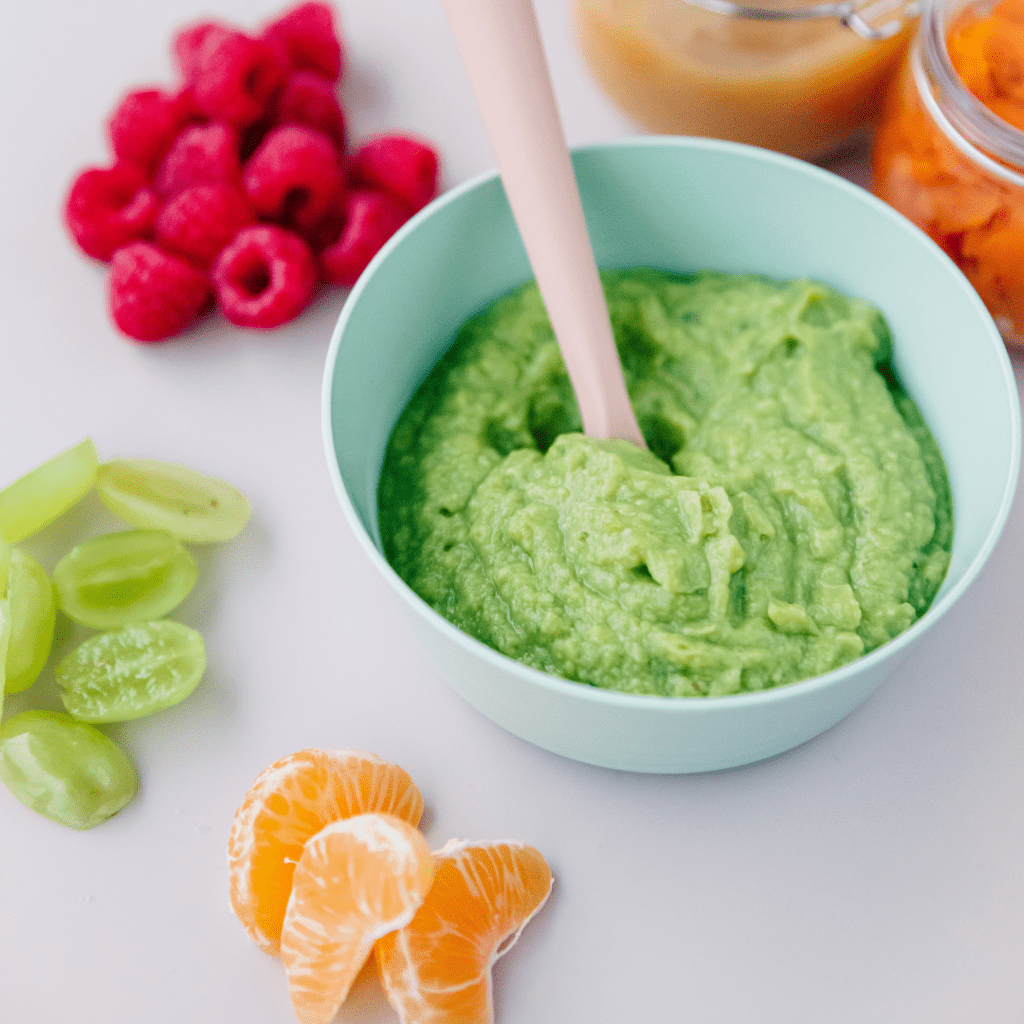 Ok, so when it comes to feeding babies, you want every bite to count for some big nutrition. When you have baby food that uses ingredients like juice or water (or other sweetened/filler foods like we learned about above), you are taking up valuable space for nutrients we care about for baby growth and development – like healthy fat, iron, and protein. 
Take a look at the ingredients from a leading baby food company that produces bite-sized "melts' or "mushies" – often provided to babies to snack on using their pincer grasp. 
Cultured Organic Milk, Organic Skim Milk, Organic Banana, Organic Blueberry, Organic White Grape Juice Concentrate, Organic Whey Protein Concentrate, Organic Tapioca Starch, Citric Acid, Mixed Tocopherols, Ascorbic Acid.
We've got milk as the first ingredient, then skim milk for the second (when we really want full-fat milk if possible to provide healthy fat and calories to babies). You can also see that grape juice is used as a filler (note – this is an added sugar), as is tapioca starch. Finally, they've added whey protein to get some nutrition back into the food.
Compare this to Amara Smoothie Melts, which uses coconut milk over any fruit juice! This means a full-fat, non-allergenic healthy fat is directly provided in every bite. It's a nutrient-dense ingredient that gives much-needed calories without the sugar spike and lack of nutrition from fruit juice.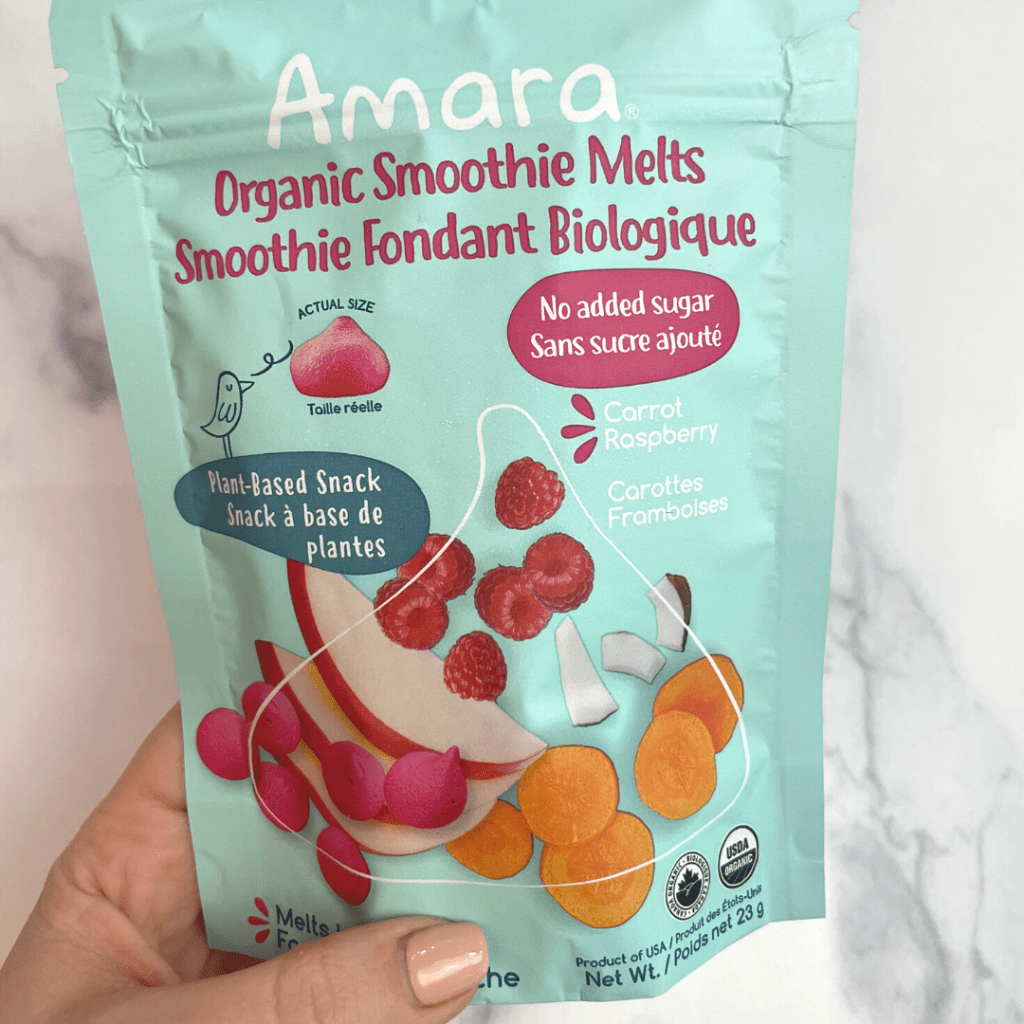 Amara Mango Carrot Smoothie Melt Ingredients:
Organic mango, organic coconut milk, organic carrots
The ingredients are simple whole foods that can be found at home, and it contains 1/5th the amount of sugar of the competing brands (and only what's naturally found in those foods).
What's even more, is that their ingredients are picked at peak harvest (when they're more nutrient-dense) and preserved without overheating and overprocessing them. Compare this with what other brands do, where they subject their ingredients (which are pre-processed purees and concentrates that are chemically washed, milled, strained, and heated) to even more multiple high heat processes to sterilize the food (3). The problem is this leads to stripping away much of the important nutrients and fiber. With Amara baby foods, they start with real food (like whole beans, carrots, etc.), and freeze them – locking in the nutrients – and stripping away water only! The reduced moisture content keeps them more shelf-stable, without sacrificing any of the vitamins and other nutrients that we all so badly want to make sure are being delivered to our babies.
Ignore "stages" of baby food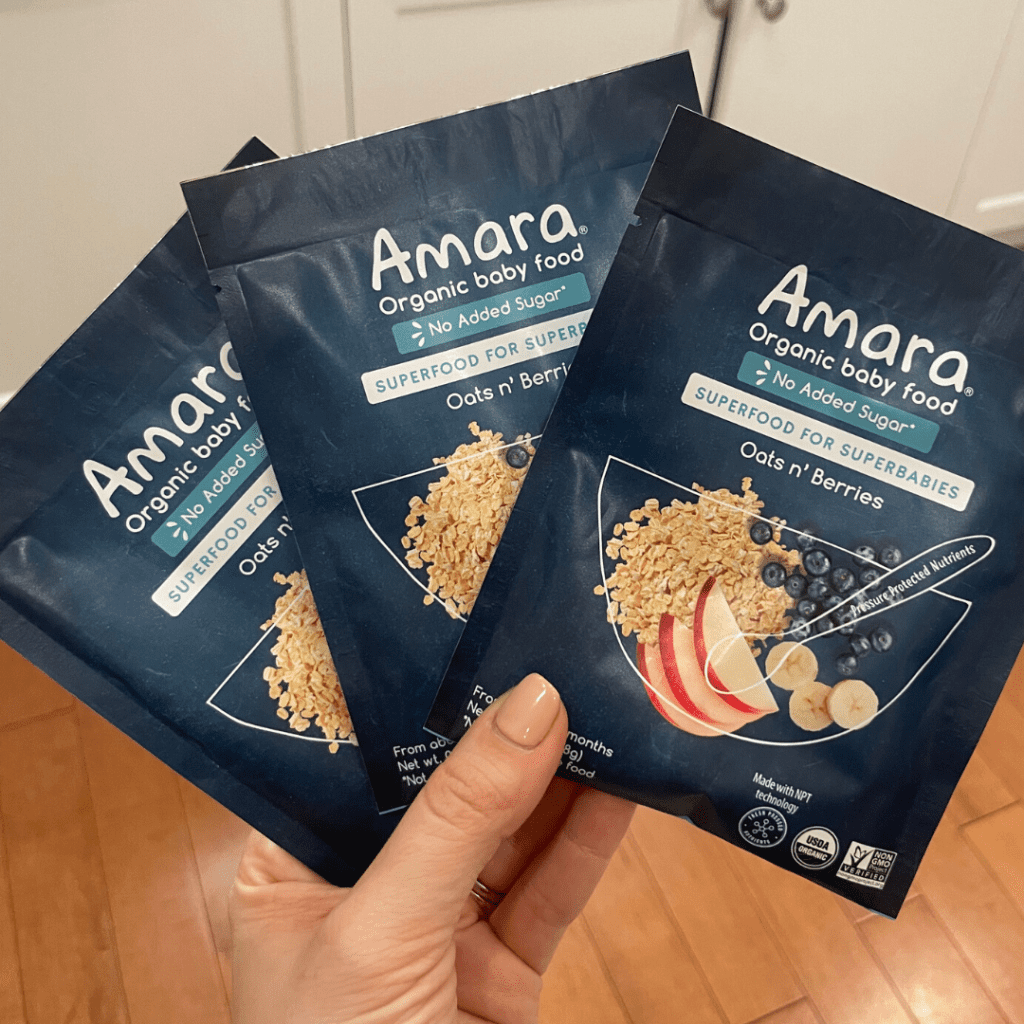 Stages in commercial baby foods refer to things like the texture of the baby food and the number of ingredients used. For example, Stage 1 baby food is geared toward 4-6 month-olds (even though we now know it's better to wait until closer to 6 months of age to start solids of any kind). Stage 2 solids are typically for babies between 6-8 months of age, are thicker in texture, and may contain more than one ingredient. Stage 3 is for 9 months+ and may have small pieces of soft cooked foods mixed in.
The reason why we think you should ignore these stages is because – first off – they're completely arbitrary. Second – babies don't have to start with single food ingredients or simple, smooth textures. In fact, babies can be offered food from multiple texture categories and various thickness levels and offered finger foods from day 1 of starting solids.
We actually want lots of variety in textures to prevent picky eating and build their oral-motor skills (the skills used to bite, chew and swallow food), as this is critical to learn during the period of 6-9 months of age. The more practice they can get on advanced textures and variety in textures, the better, and that's exactly why we created our Texture Timeline™ tool to help you advance your baby on to a variety of textures with purees or finger foods in a timely way.
It's also why we support Amara baby food products, where you can make every food into whatever stage puree you like – giving your baby more of a challenge to manipulate thicker or chunkier textures in their mouth from day 1. All you have to do is adjust the amount of liquid you add to the dehydrated food mix, and get the exact texture you want to work with for your baby, regardless of arbitrary ages listed on the front of jarred baby food or baby food pouches.
Do you need to buy organic baby food?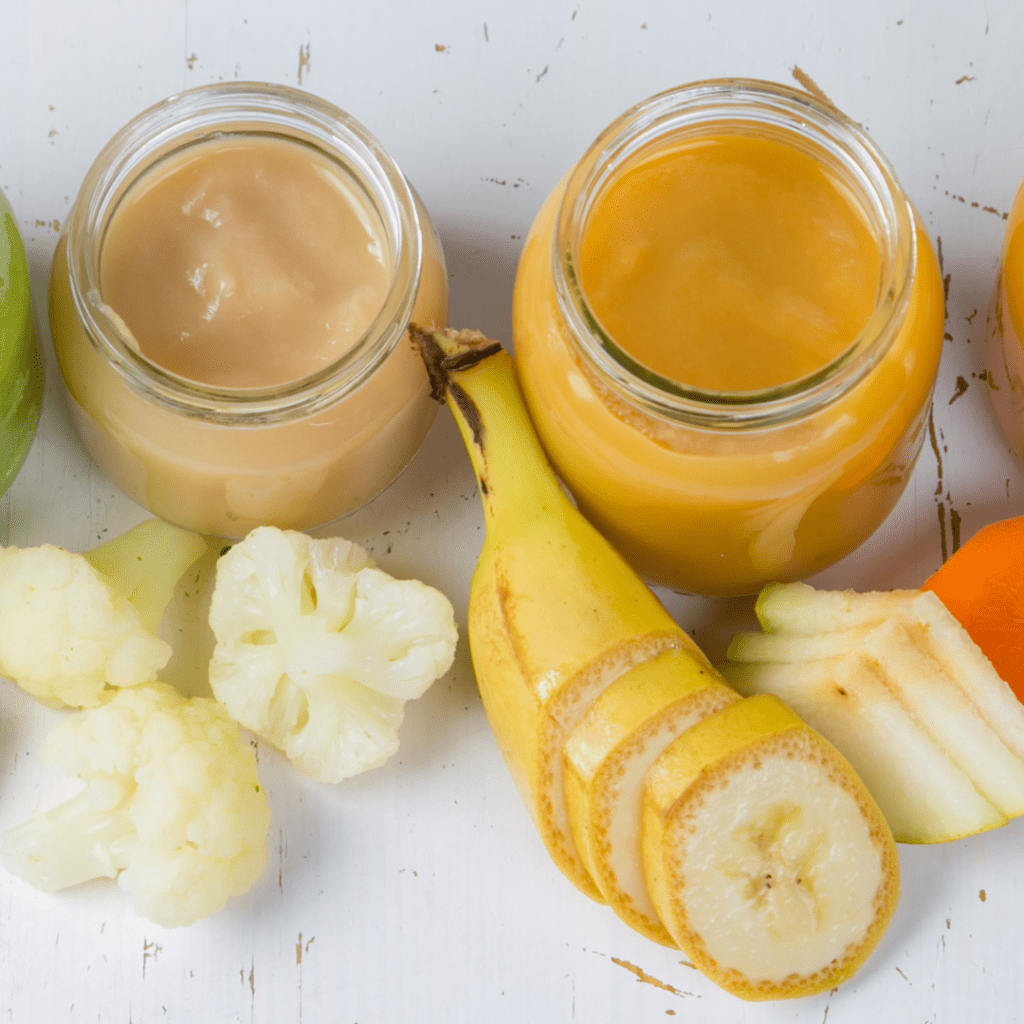 Buying baby food that's labeled "USDA organic" means that 95% of the ingredients must be organic, and the food isn't allowed to be exposed to radiation to get rid of pathogens. Organic food is also at lower risk of exposure to pesticide residue (like arsenic) and GMOs. We also know that babies could be at risk of greater exposure to the toxins sometimes found in commercial baby food because this food is often condensed during processing, which also potentially concentrates the amount of pesticide residue per bite of food.
Considering what we learned at the beginning of this post about inorganic arsenic and other build-up of toxins happening easily for babies, it makes sense to go with an organic baby food brand if and when possible. Amara baby foods are certified USDA organic and certified non-GMO, as well as tested by third parties to ensure all of the above.
That being said, if it's hard to buy organic for everything (understandable!), you can try just focusing on buying the products with fruit and vegetables that usually carry the highest residue levels (strawberries, spinach, kale, apples, grapes, pear) (4). Also, avoiding fruit and vegetables altogether because they're not organic is not beneficial! It's better to consume them than to avoid them altogether and please know that you're a great parent and your baby can still be healthy no matter what.
Read more about the benefits and downsides of organic foods and some practical things you can do to find balance, here.
Ready to transition to finger foods?
If you're ready to start finger foods but are unsure how to move on (or maybe are terrified of the idea of gagging/choking/big bites)… it's time to learn more about my signature Texture Timeline™ tool! This is the tool used by thousands of parents to progress from easy to more advanced textures with their baby, starting where they feel comfortable and progressing from there. It allows you to get all the benefits of a baby led weaning approach, without having to jump off the deep end and serve finger foods right away. Learn all about the Texture Timeline™ and how to progress in textures in my FREE workshop "Baby Led Weaning but make it purees!". Register now to save your seat, spots are limited and fill up quickly!
Did you find this helpful? Pin it to save for later!