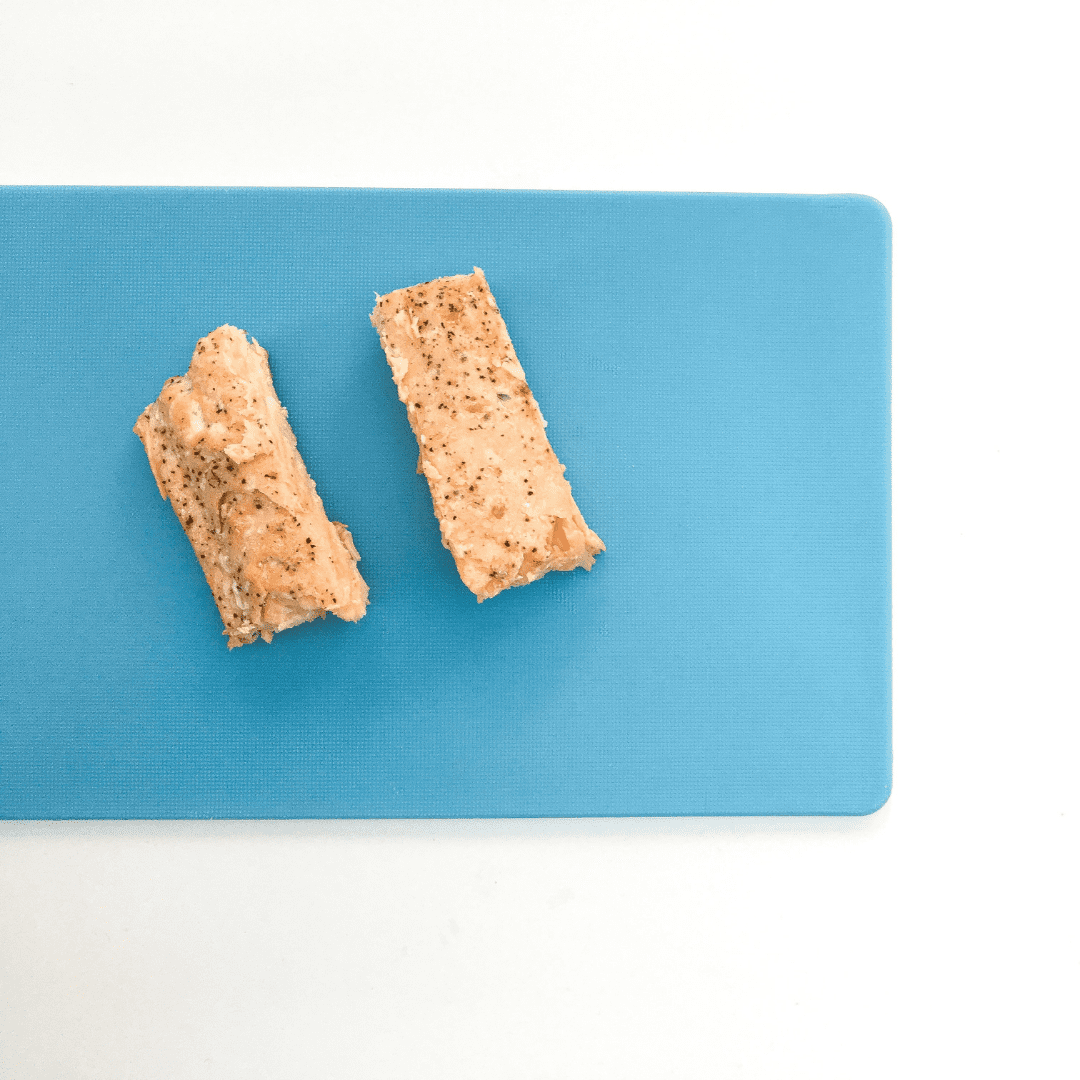 Podcast: Play in new window | Download (Duration: 18:24 — 25.3MB)
Subscribe: RSS
On this 100th episode of the My Little Eater Podcast, I'm bringing back my "how to serve" series. Because, at the end of the day, I want you to feel prepared to start solids with your little eater, and being confident in how to serve fish to your baby (among other things) will help with that! 
Fish is an important food for babies, not just nutritionally where it's an excellent source of protein for babies, it's an iron rich food, and some types even have essential omega 3 fatty acids for proper brain development. But it's also important from an allergen standpoint, introducing it early and often is key in helping to prevent an allergy from developing, and understanding how to cook fish for baby led weaning will help make that possible.
This is why I'm giving you all my top tips today for serving fish to your baby, including going over my favourite fish to serve babies, and how I would offer it (this one will surprise you!). I'll also give you a bit more info about why fish is such a great option, from a nutritional perspective, for your baby's growth and development.
Leave a review and win! 
Help The My Little Eater Podcast hit #1 on the charts and reach even more parents who may need some extra help when it comes to feeding their little ones!  All you need to do is head over to Apple Podcasts and leave me a quick review about what you loved about this episode, or a previous one. Thanks so much in advance for your continued support.
As a thank you, you'll be entered to win a 15 minute call with me where you can ask me anything about feeding. Just make sure to leave your Instagram handle so I can find you if you're the lucky winner!
---

♥ Listen on Apple Podcasts                 ♥ Listen on Spotify                 ♥ Listen on Google Podcasts
---
Additional Resources:
BABY LED FEEDING ONLINE COURSE: https://mylittleeater.com/baby-led-feeding/
Starting solids isn't meant to be just another thing you have to stress over as a parent – it's supposed to be fun! So, let me help you keep it that way and ensure you raise a baby who loves all food! My Baby Led Feeding Online Course will help you start solids with confidence, ensuring you have the knowledge to gently push your baby through textures to prevent picky eating and be healthy in all aspects!
If you're looking to start solids with your baby, then you need to get the gear! Head over to Bumkins to grab some of my favourite feeding supplies, like their long-sleeved bib, chewtensils, or one of their first feeding sets – perfect for starting solids with your little eater! And make sure you use my code at checkout for 15% off your purchase.
BUMKINS DISCOUNT CODE (15% OFF): MYLITTLEEATER15
EPISODE 46 – BEST TYPES OF FISH FOR YOUR BABY: https://mylittleeater.com/46-safefishforbabies/
FISH GUIDELINES FREEBIE: https://courses.mylittleeater.com/fishguidelinesforbaby
Skip To…
What age can babies have fish? (1:56)
The benefits of serving fish to your baby (2:51)
Are there downsides to serving your baby fish? (7:11)
Where fish fits on my Texture Timeline™ (9:37)
My favourite fish to serve babies (12:13)