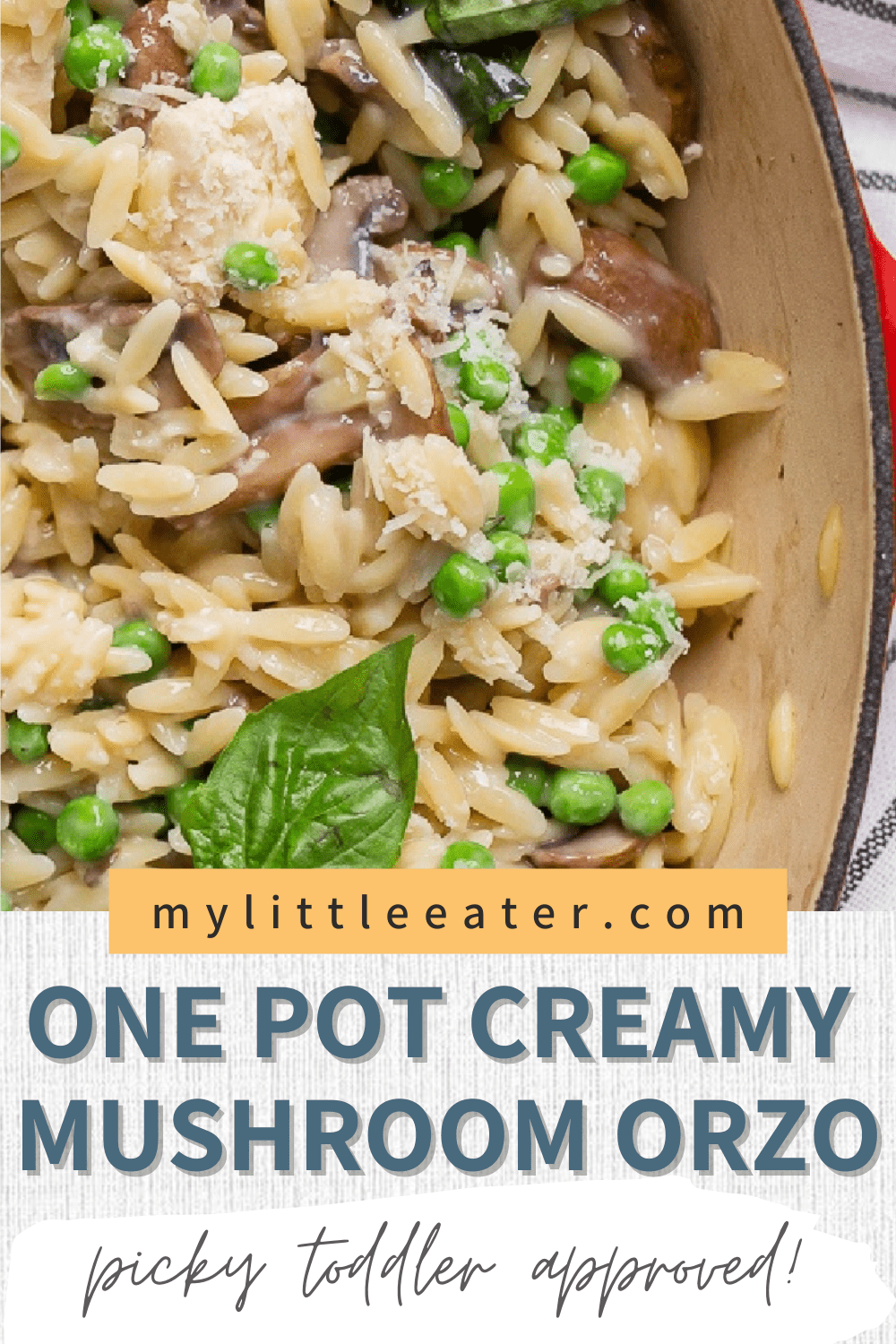 I'm a firm believer in making one meal for everyone to enjoy and guys .. this recipe is perfect for that! It's suitable for parents and toddlers alike – trust me – the carbs and cheese combo is usually one that wins kids over. And with one pot, you won't have to do a ton of dishes after cooking!
I also love how balanced nutritionally it is, making sure everyone leaves the table full and able to make it to the next meal. Toddlers, specifically, eat more frequently than adults, so making sure that meals for your toddler are balanced with fiber, fat, and protein is important to keep them going until the next snack or meal, without the constant asking for something else an hour after mealtime.
What is orzo?
Think of orzo as a cross between rice and pasta – it's technically classified as a pasta but it's most often cooked like rice. It's typically used in soups, or as a creamy side dish (when cooked like rice). It also contains about double the amount of protein than rice which is pretty darn cool!
What you'll need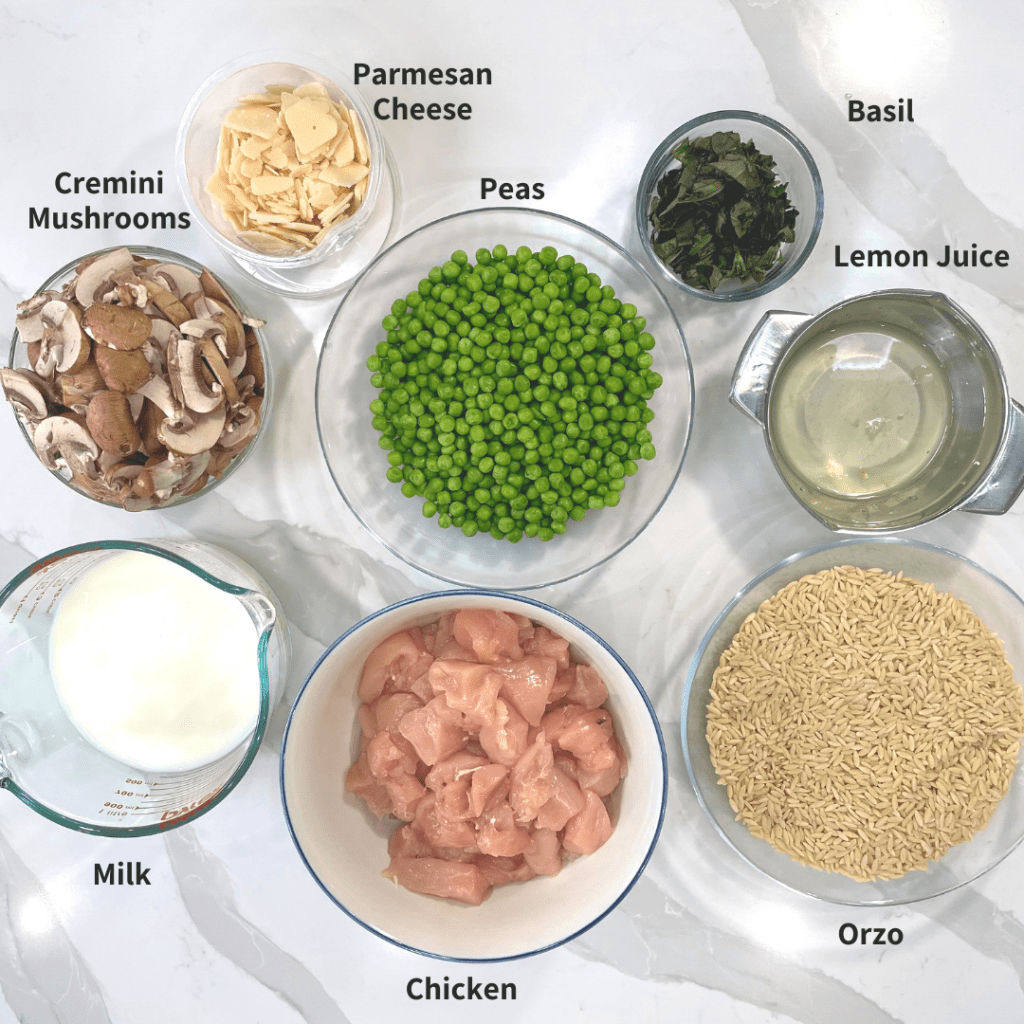 Just 8 ingredients! This is a super easy recipe – nothing is complicated – thankfully! You truly do just dump all these ingredients together in a large dutch oven and let them do their thing – what could be easier?
The chicken in particular is one that I want to make a note of for you.
Make sure you're selecting skinless, boneless chicken. I've used chicken breasts in this case, but if you want an added iron boost (and babies in particular need a lot of iron, so for them I'd always do this!) choose boneless, skinless chicken thighs. Dark meat naturally has more iron, so that's an easy swap to get your little eater the extra iron that they need.
I also recommend using chicken thighs if you're serving it to a baby and you're concerned that they can't handle the texture of a chicken breast. Chicken thighs will be more moist and juicy and tender for babies to eat safely. Graduate to chicken breast around 9-10 months of age, or after you've built up your confidence with chicken thighs a few times!
I don't really have any preferences when it comes to everything else, so go ahead and use whatever you'd usually buy for those things!
Can I make this a vegan or dairy-free orzo?
Yes! Use marinated tempeh, tofu, edamame, or black beans instead of chicken for the protein source. I personally think tofu would be a delicious option, and so easy to sub for the chicken. Plus, tofu is a great texture for babies so this would still be easily baby friendly with tofu.
You can also substitute the dairy milk for your milk of choice. That could be almond milk, rice milk, oat milk, or coconut milk. If you're looking for the comparisons in order to decide which type is the best fit for your family, check out my blog on milk alternatives for a complete breakdown. And finally, use nutritional yeast instead of parmesan! Still gives a yummy, cheesy flavour, without the dairy – and a bonus nutritional boost for your little eater.
How to serve this to a picky eater
A couple of tips for you to try if they aren't loving the idea of having to pick out the things they don't love by themselves is to allow them to take just a "baby bear scoop" to start with. You could also make it a game, for example have them guess how many mushrooms and then count them as they pick them out. It also sometimes helps to offer them a bowl to place the food they don't want to eat in so that it's separate from the items they do like. The more control we can give them over their meal, without allowing them to dictate that a whole new meal be made for them, the fewer protests and tantrums you'll see as a result.
Orzo as a baby finger food – how to serve to baby?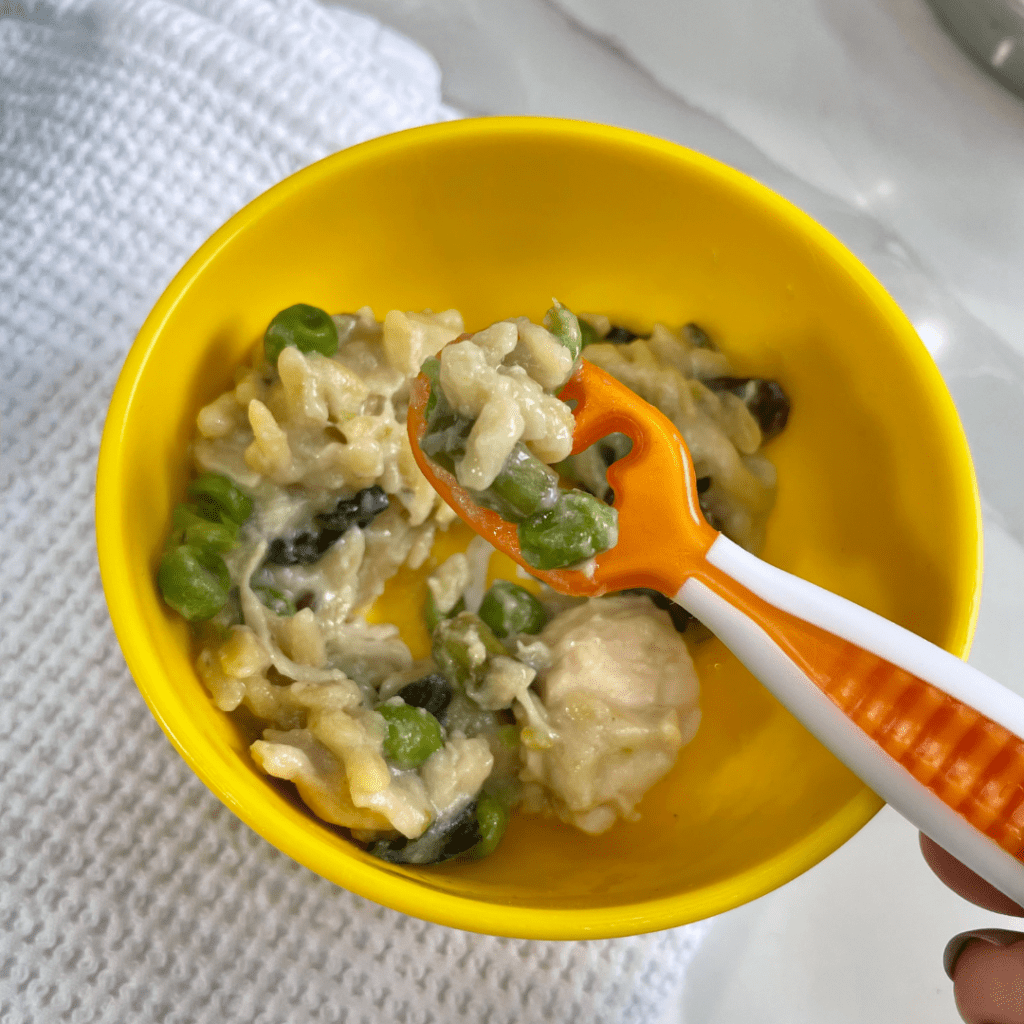 If you do have a baby who's just learning to eat and maybe doesn't have the pincer grasp or ability to pick up smaller finger foods like a piece of rice or orzo – simply preload it on a utensil! You can always use a Num Num Gootensil or a different utensil according to their age and offer it preloaded for them to enjoy. Especially where this recipe is so thick and creamy, it's easy for it to stick together and help your baby learn to self feed.
For the chicken, offer larger pieces for babies without pincer grasp and smaller diced pieces if your baby has pincer grasp. Therefore, when serving to younger babies I recommend cooking the chicken separately, some as strips and some as cubes, add the cubes to the recipe and keep the strips aside to serve to your baby. And voila! A meal everyone can enjoy.
Let's get cooking!
1. After you're all done prepping the ingredients…you've sliced the mushrooms, cut up the chicken, and chopped the basil…get that large dutch oven out and on the stove.
2. Turn it on to medium-high heat, add a splash of water and all the mushrooms. We want to cook those by themselves for a little bit – about 5 to 8 minutes – and make sure you add in more water as needed to prevent them from sticking to the pan.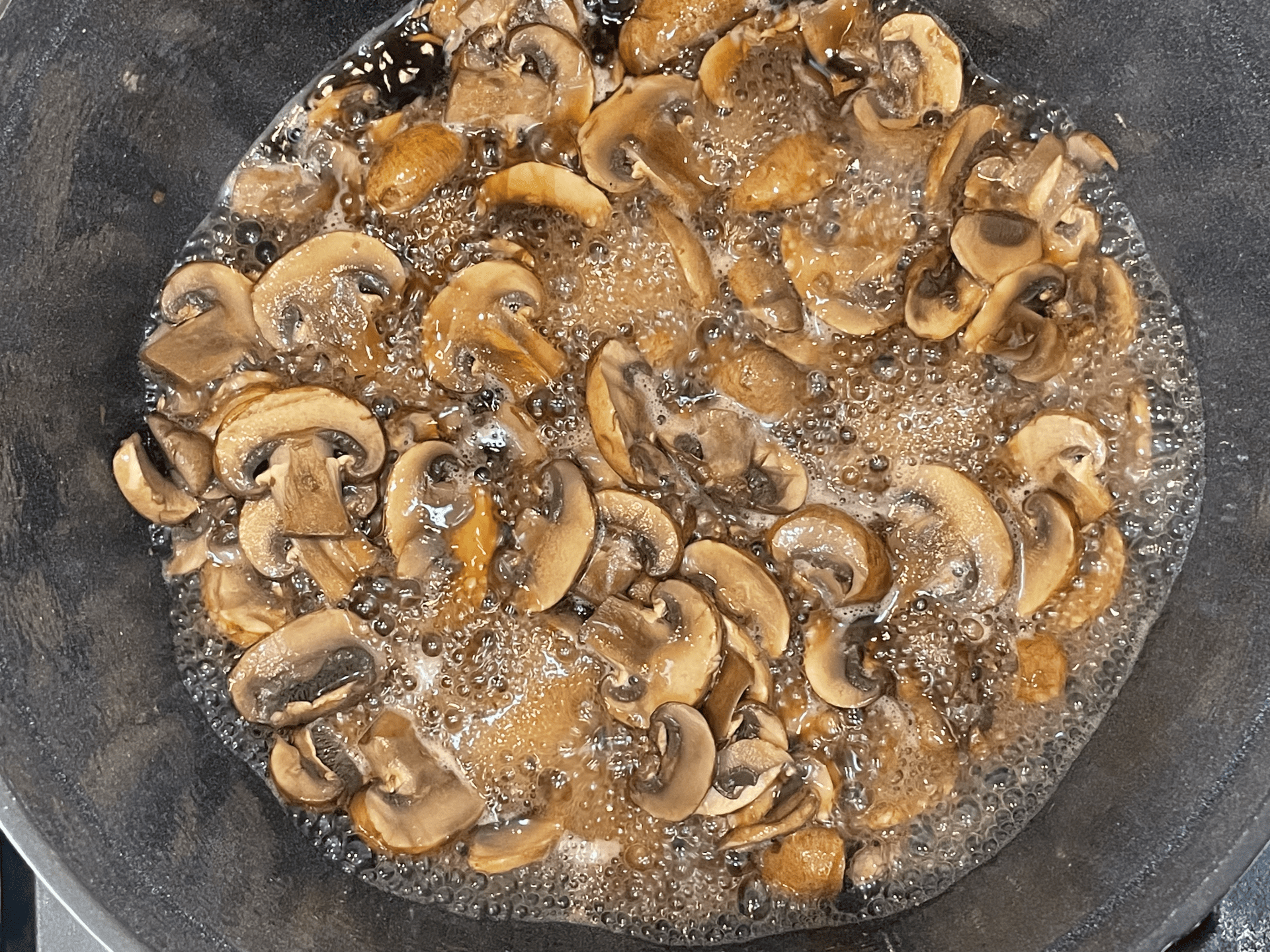 3. Next, add in everything except the basil and cheese! If you notice that more liquid is needed, add in a splash more milk. Let this simmer, uncovered, for 10 minutes. Simple family-friendly recipe so far, right?
4. Finally, add in the basil and cheese. Serve it to each person, and add a squeeze of lemon juice on top to taste – if desired. From prep to done in about 35 minutes – and you can multitask as moms do while it cooks – plus only one pot to clean. This is one to add to your regular list of go-to recipes for sure!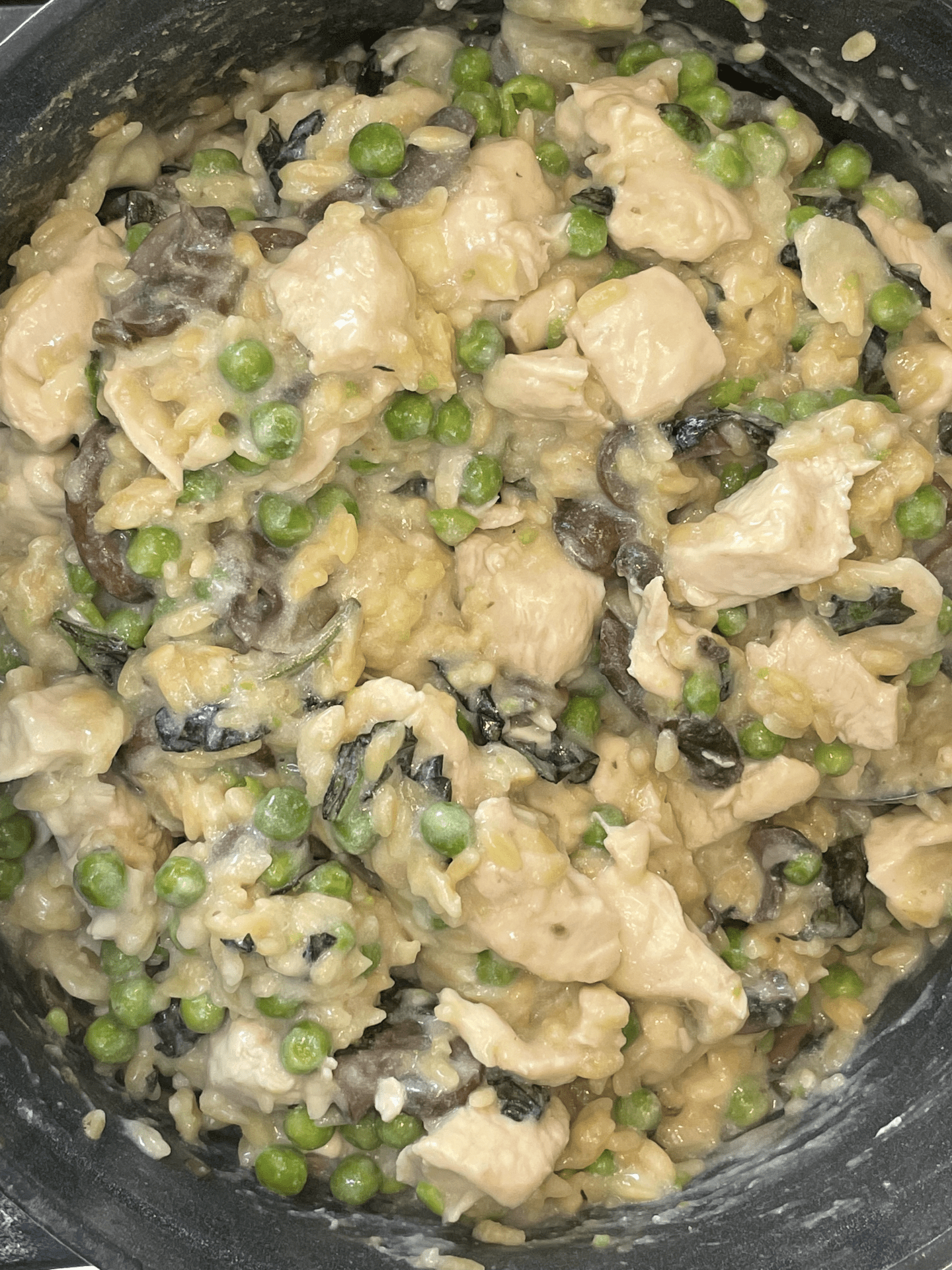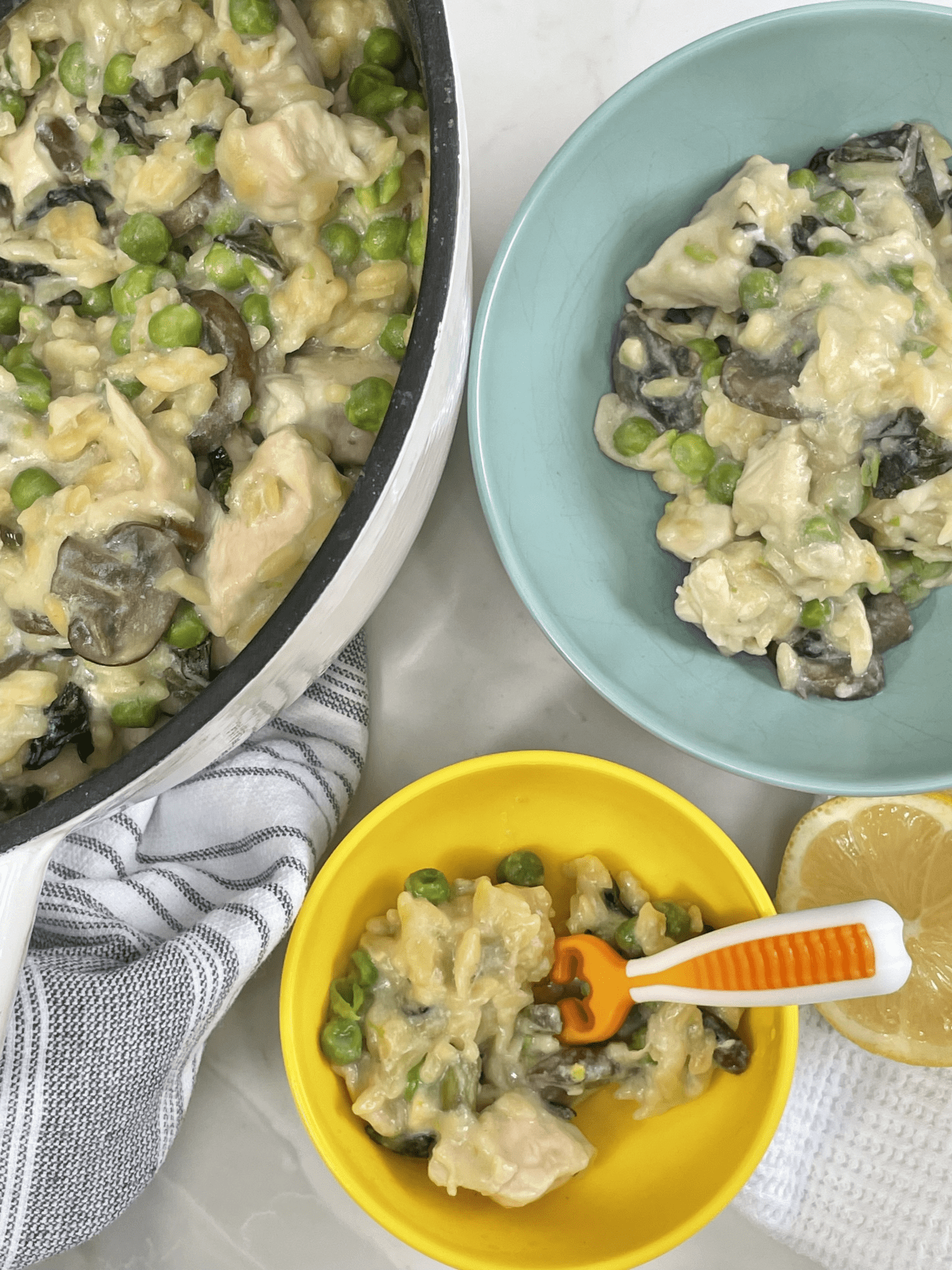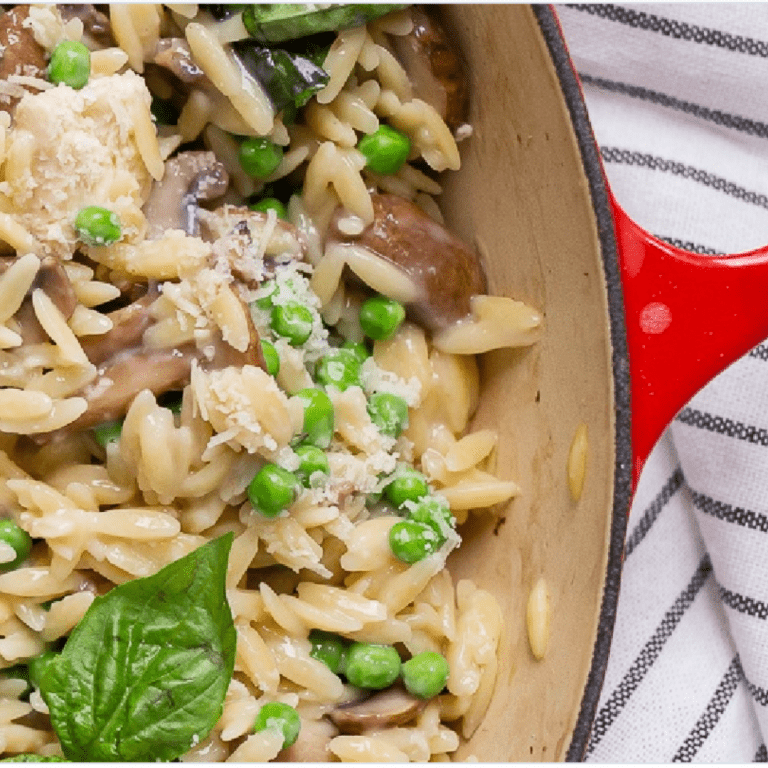 Toddler Friendly One Pot Mushroom Orzo
An easy recipe for baby led weaning, a picky eater, and the rest of the family!
Equipment
1 Dutch Oven or large pot
Ingredients
2

cups

water

16

cremini mushrooms

(sliced)

2 ½

cups

orzo

(dry)

2

cups

milk

2

oz

chicken breast

(cubed)

2

cups

peas

(fresh or frozen)

1

cup

basil leaves

(roughly chopped)

¼

cup

parmigiano reggiano

(grated)

½

lemon

(juiced)
Instructions
Prep your ingredients by slicing the mushrooms, chopping the basil, and cutting the chicken into cubes.

In a large pot or Dutch oven, heat a splash of the water over medium-high heat. Cook the mushrooms until soft, about five to eight minutes, adding more water as needed to prevent sticking.

Add the orzo, rice milk, chicken, peas, and the remaining water and salt. Bring to a simmer and cook uncovered, stirring occasionally for about 10 minutes or until the orzo is al dente. Add a splash of rice milk if more liquid is needed.

Stir in the basil and parmigiano reggiano. Divide into bowls and squeeze lemon juice over top to taste.
Notes
You can refrigerate in an airtight container for up to three days! So it's great for leftovers and lunch packing.
Love this recipe? Pin it to save for later!