Who doesn't love to make more family friendly recipes that also work for baby led weaning, picky toddlers, and on-the-go meals or snacks? Sounds too good to be true I bet…but it's not! This is the perfect recipe for the whole family and it's easy to freeze too!
Tons of parents that have taken my baby led feeding course and have also grabbed my 60 day baby meal plan have told me that they now make this recipe regularly because it's a favourite for the whole family. So I'm ready to share it for everyone to enjoy!
Let's go over what I'm sure some of you are concerned about first when it comes to chicken curry for babies…which would be concerns over offering this to your baby who is just starting solids. 
I know probably a few of you are questioning the curry in the recipe…can babies have curry powder, or even garlic powder? Or maybe you're wondering about the rice…can babies eat rice, what about the arsenic?
These are valid concerns that I've heard many times before, but both are actually nothing to worry about – so let's talk about it!
Can babies have curry powder and other spices?
Serving spices to your baby is definitely a good idea! This shocks many parents who assume that babies can't handle spicy food, or that anything too flavorful will turn them off from trying new foods altogether.
"Bland is best" has been a common misconception about feeding babies for many years, and I actually recommend the exact opposite! The more flavor the better because it primes their palettes for more varied flavors, and it teaches them foods never taste the same! 
So please don't be afraid of introducing new flavors to your baby. And curry powder is no exception! This easy chicken curry recipe is a great option for trying new spices with your baby. The fact that it's in a cup form will make it super easy for your baby to hold on to, and the wonderful flavor is an added bonus to all the nutrients it has for them too (this is also a high iron food).
Plus – it's not too strong and definitely not spicy – just a mild hint of deliciousness from a few spices.
When can babies eat rice?
Rice for infants is something that parents either feel is perfect for babies, or a food that should be avoided at all costs.
I'll explain what I mean.
Rice contains a lot of inorganic arsenic – which is naturally occurring in this and in other crops – but because it's something traditionally consumed frequently for babies, and is used in a lot of baby products, it's definitely something I want you to be mindful of.
With babies, we have to be especially cautious of the quantities entering their system because they're so small, and weigh so little, it can have more of an impact on them. Learn more about my teachings on arsenic and rice here.
BUT – this doesn't mean you have to avoid it at all costs.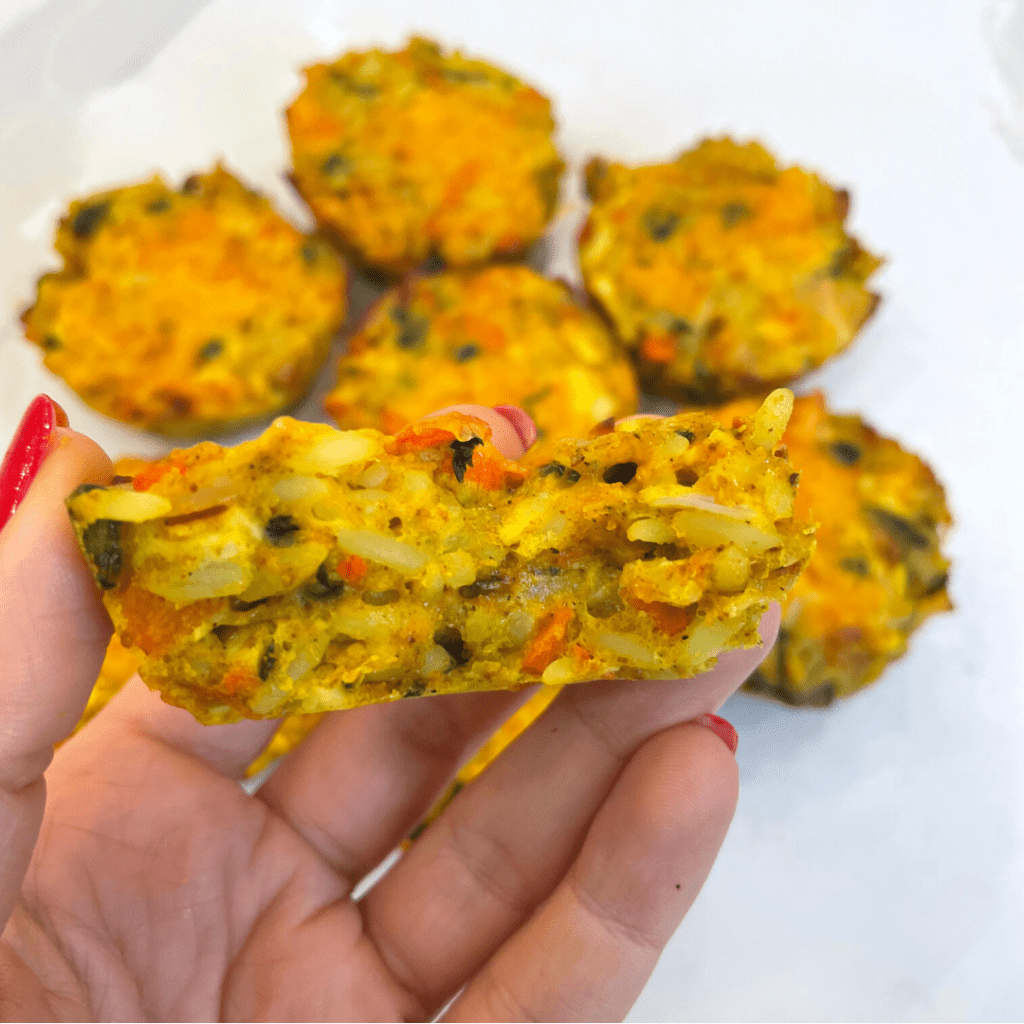 Feeding babies rice is totally fine in moderation, and it's a great food to incorporate in their diet!
In fact, they can have it as soon as they begin solids (I'll go into how to serve it to them below). I just want you to be aware of the arsenic issues so that you aren't offering it too often (like rice cereal or other rice products every day), and that you're preparing it in a way that removes as much of the arsenic as possible.
Check out the video below to see my suggestions for preparing rice for infants.
How to serve rice to babies
Now, the second piece for understanding when babies can eat rice, is understanding how to serve it to them. In this recipe, it's easy for babies to hold and have them get that exposure because it's baked into a cup – perfect for baby led weaning.
However, if you're ever serving loose rice (like with a stir fry for example), it would be harder for a 6 month old baby to eat, because they won't yet have their pincer grasp developed to pick up those small individual grains on their own.
One thing you can do is mix it into a bit of the sauce that you're serving it with, to provide a bit of a binding agent, and then use a num num gootensil, or something similar, to allow your baby to pick it up.
Check out my baby led feeding online course to learn more ways to serve rice and all other foods safely and healthily!
This version of a chicken curry recipe is great for toddlers and picky eaters too!
I know it can be hard trying to find family friendly recipes for weekly meal plans, especially when you have picky eaters, which is why I love this chicken curry recipe so much! For starters, it doesn't look like chicken curry – it looks like a muffin!
Serving your picky eater something that looks like something they enjoy is a really good way to help them branch out into new foods, because the new food reminds them of something positive, and therefore seems "safe" to them.
This is essentially the concept behind food chaining – using a food that they like, for example muffins, and making small changes to it, creating a "chain" until you reach the desired food. So this could be one of the middle pieces of the chain between muffins and traditional chicken curry recipes.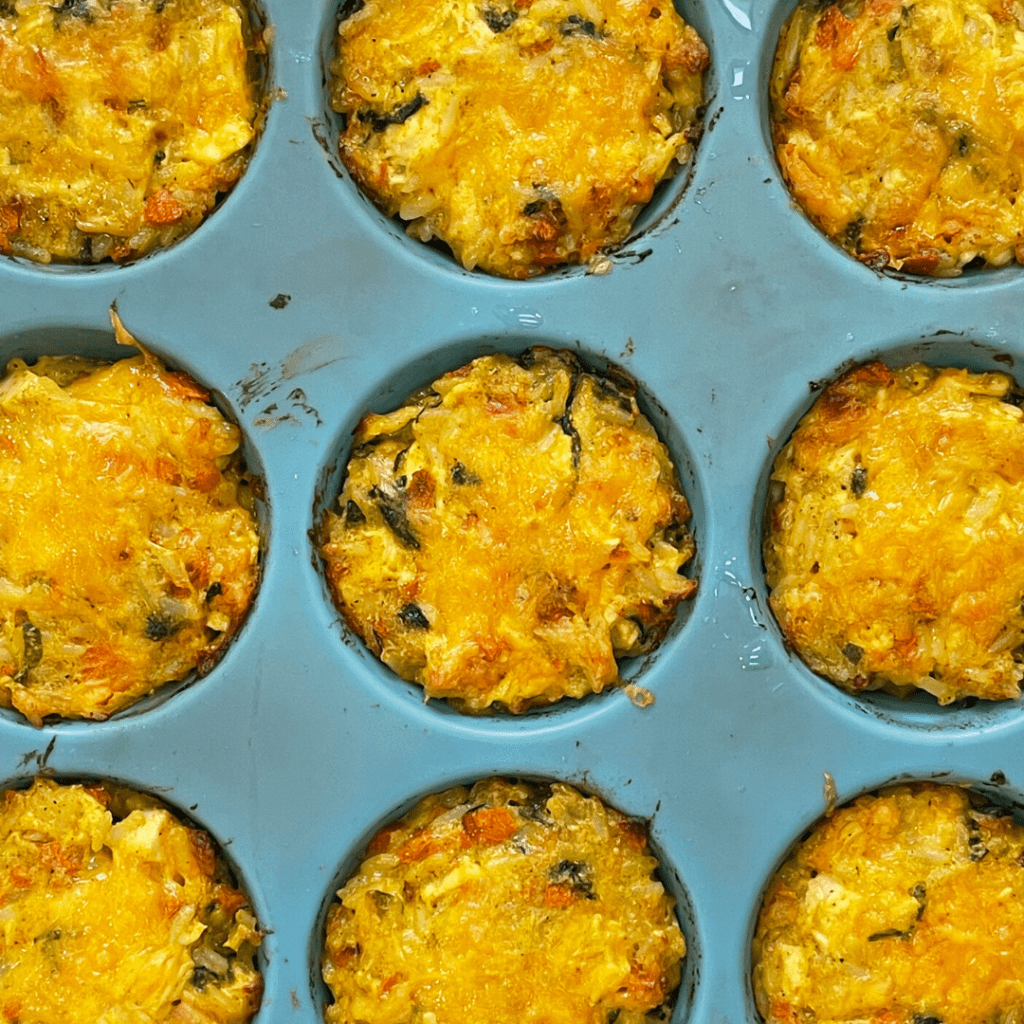 You can also serve them one of these chicken curry cups with a safe food on the side so they feel more comfortable with the meal overall.
For a complete plan on how to prevent or overcome picky eating in toddlerhood and beyond, check out my Feeding Toddlers online course!
The perfect make-ahead, freezable baby meal!
This meal freezes well, so you can make these rice cups weeks (or months ahead) and pull them out when you need them. Whether that's because you just have no time to make something that day, or you're looking for a last minute, nutritious baby led weaning travel food without any of the effort – this recipe is perfect!
They also store well in the fridge for a number of days. I recommend double batching them any time you do make them so you can stock your freezer with this ready-to-eat meal!
Time to cook my version of chicken curry for babies!
One of my favorite things about this recipe is the simple ingredients. These are all things that I typically have in my house anyways, which makes it a perfect recipe for those days when you have no idea what to cook – so make sure you save this recipe to always have it on hand!
Once you've prepped all of your ingredients, start by preheating your oven to 350°F. Then put a skillet on medium heat, add a bit of oil and the veggies.
Cook them until the moisture in them has evaporated – this usually takes about 5 minutes. Add all of your seasonings to this mixture, stir, and set aside to cool down.
Grab a large bowl and combine the chicken, yogurt, eggs, cooked and cooled rice, and ¾ cup of cheese. For the chicken, you can use chicken breasts, chicken thighs, or even leftovers from roasting a whole chicken – whichever you have available!
Add the veggie mixture you cooked in step one to the large bowl and mix everything together. You want to make sure that everything is well mixed so it divides nicely into the muffin tin (you don't want all the carrots in one muffin!).
Divide the mixture into a greased 12 cup muffin tin (or use a silicone muffin tray to skip greasing the pan). Sprinkle each muffin with a bit of the remaining cheese.
Pop the muffin tin in the oven and bake them for about 25 minutes. You want the "muffins" to be lightly browned, but not too crispy.
When they're done, take them out to cool on a cooling rack. You want them to cool completely before storing them in the fridge to prevent them from developing too much condensation. These can be stored in an airtight container in the fridge for up to 3 days.
We've also had other parents mention that they have placed them in the freezer and brought them out to thaw when they need an easy lunch or snack for their toddler, as we mentioned above.
Variations on this recipe for more meals for picky eaters and babies
Since this is such a popular recipe with the parents who already have the 60 day baby led feeding meal plan, I'm so happy it's now available for more people to try! I also want to emphasize as well the importance of a variety of flavors and foods for picky eaters – especially if they love the original version of this recipe!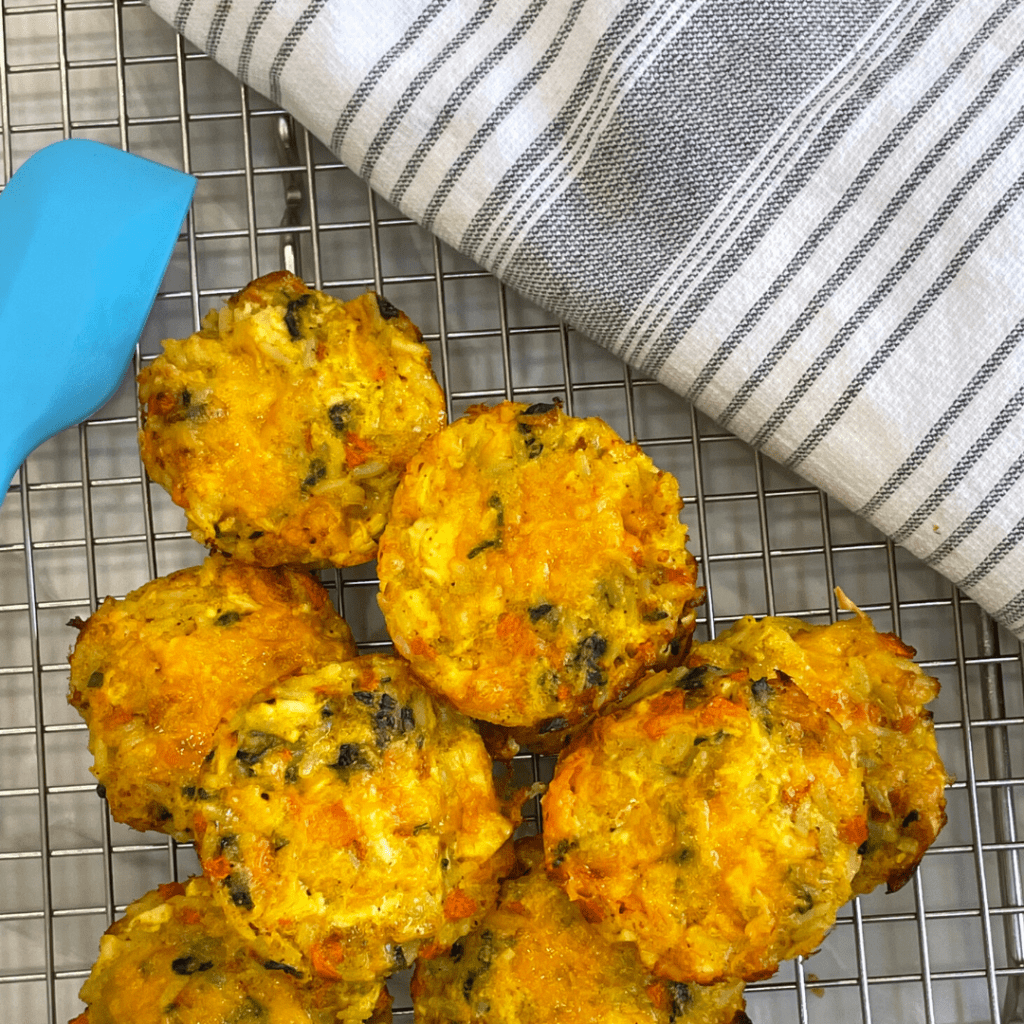 This is one of the best ways to combat toddler neophobia – which is basically the fear of trying any new foods!
Some variations to this recipe with different mix-ins include:
Swapping out the chicken for ground beef! Use some taco-like seasonings, such as a mixture of fresh chilli powder, cumin, paprika, garlic powder, and onion powder on the beef while you're cooking it. Swap the carrots and spinach for red peppers and/or onions. 

Make a fish option! Swap the chicken for canned salmon, keep the spinach but swap the carrots for finely chopped broccoli and add some dill for a new flavor. 
Trying out various ways that you can make this recipe will allow your toddler, or picky eater, to be exposed to new flavors and put some variety into their diet in a less overwhelming way.
80+ Baby Led Weaning Recipes for the whole family to enjoy
And don't forget about my 60 Day Baby Led Feeding Meal Plan – get over 80 recipes to try out when starting solids, and follow along with the plan to strategically introduce allergens, advance your baby in textures, and ensure all nutrient needs are being met.
The plan is also perfect for the whole family – the recipes are delicious and designed to be able to serve to everyone in the household – picky toddlers included!
If you try this recipe out, please rate it below and pin it to use again later. And let me know in the comments what other variations you test!
Happy cooking!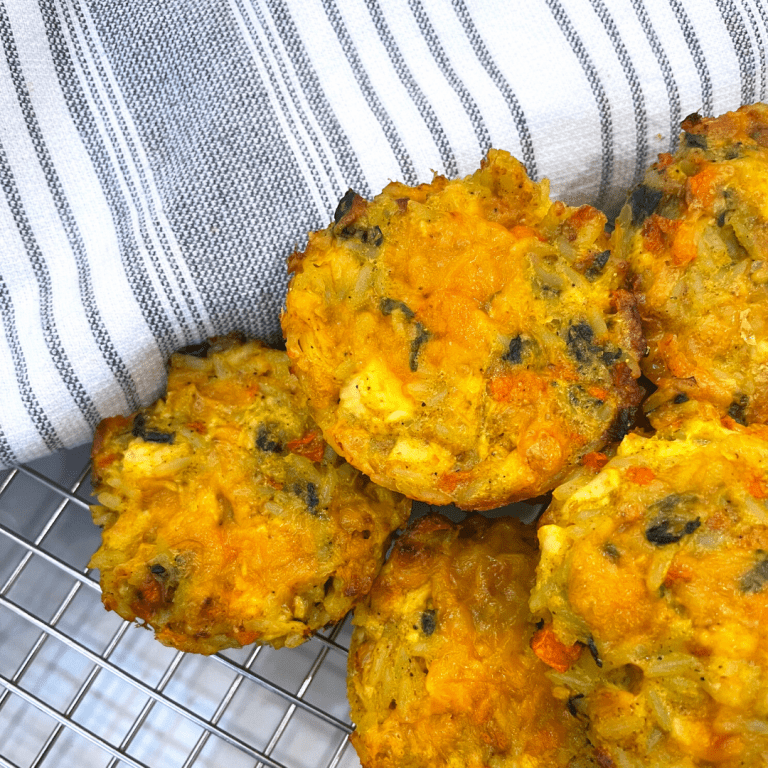 Chicken Curry Rice Cups
This is one of my most popular recipes for baby led weaning and picky eaters! Your whole family is sure to enjoy these chicken curry rice cups - and you're going to love that they can be prepped, frozen, and served on busy nights for a fast, simple and nutritious family meal.
Ingredients
1

cup

parboiled rice

(cooked)

1

cup

spinach

(chopped small)

1

cup

carrots

(finely diced)

4

tsp

curry powder

2

tsp

garlic powder

1

cup

cooked chicken

(finely chopped)

½

cup

full-fat, plain, Greek yogurt

2

eggs

(lightly beaten)

1

cup

cheddar cheese

(shredded and divided)
Instructions
Preheat oven to 350ºF.

Heat a lightly oiled skillet over medium heat. Add chopped vegetables and cook until moisture has evaporated, about 5 minutes.

Add seasonings and stir. Set aside to cool slightly.

In a large bowl, combine chicken, eggs, yogurt, cooled cooked rice, and 3/4 cup cheese. Then add veggies and mix until well incorporated.

Divide mixture into a greased (or silicone) 12 cup muffin pan. Sprinkle remainder of cheese on top.

Bake for 25 minutes until lightly browned. Make sure the top isn't too crispy. Enjoy!
Notes
Refrigerate in an air-tight container for up to 3 days.
To soften them up when re-serving them, heat them in the microwave for 30 seconds first.
Love it? Pin it to save for later!