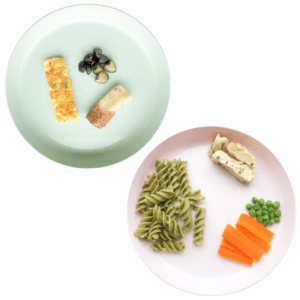 Podcast: Play in new window | Download (Duration: 29:27 — 24.7MB)
Subscribe: RSS
In this episode, I'm sharing with you all of my tips for planning out meals with your baby, including 5 days of themed meals, so you can easily choose what to serve! I hear from so many moms who are wondering how to fit meal prep and planning into their busy schedules. Maybe you're working, and cooking dinners feels hectic and last minute, so you find yourself serving the same foods on repeat. Or, maybe you stay home with your kiddos and between naps, activities, cleaning up from the last meal, not to mention your endless list of to-dos, you can't find the time to brainstorm unique meals each and every week (who would?!)
I totally get it! I'm all for making your life simpler, and I want you to enjoy meals with your baby – not stress over whether you included all the nutrition they need, or if you're providing enough variety.
So, I'm sharing with you my best tip for creating variety within your meals, without sacrificing precious time with your baby….
Create themed days for meals!
I'm even getting you started with FIVE of my favourite themes for breakfast, lunch, and dinner. Don't worry, no need to take notes, I've got an easy printable you can download here and put on your fridge to reference when you're choosing recipes for the week. But be sure to listen in for all the examples I provide, plus I'm giving you an easy breakdown of the nutrition you need to include in each of your baby's meals.
If you get value from today's episode, please leave me a 5 star rating and review at Apple Podcasts, and don't forget to subscribe so you never miss a show!
Additional Resources:
If you loved hearing all about the nutrition your baby needs, and want to have access to that amazing 30 day meal plan I mention in the episode, it's time to enroll in my Baby Led Feeding online course! Get access to the nutrition info now, and get the meal plan when the revamped course launches in early 2021. That's right, my courses have lifetime access and I will always give you any updates I make to them, for free! Start today. (https://mylittleeater.com/baby-led-feeding/)
EVERYTHING YOU NEED TO KNOW ABOUT IRON: https://mylittleeater.com/3363-2/
SAVORY YOGURT IDEAS: https://www.instagram.com/p/B-AQZkgHRJc/?utm_source=ig_web_copy_link
BEST BREAD FOR YOUR BABY: https://mylittleeater.com/all-about-bread-for-babies/
HOW TO SERVE MEAT TO YOUR BABY: https://mylittleeater.com/how-to-serve-meat-to-babies-toddlers/
5 DAYS OF THEMED MEALS: https://courses.mylittleeater.com/episode34-mealplanningguide
Skip to…
What to include in your baby's meals (1:45)
Why is variety important (7:27)
5 Days of themed meals: BREAKFAST (9:37)
5 Days of themed meals: LUNCH (14:46)
5 Days of themed meals: DINNER (21:53)