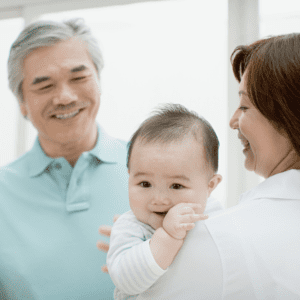 Podcast: Play in new window | Download (Duration: 19:19 — 14.8MB)
Subscribe: RSS
In this episode, I'm tackling a very common worry among parents…
"Will my child's Grandparents ruin all the hard work I've done in creating healthy eating habits for my kids?".
This is a question I get asked a lot, and I totally understand it because…well…I LIVED it! 
My kids would come home from their grandparents' house and say…
"Mommy – I had ice cream for supper!"
Then I'd ask my Mom what she'd done with the kids all day while she was looking after them for me, and she'd go…
"Well, we made chocolate chip cookies, and then I took them to the canteen to get some chips, and then we watched a movie with hot chocolate and marshmallows!"
(Insert eye-roll here…)
To top it off, my father-in-law used to pressure my kids to eat everything on their plate (which he heaped completely full of food!), and then would even guilt them into eating dessert by saying: "Come on…it's dessert…YUM!". And the icing on top of that cake was that he'd even make ME out to be the bad guy. He'd hint to my boys that I'd be mad they were eating dessert and it had to be their secret. 
No thank you!
So, believe me, I've dealt with my fair share of this, and I 100% understand your concerns!
I'm sharing with you my top tips – tried and tested – for dealing with these super common grandparent issues. Find yourself a quiet space, away from the kiddos (and grandparents), and listen in!
As always, if you get value from this episode, please subscribe, rate, and review it on Apple Podcasts. And, I'd love for you to share this episode with a friend, or sibling, who may have to deal with this too! 
Additional Resources:
If you're looking to want to learn how to raise a toddler to have a healthy relationship with food, who is adventurous and curious at the table, and for who picky eating is a thing of the past…it's time to enroll in my Feeding Toddlers online course! I'll teach you how to the perfect mealtime environment that sets you and your toddler up for success in feeding, and you'll learn all the details on nutrition for a healthy toddler too. Enroll today! (https://mylittleeater.com/feeding-toddlers/)
Content I mention in the episode
WHAT TO DO WHEN YOUR TODDLER IS SWEET OBSESSED: https://mylittleeater.com/16-what-to-do-when-your-toddler-is-sweet-obsessed/
5 SIMPLE TIPS FOR HANDLING HALLOWEEN TREATS FOR TODDLERS: https://mylittleeater.com/27-halloweencandy/
HOW TO RAISE A TODDLER TO HAVE A HEALTHY RELATIONSHIP WITH SUGAR: https://mylittleeater.com/healthyrelationshipwithsugar/
Skip To… 
My experience (2:21)
Why how often your children see their grandparents matters (7:15)
A research study from 2018 (11:47)
My advice (14:50)
How I personally implemented my recommendations (21:47)