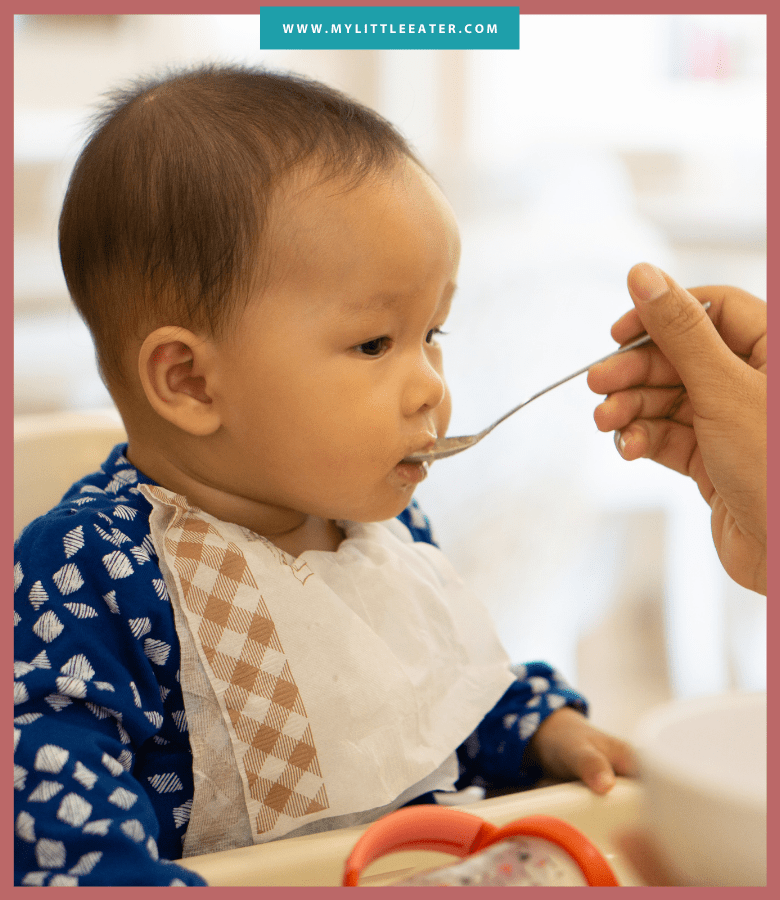 Podcast: Play in new window | Download (Duration: 31:48 — 26.4MB) | Embed
Subscribe: Apple Podcasts | RSS
This episode is for all you mamas (and dads) out there dealing with food allergies! Maybe your baby has already reacted to some after you started introducing the top allergens, or maybe you personally have such a severe allergy that you can't keep certain foods in the house. Now, for the latter case, your baby will still need to be exposed to those allergens, but best to speak with your allergist about how to go about it (and that's an episode for another day 😉 ).
Back to the topic at hand! In this episode, I'm talking about how you can still ensure your baby meets their nutritional requirements, while keeping in mind the most common allergens. I get asked this a lot because so many of you have recipes you commonly use, or you find some new ones to try on Pinterest or recipe sites, but they often include top allergens, such as eggs, wheat, dairy, or nuts. So, if your baby has an allergy to one, or multiple of those, it can be hard to find recipes that work. 
I'm sharing with you some easy substitutions that you can make to these recipes, or just in your weekly grocery shop, so you can continue to offer your baby variety, and the nutrition they need, while avoiding an allergic reaction.
As always, if you get value from this episode, please remember to subscribe, rate and review it at Apple Podcasts! And please share this episode with a friend – tag me, @mylittleeater, in your stories while you listen, I'd love to hear what you think!
If you're a family living with allergies and you have a recommendation for a food substitution that I didn't mention, please share it with me! Send me an email to info@mylittleeater.com so I can spread the word, the more options available the better 🙂
Additional Resources:
If you're just beginning to introduce your baby to solid foods, and are unsure of how to tackle this, let alone how to introduce the top highly allergenic foods, it's time to enroll in my online course! My Baby Led Feeding course will walk you through exactly how to do this, so you feel prepared and confident moving forward in this new journey with your little one. Enroll today!(https://courses.mylittleeater.com/babyledfeeding)
If you have a toddler at home and are wanting to learn all about the nutrition they need, and learn how to prevent picky eating habits, or help improve them if you're already seeing that happen, you need my Feeding Toddlers online course. Sign up today! (https://courses.mylittleeater.com/feedingtoddlers)
MILK ALTERNATIVES: https://mylittleeater.com/besttypeofmilk/
IRON FOR BABIES: https://mylittleeater.com/3363/
EP. 24 – PROTEIN NEEDS FOR YOUR TODDLER: https://mylittleeater.com/24-protein-needs-for-your-toddler/
DHA: https://mylittleeater.com/the-importance-of-dha/
CDN AMAZON SHOP: https://www.amazon.ca/shop/mylittleeater
US AMAZON SHOP: https://www.amazon.com/shop/mylittleeater
Skip To…
Milk allergy (3:13)
Wheat allergy (11:17)
Peanut/nut allergies (18:14)
Egg allergy (21:28)
Fish/seafood allergies (25:49)
Soy allergy (27:59)
*Please note that I do receive a small commission from any products purchased from the links in these show notes. But, this comes to no additional cost to you, and I will only ever link items that I FULLY support and stand behind! These small commissions help me keep my website alive and kicking so I can continue to provide you with valuable feeding info. 🙂