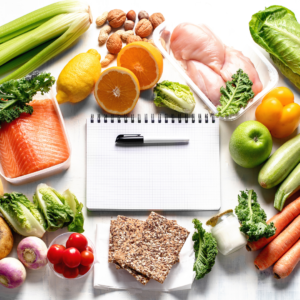 Podcast: Play in new window | Download (Duration: 23:44 — 21.9MB)
Subscribe: RSS
In this episode, I reveal all of my tips and tricks on how to manage your time when meal prepping and planning for the week! I include how to prep your biggest meal of the day while tending to your infant, toddler, or both, how to choose what meals to serve (hint: think themes!), and how to manage the overwhelm that comes along with all of this!
I keep it real on this podcast, so remember that this is not something that will happen… Every. Single. Week. Some weeks it's all about flying by the seat of our pants, and that my friends, is okay! Take it easy on yourself, this takes practice, so give yourself the time to work into all of this and remember – your baby has no idea what a "real meal" is, so random items work for them, even if they don't sound great to you.
As always, please remember to subscribe to the podcast, if you haven't already, and I'm going to ask you a favour…would you please leave a review for me on Apple Podcasts? It goes a long way towards getting this information to parents all over that could really use the encouragement and support!
Additional Resources:
Do you want some help coming up with recipe ideas to go into your meal plan? Check out my online courses – I include tons of recipes appropriate for babies and toddlers, get yours by enrolling now! (https://mylittleeater.com/online-courses/)
Skip To…
Hey! (0:47)
Meal Prep (6:14)
Cooking Time (10:02)
Meal Planning and Shopping (16:15)
Eating with your Baby (19:57)
Cleaning Up (21:14)