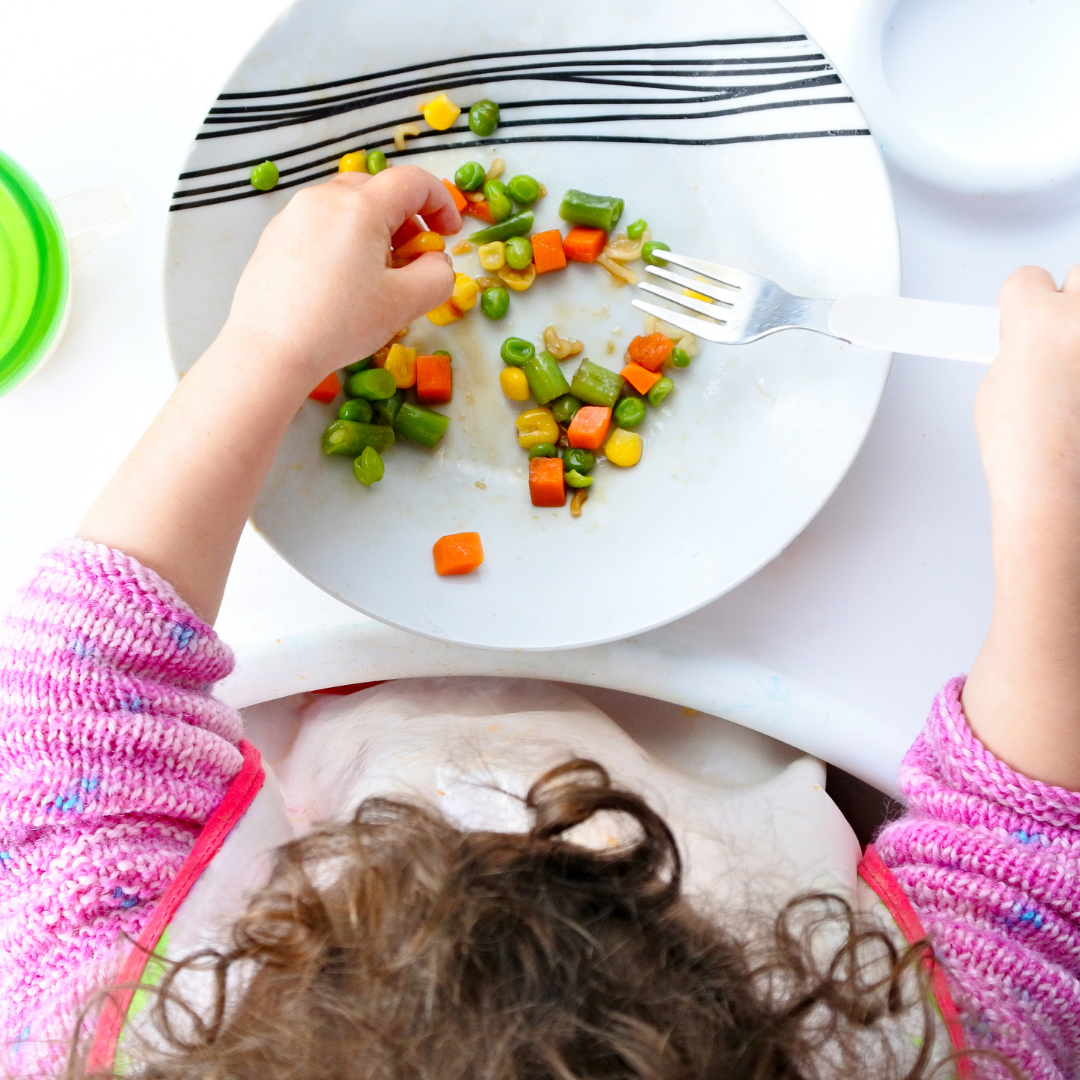 Podcast: Play in new window | Download (Duration: 21:22 — 17.1MB)
Subscribe: RSS
In this episode I'm going to be covering the million dollar question – and that's how to get your toddler eating more vegetables! As parents, you know vegetables seem to be your worst enemy. Whether you have a picky eater or not, they just seem to be that one food that's literally impossible to get into your toddlers diet. But there are things we may be unintentionally doing that actually prevents them from trying them and ultimately eating them in the long run.
Let's face it, veggies technically don't always taste that good, are kind of a weird texture and are ALWAYS the focal point of the meal, as many parents overemphasize them as the one food on the plate that their toddler should eat. So today I wanted to cover how to change your mindset on approaching veggies with your toddler by giving you my tips on when and how often to serve them, how to talk to your toddler about them and how to find fun in serving veggies. It does take consistency, and a bit of a mindset shift…BUT…all these tips are stepping stones for getting your toddler eating them in the long run – which is totally your goal! 
Leave a review and win! 
Let's make 2022 the year that The My Little Eater Podcast hit's #1 on the charts and reaches even more parents who need these tips and encouragement in feeding their little ones!  All you need to do is head over to Apple Podcasts and leave me a quick little review, even just a quick line about what you loved about the podcast episode, or a struggle that it's helped you through can really help!
As a thank you you'll be entered to win a 15 minute call with me where you can ask me anything about feeding. Just make sure to leave your Instagram handle so I can find you if you're the lucky winner 🙂 
---

♥ Listen on Apple Podcasts                 ♥ Listen on Spotify                 ♥ Listen on Google Podcasts
---
Additional Resources:
FEEDING TODDLERS ONLINE COURSE: https://mylittleeater.com/feeding-toddlers/
If you have a toddler and you want to learn more about setting up a solid foundation for feeding and have mealtimes free of tantrums – this is the ultimate course to get you there! You see, preparing balanced meals for your toddler is important BUT the first step is knowing the basics of a positive mealtime environment and roles in feeding, all of which can help prevent picky eating and meltdowns! Enroll now and get started early on curbing unwanted mealtime behaviours before they start, overcome picky eating and set your toddler up to be an adventurous eater! 
BABY LED FEEDING ONLINE COURSE: https://mylittleeater.com/baby-led-feeding/
Starting solids isn't meant to be just another thing you have to stress over as a parent – it's supposed to be fun! So, let me help you keep it that way and ensure you raise a baby who loves all food! My Baby Led Feeding Online Course will help you start solids with confidence, ensuring you have the knowledge to gently push your baby through textures to prevent picky eating and be healthy in all aspects! 
DIVISION OF RESPONSIBILITY: https://mylittleeater.com/dor/
The Division of Responsibility framework is absolutely crucial for setting up mealtime boundaries and consistency, a positive mealtime environment and less mealtime battles in the long run! Make sure to check out my blog post to find out what it is, how to do it and how it can help do a full 360 when it comes to feeding your toddler! Division of responsibility – blog
FOOD PLAY FOR PICKY EATING: https://mylittleeater.com/food-exploration/
Food play can make leaps and bounds with picky eaters and can help you work through those 28 steps of feeding I mention in the episode. Check out my blog for more tips and benefits on food play for picky eaters!
Skip To…
Tip #1: Serve them more often! (1:26) 
Tip #2: Treat veggies the same as every other food (7:05) 
Tip #3: Engage their interest with food play! (11:45) 
Bonus tip 1: Make them delicious (17:34)
Bonus tip 2: Pressure free veggie platter (18:21)