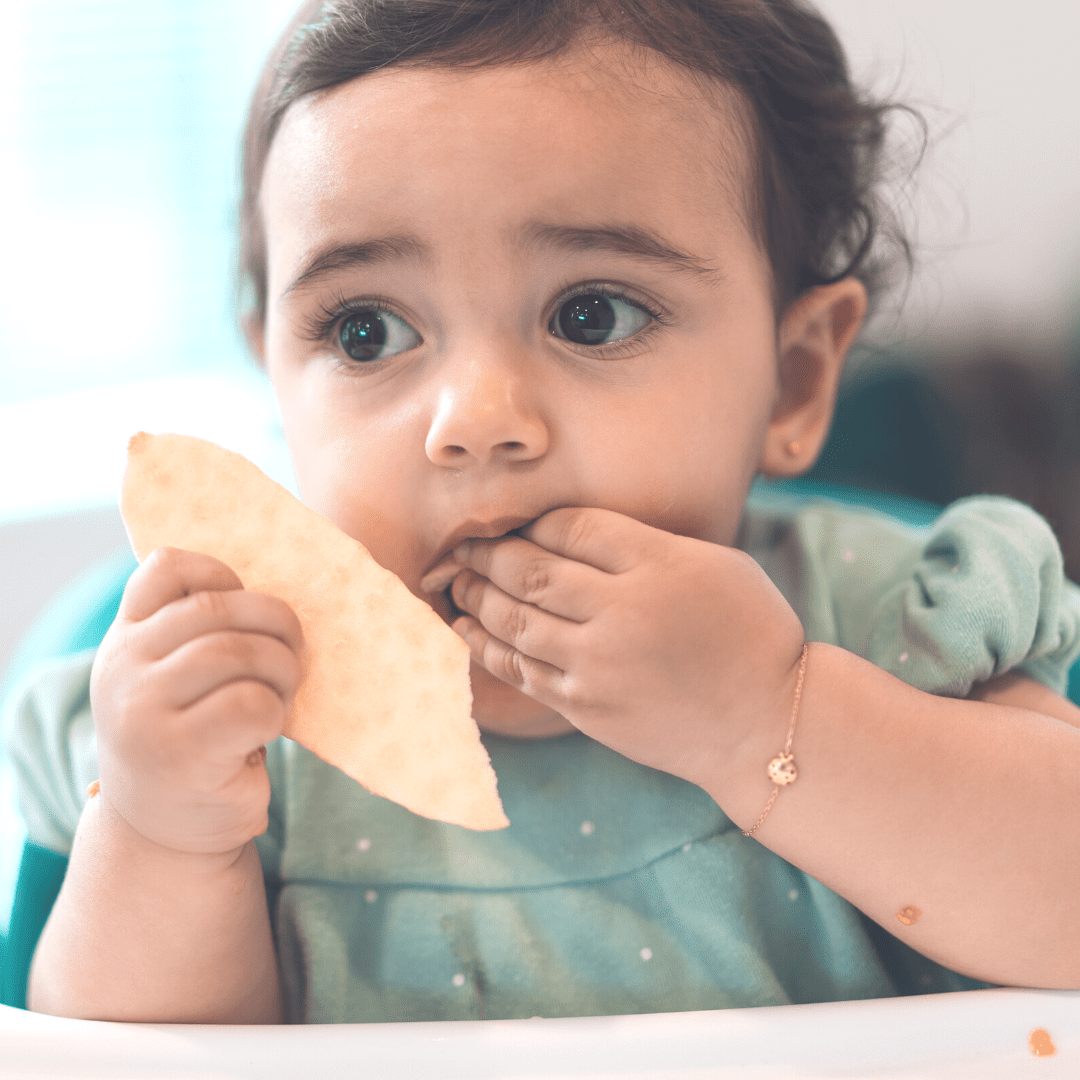 Podcast: Play in new window | Download (Duration: 21:44 — 17.1MB)
Subscribe: RSS
Today's episode is all about healthy crackers for babies and toddlers, including what factors I consider when choosing the best crackers for your little one! Crackers can be a great finger food for your baby if you're starting with baby led weaning, especially as a vehicle to eat those tougher purée textured foods like peanut butter, potatoes, hummus, puréed meat, mashed beans (the possibilities are endless here!) and make an easy grab and go snack for your toddler on busy days. 
When it comes to picking the best crackers to offer your child, there are some key things to consider.. like what or how many ingredients they have, the salt and sugar content and if they have the nutritional components to be a truly healthy snack option. But as busy parents, you don't have time to look at the nutrition label of each and every brand – there's just too many crackers out there!
Download my FREE cracker guide that takes out all the guessing work, and gives comprehensive lists by age of the best crackers to serve, the runner up and the ones you should avoid if possible! I've used all the tips I cover in this episode to really fine tune this guide, so make sure to check the link below to get your copy!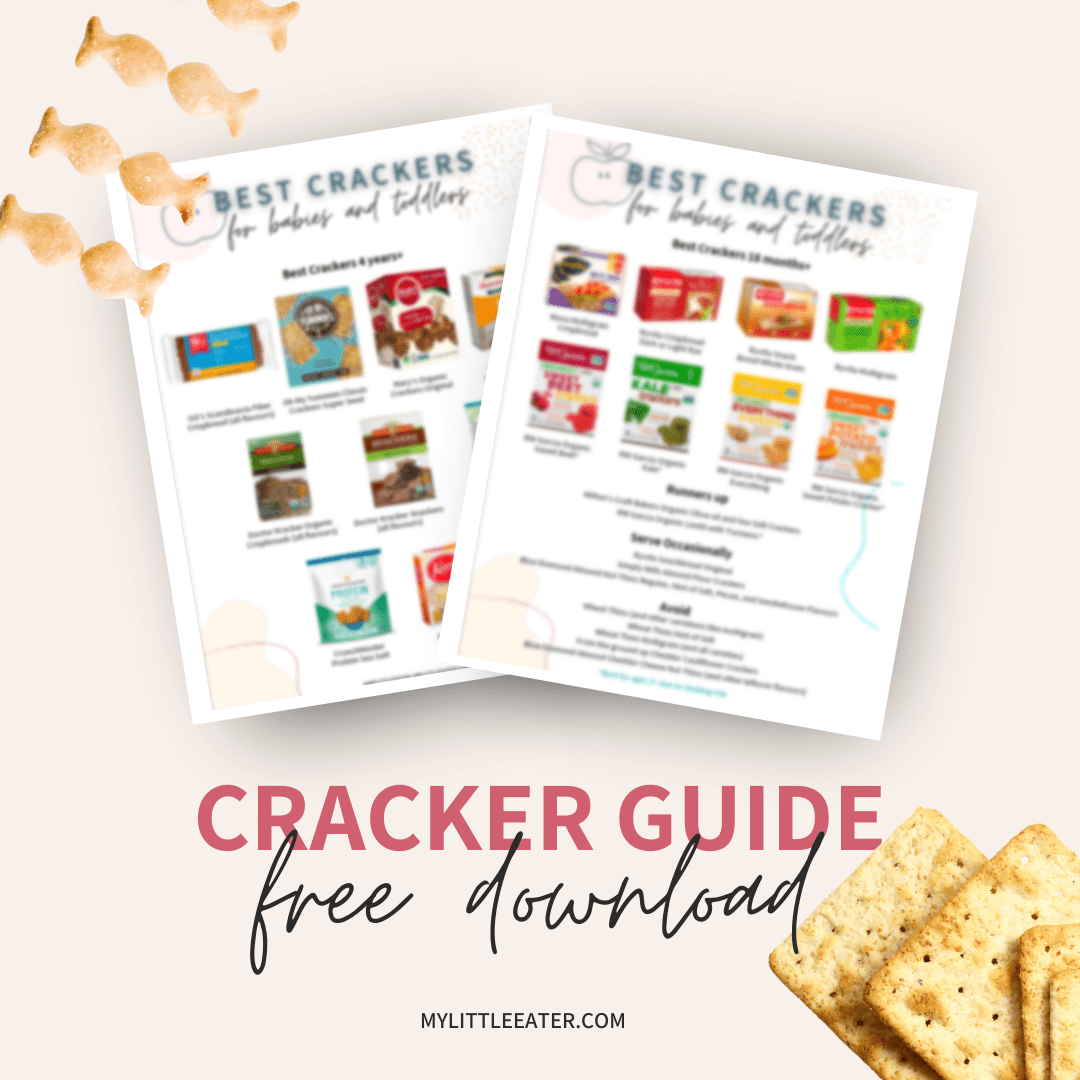 Leave a review and win! 
Help The My Little Eater Podcast hit #1 on the charts and reach even more parents who may need some extra help when it comes to feeding their little ones!  All you need to do is head over to Apple Podcasts and leave me a quick review about what you loved about this episode, or a previous one. Thanks so much in advance for your continued support 🙂
As a thank you you'll be entered to win a 15 minute call with me where you can ask me anything about feeding. Just make sure to leave your Instagram handle so I can find you if you're the lucky winner!
---

♥ Listen on Apple Podcasts                 ♥ Listen on Spotify                 ♥ Listen on Google Podcasts
---
Additional Resources:
BABY LED FEEDING ONLINE COURSE: https://mylittleeater.com/baby-led-feeding/
Starting solids with your baby isn't something you should have to stress over, especially if you start with my Baby Led Feeding Online Course! This course gives you all the steps to know what to feed your baby, how to feed it to them (with video demos!), common choking hazards, and how to master responsive feeding. It's specifically designed to help parents just like you feel confident, and know you're not alone on this journey. Enroll today and get started!
FEEDING TODDLERS ONLINE COURSE: https://mylittleeater.com/feeding-toddlers/
Out of the baby phase? All good, I got you covered! My Feeding Toddler Online Course is the next step, and is so beneficial to start incorporating the lessons learned here early on so you don't get stuck with the stress of feeding a picky eater. The Feeding Toddler course will give you the strategies you need to prevent picky eating, or stop it from progressing any further, helping you raise a happy, adventurous eater for life! 
CRACKERS FOR BABIES & TODDLERS: https://mylittleeater.com/crackers-for-babies
Make sure to download my free and comprehensive cracker brand guide to find out what passed my test for the best crackers, the worst and what ones are okay to occasionally offer your baby or toddler. Since babies and toddlers are very different, I even broke down my recommendations based on age, so you can rest assured these are all vetted nutritionally for whatever stage your child is in!
ORGANIC FOODS: https://mylittleeater.com/organic-foods/
As mentioned in the episode, if you want to find out more about organic foods, their benefits and which foods are best to purchase organic, check out this blog post!
ARSENIC IN RICE: https://mylittleeater.com/rice-for-babies/
Read more here if you want to learn my take on arsenic in rice, and why I don't recommend using rice based products in excess.
Skip To…
Download the free cracker guide! (1:07)
Look for high quality, minimally processed ingredients (4:29)
Nutrition components that matter (13:27)
Are crackers a choking risk? (18:30)