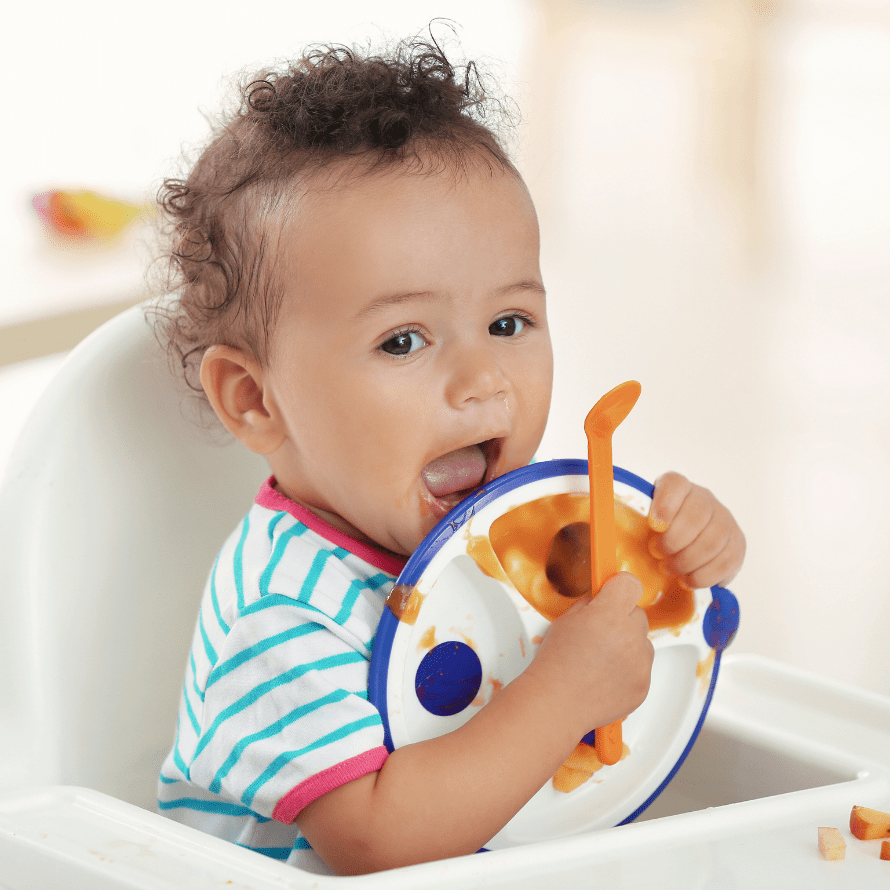 Podcast: Play in new window | Download (Duration: 11:28 — 14.3MB)
Subscribe: RSS
Today's quick tip is all about choosing the right plate for your baby or toddler! Parents ask me all the time about what products I recommend for starting solids, and then also for picky eaters – and one of their main concerns is choosing the "right" plate. So today I'm going to share some of my favourites, and my best tips for picking plates for your kiddos.
First, I share all the traits I personally look for when shopping. I'm sure you've noticed that the baby section of every store is filled with numerous options for everything – and everything says that it's recommended, or backed by research, etc. So how do you choose? I'll give you my list of what to look for when shopping for plates for babies and toddlers, and then also answer the popular question – divided or undivided? Finally, I cover when you should start using them, brand recommendations, and if you really need the ones that suction to the table/tray (spoiler…yes, you probably do!).
As always, if you get value from this episode, please rate and review it at Apple Podcasts! And let me know your favourite plate – maybe there's another new one out there I'm missing!
Additional Resources:
ONLINE COURSES: https://mylittleeater.com/online-courses/
CANADIAN AMAZON SHOP: https://www.amazon.ca/shop/mylittleeater
US AMAZON SHOP: https://www.amazon.com/shop/mylittleeater
SHOP EZPZ: https://shrsl.com/326pa
FOOD THROWING TIPS: https://mylittleeater.com/10-simple-tips-to-eliminate-food-throwing-for-good/
MORE ON PLATES: https://mylittleeater.com/best-plates
Skip To…
What to look for in plates (1:05)
When to introduce a plate (2:15)
Divided vs. undivided plates (5:03)
Why you need suction plates (9:05)
*Please note that I do receive a small commission from any products purchased from the links in this post. But, this comes at no additional cost to you, and I will only ever link items that I FULLY support and stand behind! These small commissions help me keep my website alive and kicking so I can continue to provide you with valuable feeding info.