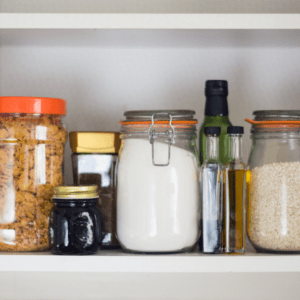 We are entering unprecedented times, which means there's a lot of things we haven't experienced before (neither you nor I)! It's a time where we have infrequent access to grocery stores, perhaps less availability of different products, and I've heard from many of you that what you're looking for is ideas for how you can use simple pantry items to create and re-create different meals, so you can keep variety happening in your home, and leave no wasted food behind.
Even though this time is new to all of us, including me, I can pull on some experience I have from counselling clients in remote areas or maybe who didn't have the income to access a lot of groceries, combined with the experience I have helping parents make quick and easy meals, to create a little bit of a guide as to how you can feed your babies/toddlers during a pandemic. 
What to stock up on
Let's start off with the staples I keep on hand in my pantry/freezer/fridge that have longer shelf lives and are healthy, and then we'll start creating meals out of them.
Note: These lists are certainly not exhaustive and don't include spices, small baking items, oils etc.
Single ingredient pantry foods (excluding fruits/veggies):
Crackers
Tortilla
Bread
Bagels
Naan/Pita bread
Lentils
Chickpeas
Pasta noodles (wheat and lentil or pulse based noodles)
Tomato sauce
Canned tuna
Canned salmon
Canned sardines
Nut butters (peanut, almond, soy butter)
Nuts (almonds, cashews, peanuts, etc.)
Rice (white, whole grain, wild, basmati etc.)
Quinoa
Couscous
Chicken broth/Vegetable broth
Canned coconut milk
Flour (White, wheat, almond, etc.)
Sugar (white, brown)
Oats (steel cut, rolled, etc.)
Applesauce
Powdered milk 
Dark chocolate
Honey
Refrigerated items with longer shelf life:
Eggs
Almond milk (or other non-dairy milk)
Full fat cream cheese
Salsa
Hummus
Packaged/pre-made guacamole
Hard cheeses like parmesan, asiago, romano and cheddar (these last longer than soft cheeses)
Olives
Sauerkraut, pickles, kimchi
Jarred pesto
Tofu
Condiments like mayo, ketchup, etc.
Fruits & Veggies with longer shelf life:
Oranges
Apples
Potatoes
Onions
Garlic
Beets
Sweet potatoes
Carrots
Cabbage
Butternut squash
Spaghetti squash
Canned pumpkin
Jarred roasted red peppers
Sun Dried tomatoes
Dates
Figs
Raisins
Grapefruit
Mango (keep in fridge once ripe)
Canned artichokes
Frozen edamame beans
Frozen/canned peaches
Frozen/canned pears
Frozen strawberries, blueberries, raspberries
Frozen Spinach/Kale
Frozen avocado chunks
Frozen/canned peas
Frozen/canned corn
Frozen broccoli
Frozen/canned carrots
Frozen/canned mushrooms
Frozen/canned green beans
Canned diced tomatoes
My favorite ready made frozen foods:
My favourite ready made pantry foods:
Sprague Organic Lentil soup with vegetables (Costco)
Annie's Mac and Cheese 
Boxed cereal like Cheerios, Special K etc.
Lara Bars, Kind Bars (be careful of whole nuts <4 years)
Popcorn (be careful for kids <4)
Fruit and veggie pouches
Foods you can freeze for longer shelf life:
Cheese (Make sure to wrap tightly to reduce air exposure if in block form, or shred it and put in freezer bag and freeze)
Hummus (pour olive oil on top layer and freeze in a sealed container)
Eggs (check out this article on ways to freeze eggs)
Tortillas and other bread (see this article for help)
Butter (wrap tightly or keep it in original packaging and freeze)
Bananas (to be used for baking/smoothies etc…just throw in the freezer or dice and put in ziplock bag)
Avocados (cut in half, peel, place in ziplock bag and freeze)
Any and all meat (chicken, sausages, beef, fish, smoked salmon etc.) (Wrap tightly to prevent air exposure and freeze)
How to turn all the above…into easy family friendly meals!
Sandwich ideas:
White bean salad sandwich (you can also try this variation with avocado, lime, dried cilantro (if you don't have fresh) and chili powder)
Tuna or salmon salad sandwich 
PB & J sandwich (try subbing mashed frozen berries instead of jam if you want!) 
Curried tofu wraps (omit walnuts <4 years)
*Try any of the salad sandwich fillings stacked between crackers for a change. Serve any of these sandwiches with a side of frozen green beans, corn, broccoli, peas, carrots or even fruit like apple slices (be careful for kids <4)
Salad ideas:
*Add in shredded chicken/pork to any of the salads if you like
Pasta ideas:
Pesto pasta (cooked noodles of your choice with jarred pesto mixed in)
Spaghetti (jarred marinara sauce with any frozen veggies, over noodles)
Canned Tuna pasta (omit chili if you want) 
Mac and Cheese (from scratch or boxed), add in frozen peas/carrots
*Serve any pastas with canned fruit or canned/frozen veggies on the side
Soup ideas: 
Carrot soup (use coconut milk if you don't have/want to use cream)
Sprague Organic Lentil soup with vegetables (just open the can and heat)
*Serve any soup with bread on the side, or alongside a salad or sandwich from above
Breakfast ideas:
Waffles (from mix or scratch) topped with nut butter + hemp/chia/flax seeds and a side of canned peaches
Pancakes (from mix or scratch) with hemp/chia/flax seeds mixed into the batter, topped with frozen berries and Plain or Vanilla Greek yogurt
French toast (mix eggs, cinnamon and 1 tsp vanilla in a bowl and dip bread in), with a fried egg on the side and canned pineapple
Eggs (any way) with toast, cheddar cheese and sliced oranges
Omelette with smoked salmon/canned salmon, kimchi and sliced grapefruit
Oatmeal with frozen berries mixed in, topped with crushed almonds (<4 years) and shredded unsweetened coconut 

Smoothie made with frozen ripe banana, frozen berries, frozen spinach/kale, frozen avocado, almond milk, and a scoop of one of my favourite

protein powders

Breakfast burritos (scrambled eggs, salsa, and cheese in a warmed up tortilla)
Oatmeal fingers with yogurt and canned/frozen fruit
Chickpea scramble with toast
Other meal ideas:
Easy lunch plate (crackers + hummus dip + sliced carrots + boiled eggs)
Lentil Dahl with rice (mix in frozen peas and carrots to get some veggies in)
Chicken tenders (or real chicken), frozen/canned corn and peas, instant mashed potatoes
Dr. Praeger's California Veggie burgers on buns with roasted potatoes
Loaded baked sweet potatoes with canned beans, diced green or red onion, salsa, plain Greek yogurt, mashed avocados (if you have them)
Burrito bowl on rice, black beans, frozen diced peppers, frozen corn, onions (add pan fried tofu for more protein!)
Buddha bowl with quinoa, edamame beans, roasted sweet potato, frozen roasted broccoli, tahini sauce (1/4 cup tahini, 1 Tbsp maple syrup, 1/2 medium lemon juice, 2-4 tbsp hot water (to thin))
Coconut curry (use frozen veggies and add sweet potato or chickpeas if you like)
Chili (or with lentils, sweet potatoes (5 ingredients only!) or ground beef)
Quesadilla made with cheese and black beans and canned/frozen corn
Cheese pizza (on homemade dough, or on pita/naan bread. Feel free to add on canned roasted red peppers, olives, sun dried tomatoes or any canned/frozen veggie)
Hummus flatbread (liberally spread hummus on naan bread, top it with pesto, roasted red peppers, olives, and/or any fresh/frozen veggies you have like peppers, tomato, onion or mushroom. Bake in oven until warmed and slightly crispy.)
Frozen fish (or fish sticks) with rice and frozen green beans
Tofu fried rice (use whatever frozen veggies you have as add-ins)
Carrot Tofu Scramble (Crumble a block of medium/hard tofu, with 1 lb. grated carrots. Sauté the mixture in coconut oil, garlic and ginger. Serve on top of any grain.)
Don't forget that you can always make and freeze muffins, stews, casseroles etc. If you have a baby as well and are wondering what types of modifications to make to typical family meals to make them baby-friendly, read my top tips, here.
I hope this helps give you ample ideas for how to use these common, more shelf-stable foods in a variety of different ways to keep exciting menus happening in your home, even during a pandemic. Remember, be flexible with the recipes based on what's available to you and also…cut yourself some slack during this time when needed. You've got a lot on your plate and sometimes…a bowl of cereal and milk will totally suffice as dinner in place of a little sanity. So give yourself that grace!