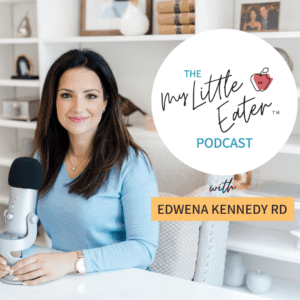 Podcast: Play in new window | Download (Duration: 0:50 — 1,009.3KB)
Subscribe: RSS
That's right – The My Little Eater Podcast is coming!
Season 1 of the podcast is launching on April 6th, 2020 to all of the popular streaming apps, including: Apple Podcasts, Spotify, Google Podcasts, Stitcher, and more! You'll be able to listen to my expert feeding advice on demand – listen while you run, drive, or even during nap-time! The episodes are nice and short (I know how precious your time is), but are packed full of my best tips.
On this first season of the podcast, I'll be talking to you about…
>> My Journey with Feeding My Kids
>> Overcoming the Fear of Gagging/Choking in Baby Led Weaning 
>> The Top 5 Ways We Sabotage Our Picky Eating Plan
>> Feeding Kids During a pandemic
>> How Much Should My Baby Be Eating?
>> Night Wakings and Milk Feedings with Little Z's Sleep
>> Time management hacks to make cooking for babies less stressful
>> Baby Sign Language with WeeTalkers
>> The ONE Feeding Strategy that will Change Mealtimes Forever
>> Simple Tips to Eliminate Food Throwing – For Good!
>> Bonus: The "Three E's" of Food Play with Melanie Potock
>> My Top 8 Foods for Starting Solids
>> Feeding Schedules for Babies 6-12 months
>> From Baby to Toddler: Changes to Expect when Feeding
>> Feeding Schedules for Toddlers
>> How to Stand in your Confidence as a Parent with Myla Leinweber
>> What to do when your toddler is sweet obsessed?
>> How to Foster Independence in the Kitchen with Adeline Dubreuil
>> Baby Led Weaning Myths You Can Ignore!
>> Raising body positive kids with Verena Dickson
>> What to Do When Your Toddler Just Won't Eat!
>> Safe Foods for Picky Toddlers
>> Foods to Avoid for Babies Under 1
>> Protein Needs for your Toddler
>> Season Finale – Potty Training Q&A with Allison Jandu 
Don't miss a single episode! Subscribe to The My Little Eater Podcast on your favourite streaming site, but don't forget to leave me a rating and review at Apple Podcasts. This will really help to get the podcast out there so more parents can benefit from these tips, and feel confident raising their healthy little eater!
Additional Resources:
If you're looking for someone to show you all the ins and outs of feeding your baby solid food for the first time, and every time after that, you're in luck! My Baby Led Feeding online course is the perfect fit! I'll be showing you how to introduce solids to your baby for the first time, and how to gradually move them through various textures so they're skilled at feeding themselves a variety by their first birthday. Enroll now to know you'll have the knowledge to feel confident starting this new journey with your little eater! (https://mylittleeater.com/baby-led-feeding/)
Are you already past the baby stage and wondering how to feed your newly independent toddler? That's okay! My Feeding Toddlers online course is for you! I can prepare you for all the changes that happen in toddlerhood, and set you up with the techniques you need to ensure you know how to respond when your toddler throws you a curveball. If you're already familiar with some of these changes, and beginning to see picky eating tendencies, or maybe you've been dealing with some pickiness for a while, this course will help with that too! Enroll now to feel prepared and be confident knowing how to react to any mealtime situation. (https://mylittleeater.com/feeding-toddlers/s)