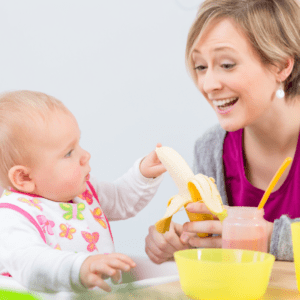 Podcast: Play in new window | Download (Duration: 22:56 — 20.2MB)
Subscribe: RSS
In this episode, I am giving you a list of the top 8 foods that I recommend to any parent who is beginning the journey into solid foods with their baby. Because you know I love to give you all the details, I'll be sharing my tips on how to ensure these starter foods are nutrient dense, served safely, and I even offer ideas on how to serve them both as purees and finger foods. I keep it real on this podcast, so I've got a truth-bomb or two for you along the way. I'll also be sharing my expert knowledge on how to ensure your baby is getting enough iron, and what to do about those, somewhat intimidating, top allergen foods.
Whether you are a new mama (or papa!) waiting to begin their feeding journey with their little one, you've just started the process, or are a few days/weeks/months in and need some ideas – this podcast has info to benefit all of you! You can also check out my blog post on this topic to take a look at some visuals of the foods I suggest. 
As always, if you get value from this podcast, please rate and review it at Apple Podcasts. I'm also asking that you help our followers by providing some feedback – I'd love to see what foods you served to your baby first! So, include it in the review – I promise I read each and every one of them. I am so thankful to have you here listening!
Additional Resources:
Your next step in this journey is to grab my Baby Led Feeding online course. I will walk you through how to safely serve all foods to your baby, provide you with recipes to try, and ease any fears you may have regarding gagging or choking, plus so much more! Be prepared to feel completely confident, and excited, for this journey with your little one – Enroll here! (https://mylittleeater.com/baby-led-feeding/)
If after listening, you are still concerned about getting your baby enough iron, you can always look through my blog post on that topic. I cover all of those details in my online course too. (https://mylittleeater.com/3363-2/)
Now, you may be a bit wary when I mention serving meat to your 6 month old. This is a popular concern among my clients, so if this is you, please know that I cover how to do this safely in my online course, but I talk you through some of the basics in this blog post as well. (https://mylittleeater.com/how-to-serve-meat-to-babies-toddlers/)
Skip To…
Welcome Back! (0:47)
TRUTH-BOMB (1:40)
The importance of iron and serving top allergens (7:17)
Food #1 (10:05)
Food #2 (12:22)
Food #3 (13:17)
Food #4 (14:53)
Food #5 (16:37)
Food #6 (17:43)
Food #7 (19:26)
Food #8 (20:59)