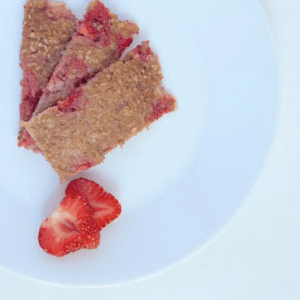 Ready to have your breakfast and snack woes put to an end? Enter oatmeal fingers!
I was first introduced to oatmeal fingers about 1 year ago when one of my best friends from university came to visit me from across the country and she blew my mind with what she called "eat your oatmeal anywhere" fingers. I was so confused at first, until she showed me the simple magic that could be created with a microwave and as few as two ingredients.
Basically, it's quick cooked oats (or soaked rolled oats) mixed with a liquid ingredient (be it dairy or almond milk, mashed banana, yogurt, etc.) so that the oats cook and bind to the liquid and once set, form these perfect little oatmeal fingers that you can eat warm or cold, make great leftovers and basically, take anywhere.
Well, you can guess where my mind immediately went with these. All I could think of was "What a great way for self-feeding babies to eat oatmeal without all the mess"! Now, don't get me wrong, if you know me, you know I LOVE messy food experiences for babies and actually encourage it when you can so that they get really up close and personal with food using all five senses. That being said, you're not always going to have time or want to get messy at every meal, especially when you're in a rush, too tired to clean it up or out on the go. With oatmeal fingers, they are shaped perfectly for baby to pick up – sturdy and able to hold it's shape, long enough to poke out of baby's hands and for them to access it, and soft enough as a first food for your baby!
Since discovering these, I've experimented with a variety of different recipes, all so good. I've included some of my favourite in my online course, Baby Led Feeding – a baby led approach to introducing solids, but for now, I though I'd share the basic recipe here for you and let you experiment with any flavours and ingredients you have at home. 
Basic Oatmeal Fingers
1/2 cup quick cook oats
1/3 cup breastmilk, dairy milk or your favourite plant based milk
1-2 tbsp. of your favourite add in (grated apple, mashed berries, shredded coconut, nut butter, hemp/flax seed, puree banana, etc.)
1. Mix all ingredients together in a bowl.
2. Spread a thick layer of the mixture onto a flat plate or microwavable dish and lightly flatten it with the back of a fork onto the plate. Pack it together well.
3. Microwave on high for 3-4 minutes (cooking times will differ for each microwave), checking after the first two minutes to see if the mixture is cooked and is firm enough (note: it will firm up more after cooling).
4. Let cool and sit for 5-10 minutes and then cut into fingers!
I like to cut them so they are just 2-3″ long – long enough to hold by baby but not too long that they break apart easily.
Serve with applesauce or plain yogurt to dip the fingers in if you like!
Store them in an airtight container in the fridge as leftovers. If you'd like to soften them up a bit before serving again, you can soak them in a bit of milk in a bowl for a few seconds before re-serving.
Additional Notes:
*Depending on if you're adding an add-in with higher water content (ie. berries) or not, you may want to reduce the amount of milk slightly/increase cooking time.
*If you find it sticks to the plate, place a piece of parchment paper on the plate before spreading the mixture over it.  Once cooked, slide the parchment paper over on a cooling rack, let sit to cool and then flip the parchment paper over and peel it off the oatmeal fingers.
Have you tried these before? What are your favourite flavours?
Until next time.