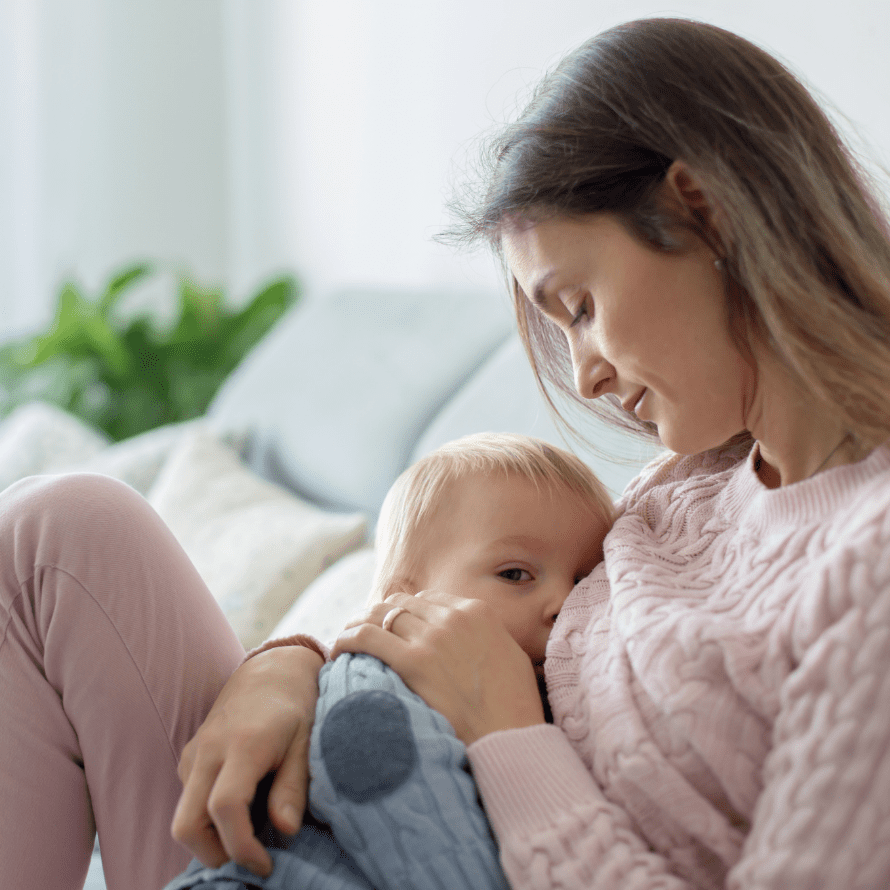 Podcast: Play in new window | Download (Duration: 19:24 — 15.9MB)
Subscribe: RSS
On this episode of the My Little Eater Podcast, I'll be talking about how to balance breastfeeding on demand with solid foods – right from 6 months and into toddlerhood! Breastfeeding on demand, also known as responsive feeding and feeding on demand, is recommended up to 6 months of age at least, but what about when you begin introducing solid foods? 
It's safe to say, we all know continued breastfeeding is recommended by the World Health Organization past 6 months and well into toddlerhood. This means you have to consider how the relationship between solid foods and milk feedings changes as your baby continues to grow and requires the bulk of their nutrition from solid foods. It's all about finding a balance that works for you, your baby, and meets their nutritional needs best! Listen in to learn how to manage solid food offerings and milk feedings according to age, and how to best honour continued breastfeeding on demand past 6 months, 12 months and beyond! 
Don't miss out on the draw I'm doing for a $100 Amazon gift card – all you have to do is head over to Apple Podcasts and leave a review to be entered! Oh, and make sure to leave your Instagram handle so I can find you if you're the winner 🙂 
---

♥ Listen on Apple Podcasts                 ♥ Listen on Spotify                 ♥ Listen on Google Podcasts
---
Additional Resources:
Starting solids with your baby isn't something you should have to stress over, especially if you start with my Baby Led Feeding Online Course! This course gives you all the steps to know what to feed your baby, how to feed it to them (with video demos!), common choking hazards, and how to master responsive feeding. It's specifically designed to help parents just like you feel confident, and know you're not alone on this journey. Enroll today and get started!
BABY LED FEEDING ONLINE COURSE: https://mylittleeater.com/baby-led-feeding/
Out of the baby phase? All good, I got you covered! My Feeding Toddler Online Course  is the nest step, and is so beneficial to start incorporating the lessons learned here early on so you don't get stuck with a picky eater. The Feeding Toddler course will give you the strategies you need to prevent picky eating, or stop it from progressing any further, helping you raise a happy, adventurous eater for life! 
FEEDING TODDLERS ONLINE COURSE: https://mylittleeater.com/feeding-toddlers/
Knowing when to feed your baby is one of the most common questions I get from parents who are starting solids or progressing with solid food offerings with their baby. Having some sort of schedule for solids and breastfeeding as your baby gets older can help make sure you utilize every mealtime opportunity to help them get all the nutrition they need as they require less breastmilk closer to 12 months. 
FEEDING SCHEDULES FOR 6-12 MONTH OLDS (BLOG): https://mylittleeater.com/feeding-schedules-6-12-months/
BABY FEEDING SCHEDULES (PODCAST EPISODE): https://mylittleeater.com/12-feeding-schedules-for-babies-6-12-months/
Skip To…
What breastfeeding on demand look like with your baby (1:35)
Breastfeeding when starting solids (3:05)
The link between too many nursing sessions and delayed solid food acceptance (5:09)
When it's safe to implement scheduled feedings (8:28)
Solid food snack introduction – nursing sessions will decrease naturally (14:32)
Breastfeeding on demand at night and how it affects day time intake (16:35)