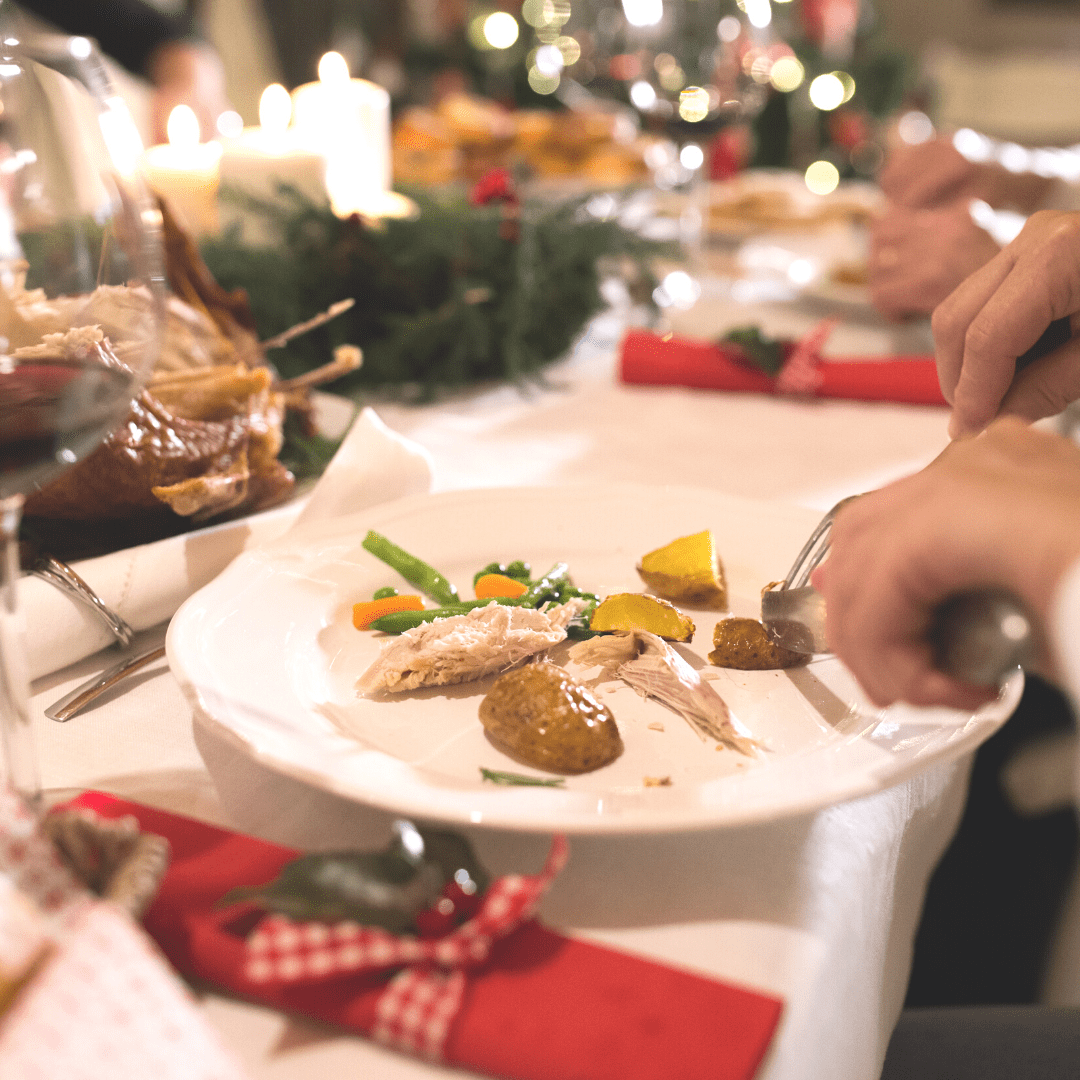 Podcast: Play in new window | Download (Duration: 30:18 — 24.3MB)
Subscribe: RSS
If you have a baby who has started solids recently or will be before your holiday dinner, this episode is for you! Today I'm talking all about those staple holiday foods, which are considered baby led weaning friendly and tips on how to serve them! Whether it's turkey, stuffing, gravy or other traditional Christmas foods, I want you to feel prepared and know exactly how to build your baby's plate during your holiday dinner. 
Luckily, there are MANY staple holiday foods that you'll likely see at your dinner that are totally safe and easily modifiable for your baby to enjoy. After all, having them be able to take part will only add to the spirit of the holidays! I'll also be covering some practical tips on what you should bring to make holiday dinners easier for you and your baby and the importance of adjusting your expectations during these busy times! 
If you found this episode valuable, make sure to subscribe to the podcast so you get access to each weekly episode first! And if you found this episode or any of my episodes helpful, please leave me a review on Apple Podcasts! Knowing I can help parents like you and have an impact on your feeding journey truly means the world to me 🙂 
---

♥ Listen on Apple Podcasts                 ♥ Listen on Spotify                 ♥ Listen on Google Podcasts
---
Additional Resources:
For all the information you could ever need to start solids with your baby, check out my Baby Led Feeding online course. This will show you how to feed your baby from 6 to 12 months in a way that will set them up for a lifetime of healthy eating, and can actually help prevent picky eating!
BABY LED FEEDING ONLINE COURSE: https://mylittleeater.com/baby-led-feeding/
If you're already into the toddler stage or close to it, and be prepared to prevent or manage picky eating, check out my Feeding Toddlers online course. This gives you all the steps you need to begin enjoying happier mealtimes with your toddler!
FEEDING TODDLERS ONLINE COURSE: https://mylittleeater.com/feeding-toddlers/
If you want to be equipped with tips to manage comments about your baby's eating habits during the holidays make sure to check out the blog I have on this, or if you prefer to listen I have a podcast episode too! 
BLOG – MANAGING "HELPFUL" FAMILY MEMBERS DURING HOLIDAY DINNERS : https://mylittleeater.com/managing-helpful-family-members-during-the-holidays/
PODCAST –  HOW TO HANDLE NEGATIVE COMMENTS ABOUT YOUR CHILD'S EATING DURING THE HOLIDAYS: https://mylittleeater.com/88-holiday-feeding-struggles/
Check out this IG reel for an easy hack to remove the sharp bone from the turkey drumstick so you can safely serve it to your baby! 
IG REEL: https://www.instagram.com/p/CXUidK6pI2J/
If you're looking for any of the recommended highchairs or feeding accessories mentioned in the episode you can find them in my Amazon Shops or my blog post linked below.  You can also find Bibado bibs on their website and use my code below to snag a deal!
AMAZON US: https://www.amazon.com/shop/mylittleeater
AMAZON CAD: https://www.amazon.ca/shop/mylittleeater
FAV FEEDING ACCESSORIES: https://mylittleeater.com/the-ultimate-guide-to-my-favourite-feeding-accessories/
BIBADO DISCOUNTS CODES: use MYLITTLEEATER and MLEBOGO for 10% OFF ENTIRE ORDER or save 50% off one item when you buy two.
And finally, here's my recipe for a healthy and Baby Friendly Cranberry Sauce recipe for your holiday meals! 
BABY FRIENDLY CRANBERRY SAUCE RECIPE: https://pages.convertkit.com/69e0974744/a7b2b79007
Skip To…
Turkey (2:06)
Ham (7:42)
Gravy (10:16)
Potatoes (11:29)
Vegetables (13:18) 
Cranberry sauce (15:35)
Bread stuffing (16:59)
Charcuterie boards (18:33)
Desserts (20:38)
Overall tips for feeding your baby over the holidays! (21:44)
Keep expectations low (28:36)